Latvian Univsersities Stage the selection process again in May at Cinnamon Lakeside – Ebiz
View(s):

The Latvian University representatives are scheduled to arrive in Sri Lanka to conduct admission processes in early May. This will be totally hosted by Ebiz Consultancy Services – The only Authorized Agent in Sri Lanka. A Seminar test and Interviews will take place at Dukes Court Hotel Cinnamon Lakeside, Colombo for September intake. Students who are interested advised to contact on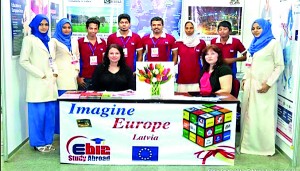 0778767987 to register. Alternatively students can visit the facebook page to download the Invitation to attend the seminar. www.facebook.com/ebiz.first Please call us to register your name and bring original docs. All students who have qualified GCE A/L examination with three subjects can apply. Ebiz grants upto 60% processing fee discount based on their credentials.
Affordable Education
In order to overcome the situations students face due to tough immigration regulations and difficult eligibility criteria, high course fee and living costs, declining post study opportunities after graduation in the countries students can now opt for European route to establish themselves in their intended study pathway in order to gain their dream future and career.
Students can achieve their goal by investing for their future by joining recognized European Universities that provide vast variety of study programs in almost any discipline at an affordable cost.
Ebiz only Authorized Agent in Sri Lanka
Ebiz Consultancy Services has already has signed contract with three major Universities in European country Latvia. Namely; Riga Technical University, Turiba University and Riga Stradins University. Ebiz is the only organization in Sri Lanka to be jointly considered by three leading Universities in Latvia. We do provide genuine information and guidance for students.
Study in Latvia are represented by consortium of these three Universities mentioned above offering Medical, Engineering, Law, Public Relations, International Communications, Business, Tourism and Applied Linguistic studies at Bachelor, Master and PhD Level in English medium as well as in its own Language Latvian.
Traditionally Latvian Education has been accessible for International students due to affordable tuition fee, moderate living costs, High Educational Standards, Safety, Religious and Cultural tolerance.
Medical Students now eye Latvia
Medical University
Riga Stradins University on the other hand provides courses for students in the field of Bio Science. This University provide the following programmes at an affordable cost with compared to other Universities in the world.
Medicine, Dentistry, Nursing, Pharmacy and Physiotherapy. Students who strive for University entrance after their Long Awaited A/L Results have to meet only a minimum requirement to join this University, Three C passes in their A/L Bio stream will let them easily qualify to begin their medical science program or any related subjects in Latvian Universities.
Riga Stradins University from Latvia have established a better relationship with Sri Lanka in terms of providing affordable study programmes for eligible students who wish pursue their higher studies in the field of Medical, Nursing, Pharmascy, Physiotherapy, Rehabilitation etc.
Ebiz Consultancy services has been chosen as an active agent by Riga Stradins University on our marketing excellence displayed during the first quarter of this year.
For more details you can contact ebiz consultancy services by phone 0778767987 or visit our facebook page www,facebook.Com/ebiz.First | web site www.Ebiz-consultancyservices.Com
Follow @timesonlinelk
comments powered by

Disqus