APIIT Foundation: First Step towards a successful career
View(s):

The APIIT Foundation Programme, quality assured by Staffordshire University, UK, is specially designed for students with O-Level qualifications and offers a comprehensive introduction to Business and Computing disciplines. The Foundation Programme provides a pathway to enter the degree programmes.

Today, when it comes to choosing the route to your child's university education, there are alternatives. One predominantly popular and well established path is through a fast-track Foundation Programme spanning a period of 8 months. Not only does it provide your child with a head start in higher education, but it also equips him/her to face a challenging degree programme that lies ahead.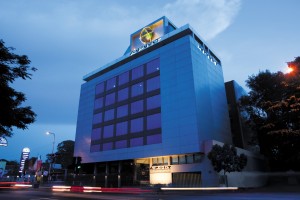 The curriculum of this intensive course has been conceptualised to nurture IT and Business capabilities in your child. The programme is not limited to just imparting Mathematics and IT skills, but goes beyond conventional programmes to focus on teaching communication and language skills whilst also instilling a culture of professional outlook and behaviour; this facilitates a smooth transition of your child's educational aspirations to the next level.
Parents can be assured of entrusting their children's education upon a qualified and competent panel of lecturers. APIIT-Sri Lanka prides itself on having the best qualified full-time teaching faculty in the Sri Lankan private higher education sector; among the full-time staff are several who hold PhD's, MBAs and MSc's. In addition to their subject expertise, all lecturers have been trained in teaching and are committed to student success.
APIIT-Sri Lanka's state- of- the- art infrastructure facilities including cutting- edge computer laboratories, modern lecture theatres and library are among the finest in the country and are comparable to facilities available in developed countries. The Computer Laboratories are well equipped with the latest technologies and provide unlimited access to the Internet though high speed broadband connection and Wi- Fi connectivity. The APIIT Library is an excellent resource for learning and research, and contains a well maintained stock of text books, CDs, magazines and journals. Students also have access to online resources of Staffordshire University and other world renowned Digital Libraries.
Student recreational activities are an important part of learning to provide an overall experience of university education and create well rounded professionals. A variety of sports, musical talent programmes, effective communication and personality development programmes and social service projects are organized by the APIIT Student Activity Club during the year. An entire floor of the APIIT Building is dedicated for student recreational activities for this purpose.
With its strong international relations, global standards and focus on quality in higher education, APIIT-Sri Lanka has emerged as the ideal place to achieve one's dreams and career goals. APIIT-Sri Lanka is pleased to invite prospective students for enrolment for the October 2012 intake. Students may also join our Foundation program directly with pending O/L results.
While there may be no shortcuts to success, there certainly are smart ways to fulfil one's aspirations! The APIIT Foundation Programme provides a fine opportunity to your child to obtain a highly acclaimed British university degree and launch on a successful career.
Students and parents may visit the APIIT City Campus at 388, Union Place, Colombo 02 to experience the state- of- the- art facilities and interact with students and staff. The APIIT City Campus is open on weekdays from 8.30 am to 5.00 pm and on Saturdays from 8.30 am to 1.00 pm. Information may also be obtained from Senani, Ishani, Sameera or Sashini on 7675100 or info@apiit.lk.
Today, when it comes to choosing the route to your child's university education, there are alternatives. One predominantly popular and well established path is through a fast-track Foundation Programme spanning a period of 8 months. Not only does it provide your child with a head start in higher education, but it also equips him/her to face a challenging degree programme that lies ahead
Follow @timesonlinelk
comments powered by

Disqus