Appreciations
View(s):

A friendship that blossomed from university days

Bala Nadaraja

The sad news of Bala's passing away in distant Florida , USA came in a few days ago.  Bala had been unwell only for the past eight months , when it was discovered he was battling cancer. Just before this, in mid 2012 Bala was in excellent fettle, when his only son Stefan married his lovely Greek bride Daphne on the Greek island of Corfu. It had been a truly Greek wedding with celebrations spanning over three days with an abundance of food, wine and dancing. Bala was known to have revelled in the celebrations. He had invited his close friends in Sri Lanka to attend. Unfortunately none of us were able to join him and we were sorry not to be with him and his family at this truly joyous occasion.

My close association with him goes back to 1954 when we sat the University Entrance to enter Peradeniya, he hailing from S. Thomas', Mount Lavinia and I from the other place Royal. With great luck we were both successful and 1955 witnessed our entry into the hallowed portals of Jayatilleka Hall and Arunachalam Hall. Being Halls of residence, opposite each other, we saw a lot of each other, studiously  trying to avoid the gentle ragging at that time. Bala graced Jayatilleka Hall only for a brief one year as he left to join Law College in Colombo to do his Advocate's exam. I stayed on and armed with a Law Degree rejoined Bala three years later. We passed out as Advocates and took our oaths together. Our bonding was so great that in a few years time when I got married, the obvious choice for a Bestman was Bala. He was then a dashing debonair young Romeo and attracted many eyes as he flashed around in his red Renault Dauphine which his parents had given him

Bala was the only child of very distinguished parents in Badulla. Their gracious stately home on the hill in Pingarawa was an open house to us. Bala's dear father was the late K.V. Nadaraja, leading lawyer  who was elected to be the Member of Parliament in the First Parliament representing Badulla. Bala was very proud of his ancestry and when I collected all the speeches his father had made including his contribution to the famous National Flag Debate, and presented it to him he was overjoyed. His mother Gnani, truly a gracious lady was the love of his life.

Bala soon made a name for himself in Hulftsdorf working closely with eminent legal personalities like Chief Justice S. Sharvananda, G.F. Setukavalar and C. Renganathan. Romance soon entered his life and he married Vasanthi  and in later years Kristina. Kristina blessed him with two lovely children, Stefan, a young lawyer practising in New York and London and a lovely daughter Nadine  practising as a Beautician in Germany.

Following the all too sad events of 1983 (which saw his home in Pingarawa burnt to the ground ) Bala and Kristina migrated to the US. Bala followed a Masters Degree in Law at George Washington  University and armed with this he moved to Bermuda where he carved a name for himself  as a lawyer specialising in Insurance matters. After 20 years when he left Bermuda to reside in Florida, many were the eloquent tributes paid to him at a public ceremony in the City Hall

Our strong bonding blossomed over the years in spite of the distances separating us and along with his close friends Nirmalalingam, Raja Kuruppu and Indran Kunaratnam we enjoyed each other's company. In fact three years back he insisted that we join him and Kristina in the backwaters of Kerala and so we did reliving our earlier halycon days. It was truly a memorable occasion.

Bala had a loving personality and was a gentle person caring for his friends. To Kristina, Stefan and Nadine our heartfelt condolences. They should know that Bala will be fondly remembered by all who came to know him. As a devoted Hindu, may he be blessed by the Hindu deities.

Nihal Seneviratne

You spread your love throughout your life

Anthea Gomes

Gilo! Gilo! Gilo! When I spent the day with you and Cynthy, that Tuesday, did I ever think that you would be gone in just a few days after that? We spoke about Budgy your twin brother who was taken away in that cruel manner. You bore that grief with fortitude. His idiosyncrasies irritated many, but not you. Both you and Cynthy were very caring of him.

You have left a great void in the lives of your sister Cynthy, your nieces Cammille, Beverly, Cheryl, nephew Edgar, grand nieces and nephews and us your extended family.

You played so many roles, Gilo– the bridesmaid to Cynthy when she married my brother, Gilo the wedding cake maker–such beautiful creations they were, Gilo, mummy Gomes' 'man Friday', Gilo the chilldren's beloved aunt and Gilo the ever faithful servant of St John's Church. Cheryl told you that even though you were not her birth mother, that you were her MOTHER. This phrase gave you such joy. Your family was your world, and you gave your 100% to them.

Whenever I returned from my travels I always brought you something special, as you were special. One was a little book mark which said 'I prayed for you' from Lourdes that you valued so much and more recently Holy water from the River Jordan together with frankincense.

That last Tuesday with you, you gave me a special gift. You let me wash your feet. I washed them in warm water with some mustard seeds. Once I dried your feet I applied Siddalepa on them. It was the period of Lent and it was for me a great privilege.

In 2011, when you were at death's door, Cheryl came from Australia to nurse you. You recovered from that illness, and said you will not die as Budgy needed you. Budgy's accident and death may have made you feel that you had fullfilled your purpose here on earth.
You spread love throughout your life, to your parents, sister, brother and the whole family. The children's one cry was 'Aunty Gilo we love you'.

Farewell Gilo till we meet on that beautiful shore.

Suji

Sadly missed, fondly remembered 

Pubudu Piyuma Wickremasinghe

It's almost a year since Pubudu's life was seized by the cruel hand of death. At a young age of 48 years on an auspicious day when most Sri Lankans were ushering the dawn of a new year, we were grief stricken, watching her valiant battle for survival. Though death was inevitable neither she nor us expected it to come so soon when she had so many unfulfilled dreams, expectations from life and the will power and dynamism to survive.

Hailing from the Ranawakas from Deniyaya and the Rajakarunas from Millathe, we first met her at her engagement 27 years ago at a tender age of 21, to Jayantha, the smiling, pious young man who hardly ever lost his cool or was critical of anyone. It was indeed a marriage made in heaven. She had many influential relatives but none of these were a feather in Pubudu's cap. She was the same old down to earth and humble Pubudu who would only smile if confronted with a question on her relationships.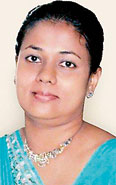 Pubudu and Jayantha were blessed with two lovely children Binu and Ruchira and though it was her ambition to excel in the commercial world, her obligations did not permit her to do so. She worked on a voluntary basis at the Visakha Vidyalaya computer lab as an Instructress for a short spell of three years.
She was an excellent housewife, maintained a lovely home , spotlessly clean and green, adorned with pieces of art which she use to bring from her regular sojourns to India. With her coterie of domestics it was a matter of a few hours for her to dish up a meal of hot hoppers or any other delicious spread and her larder was never empty on any of those unannounced visits we used to make.
Pubudu managed her children's education so well that she sourced very good teachers for both curricular and extra- curricular activities and would gladly fix those teachers for all of us including the children of her minor staff if there was a need. She would also inform us of useful publications relevant for subjects, past question papers, work books etc. In fact we are indebted to her for the success our children have had with her assistance. She was so happy when Binu was selected to do a course in Fashion Designing at the NIFT, New Delhi and thrilled when Ruchi obtained 4As at the London A levels in 2011. Unfortunately she was not in the best of health to see him being recognised by the British Council for his achievements.
She was so concerned and caring that if she did not hear from us she would call at least once a week. She was the real force behind the bonding of our families. It is just not the same now and we miss her so much when we meet.
She helped so many deserving people, contributed to various charities and offered alms regularly including an annual offering to the Temple of the Tooth for the last 20 years at least. Her meritorious acts are too many to be listed.
Her infectious laughter still rings in our ears. In fact looking back, we are happy that we were with her celebrating the dawning of the New year on December 31, 2011 and her birthday which fell on February 29, 2012.
Pubudu, you will never be forgotten. We were fortunate to meet you even for a brief period in this life and we cherish every moment with you . The only reason we can attribute to your early departure, leaving a great lacuna in our lives, is since you accumulated so much of merit, that your position in this life needed to be exalted and you deserved regal comforts and greater happiness which we could not provide.
May you attain the supreme bliss of Nirvana.
Dear and near friends
 You were a sister, mother, father and friend—all rolled in one 
Lakshmie De Lanerolle (Nee Seneviratne)
It is almost three months since my eldest sister passed away leaving great sorrow in the hearts of those who dearly loved her. All my life she was my guiding light giving me advice, love and care whenever I needed it.  As a small child I remember rushing to her for help when I got into mischief -she often took the blame and got rebuked by my parents for spoiling me.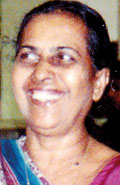 When my father died, she as the eldest stepped into his role and gave my mother the moral support to bring us up.  She tried her best to give us the love and care we missed after our father's death.  Eventually after my mother passed away she became our second mother upholding all the family traditions.
She was my close friend and constant companion. She was a friend not only to me but also to my friends who fondly called her "our lucky akka". Even when I was not in Sri Lanka she was in touch with my friends who looked up to her as a loving sister.
When tragedy struck and she lost her husband at a young age she very bravely took up the challenge of bringing up her two little girls- the younger one being just a year old.  She devoted her life to them with great love and care making utmost efforts to instil Buddhist values in them. In her quiet way she rejoiced at their achievements.  While Devika's academic performances made her happy she was elated when Arunie won the first place in the Light of Asia oratorical contest.
She took a deep and abiding interest in Buddhist philosophy and practice. She committed herself to social work especially to the care of orphans at the Kalutara Vishaka Children's Home for more than 30 years.  For many years she took a lead role in conducting Dhamma classes at the Atthadassi Sunday Dhamma School.  She also actively participated in the charity projects of the Kalutara Buddhist Society.  The almsgiving to the Galduwa monastery was an event she meticulously planned and looked forward to every year.  She made it a point to include some of those who could not afford to go on their own in the pilgrim group.
She was well respected and honoured for her dedicated services to the community.  In 2008, she was awarded the title "Desha Keerthi Diriya Matha" by the Western Province Sangha Council in recognition of her community and charity work.  Being very humble she kept these to herself.
I was fortunate to have her in Canberra a few times particularly last year when she came on a long holiday to stay with her younger daughter.  We enjoyed talking about old times, sharing jokes and having heart-to-heart chats.  I will always cherish these episodes. I was not there to bid her farewell on her last journey but I will always remember the last days we spent together in Canberra.  It never occurred to me that this was going to be our last time together.
Although she is not physically near us she will always live in our hearts. 'Thank you' is a little word for all what she has done for me, her daughters and others who lived around her.
There will be Sangika danas in Kalutara and Canberra to offer merit and mark three months of her passing away.  It is our fervent wish that her sojourn in Samsara be very short in reaching the ultimate bliss of Nirvana.
Thalatha
Follow @timesonlinelk
comments powered by

Disqus