Visakha grabs the title of CIMA Spellmaster 2013!
View(s):

After months of toil and trouble the all island schools spelling competition, Spellmaster, finally came to an end with much pomp & pageantry at the Stein Studio. The evening was filled with not just the impeccable spelling expertise of the Top 4 contestants but lively performances by popular musicians such as Sarith & Surith, Ashanthi, Voice Print, the Workshop Players did a rendition of Hakunama Tata from the Lion King and a dance act by Irosh & Kusalani / Pradeep Sulakshana dancing group, to keep the audience engrossed till the very end.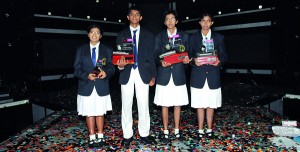 As Mr. Gulzari Babber, President CIMA mentioned during his speech, it was "Girl Power" all the way, the three Visakhians were the first up, in the order of Bhagya Samarakoon, Bhagya Jayasooriya and Charya Samarakoon, and last but not least was the only gentleman remaining, Ramith Fonseka of S.Thomas' Preparatory School Kollupitiya.
Origin of the word, Student Choice, Spotting the right word and the Rapid Fire was the format of the 1st round of words. The four of them were allowed to select a word from the choice of two origins, Latin, Italian or German, of which Latin and German were the most popular choice amongst them. It's always interesting to see what words the
contestants gave each other in the student choice round, as it would always be tougher than that given by the panel, therefore, it wasn't a surprise when Ramith's word to Bhagya Jayasooriya was a tongue twisting, "Houyhnhnm", which she spelled without hesitation and Bhagya Samarakoon's word to her sister Charya was "Nahuatl", which she too spelled accurately.
Mrs. Nedra Weerasinghe, Group Director – The Capital Maharaja Organization and MTV Channel (Pvt) Ltd, in her speech said, "For reasons unknown, some believe that spelling and grammar are unimportant, yet spelling is key, as good use and mastery of a language need not be a thing of the past or reserved for a few because after all if you misspell a word and type it in a search engine you would be taken to a wrong place, therefore it is not only important how your words sound it is just as important how they look. Programmes such as
Spellmaster help develop good spellers who in turn greatly improve their reading and writing skills at a young age, Spellmaster is a programme that is a solid foundation on which the young student participants can develop confidence and gain knowledge as well as enjoy the literary aspect of the language. It is our firm belief that programmes with like minded partners such as CIMA makes a positive impact on the students' lives. Such programmes transcend language barriers and enhance knowledge." She continued, "We believe a higher number of more adequately trained, more highly educated citizens will benefit society because ultimately that translates into a great workforce and we can then compete as a country with the rest of the world and win." At the end of the first round of words, Bhagya Jayasooriya was found to be bowing out of the competition, having the lowest score in the rapid fire round, and making her the 3rd runner-up at the competition.
Speaking on the importance of spelling, Mr.Reyaz Mihular, Chairman, CIMA Sri Lanka Board, said "Reading maketh a man, and apart from the widening of knowledge that reading gives you, one of the important side benefits of reading is spelling. In my career as a professional, I have seen lots of reports, letters and other correspondence that I get to my table and nothing is as awful as a misspelt letter or document. Often I've seen some high quality work which gets destroyed because in presenting that work there is a whole lot of spelling errors, and that's unfortunate. And it is in that context that I find this effort made by CIMA to bring back an interest in spelling, to harness the talents of people, not just in Colombo but across the country. To get people to understand that spelling is important, it's part of your education, it's part of your rounding off of your knowledge base, and that is why I find that this programme that has been presented by CIMA along with Sirasa absolutely amazing and value adding" The tension was apparent amongst the 3 remaining contestants, the sisters, Charya and Bhagya and Ramith. In the second round of words, the format was such that, the three of them could select a word from two categories of their choice, the categories being; Culture, Business, Nature, Science and General, they could select a number and the corresponding word be given from a pool of words and finally the dreaded rapid fire round. It was no surprise that all three of them got the three words given to them correct. The rapid fire was intense, and it was a close call. Leading was Ramith with the highest score, following closely was Bhagya Samarakoon and at the bottom was Charya, who had to bow out as 2nd runner-up.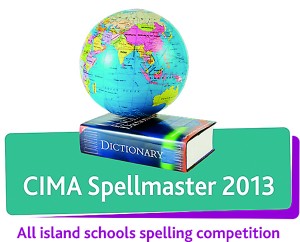 On the competition, Mr. Bradley Emerson, Regional Director, Middle East, South Asia & North Africa, CIMA, had this to say "Spellmaster started with the intention of enhancing the awareness of language and improve the quality of spelling. But over the last 3 years what we found, that it's not just about spelling, it's about building personalities, it's about building confidence, it is about preparing you for the future. It is also forecasted that the global population will reach 8.3 billion by 2013, out of the 8.3 billion more than half would have secondary education and despite that, there'd be a shortage of talent. We had an excellent exposure of talent, what is the definition of talent? Talent equals competency plus confidence to display that competency. This process of Spellmaster is a journey of partnership and we look back with a lot of self satisfaction that we have seen the transformation of little kids who sat in front of a desk in schools of various standards across the country, who have developed, believed in themselves, to stand up and fight it out in front of an audience here, plus 8 million on TV.
The entire world is in competition, nations are in competition, companies are in competition, families are in competition, individuals are in competition, so you get the flavour of what it means to be competitive." He continued to say, "Character, my dear children, is not about what you do when you fall; character is what you do when you stand up. To us looking back, for us and Sirasa, we have taught you to build your character, what to do when you stand up, congratulate the winner, pick up your mistake, sharpen it up, come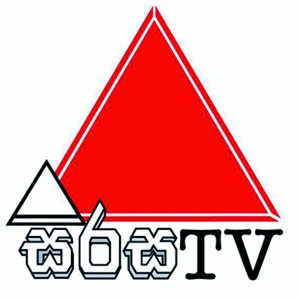 back faster because in the future it is not a world for the big to eat the small, the future is the world where the fast eat the slow." Displaying tons of character, Bhagya and Ramith, albeit nervous maintained their composure during the "Best of five" round, spelling their way through words like "puissance", "tergiversation", "bacchanalian" and "terpsichorean". Both misspelled the 1st words they got, keeping the playing field at an equal. Bhagya's next word was "Palauan" and she spelled it right, "Algonquian" was Ramith's word and for his misfortune he spelled it "Algonquean".
The pressure was on, Bhagya scoring one and Ramith still nil. Both spelled the next two words they got right, it was down to the final, fifth word, focus was on Bhagya, her word, "autochthonous", she took her time and patiently spelled her word and spelled it spot on, making her the Spellmaster 2013 and Ramith the 1st runner-up.
Bhagya Samarakoon from Visakha Vidyalaya Colombo 05 received a cash prize of Rs.150,000 along with a full scholarship to study CIMA from the sponsors Imperial College, a laptop and a camera. First runner-up, Ramith Fonseka from S.Thomas' Preparatory School received a cash prize of Rs.100,000 as well as a 75% scholarship to study CIMA from the sponsors Imperial College, a laptop and a camera. Second runner-up Charya Samarakoon from Visakha Vidyalaya Colombo 05 received a cash prize of Rs.75,000 as well as a 75% scholarship to study CIMA from the sponsors Imperial College and a camera. The other 17 contestants were all recognised, and were given cash prizes and received scholarships to study CIMA from the sponsors Imperial College along with a gift pack courtesy of CIMA.
Follow @timesonlinelk
comments powered by

Disqus