Vitebsk State Medical University (VSMU)
View(s):

The choice of high achieving A/Level students

High Achieving Medical Graduates

PATHE Study Medicine – leader in Sri Lankan medical education wishes to share the performance of its 2012 graduating batch. With perfect ERPM scores our medical graduates have achieved what many others consider impossible. A good example for the outcomes of high quality, locally relevant and English medium education. PATHE joins the parents and other well wishers in congratulating these graduates who are starting their Medical careers in Sri Lanka and overseas.

High achieving A/Level Students

"Good Medical universities" look for exceptional talent that can be developed with dedicated training. This goes parallel with the saying good output requires good input. In this respect PATHE wishes to highlight the caliber of students it has recruited during the past year. With many 3A, 2A students from Local A/Levels and London A/Levels PATHE Study Medicine has reaffirmed its position as the choice for high achievers. These students include many from leading local schools and International schools.

Quality matters

Sri Lanka has one of the best Medical and health systems in the world. In such an environment it's sad to see Sri Lankan students going to countries and universities which have very low standards of education. This is the main reason for high failure rate among foreign medical graduates that are coming from lesser developed countries like Bangladesh, China, India, Pakistan, and Nepal. To add to this the living and social environment of certain countries have proven to be unsuitable for Sri Lankan students. For instance many students and parents complain about the security, social and terrorism related issues in countries such as Bangladesh, Russia, Georgia, and Pakistan. PATHE Study Medicine invites parents and students to attend a free Medical education counseling sessions conducted by expert medical professionals to get more information about Medical careers and education options.

Quality education is affordable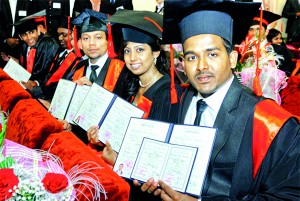 Studying Medicine is a dream for many students. Today Medical doctors are among the highest paid and most in-demand. A career in Medicine will provide a good social acceptance, job satisfaction and job security, and excellent income. Hence many students are looking for universities that can make this dream come true. PATHE Considers its noble duty to provide such high quality education options, including scholarships for academically sound students its mission. With university tuition fee from USD $ 3,800 (Rs. 480,000) per annum and installment facilities only PATHE Study Medicine provides a spectrum of Medical education options for students. A unique concept in Sri Lankan Medical education truly appreciated by many parents and students alike.
Our graduates
PATHE Study Medicine is proud about the achievements of our Medical graduates who are practicing in Sri Lanka and overseas. These graduates have performed well in the local ERPM examinations and hold positions in Sri Lankan heath sector. Many graduates have entered medical systems in countries such as USA, Canada, Australia, and UK. VSMU Medical degrees are recognized by WHO, GMC (UK), ECFMG (US/Canada), and AMC (Australia). All medical universities are fully recognized by Sri Lankan Medical Council (SLMC).
Admissions for 2013 May / June intake – The PATHE Study Medicine invites prospective students to apply for next intake in May / June. 2013 London A/Level students can apply with their forecasted A/Level results. Students can submit their application to PATHE Study Medicine office at 111 ½ Maya Avenue, Colombo 06 or can visit us at www.pathestudy.org. Students and parents can contact us through 0777 662233 to obtain further details about the Medical programmes, admission and scholarship information and course fees.
Follow @timesonlinelk
comments powered by

Disqus