Beauty of birds
View(s):

Nirosh Perera uses soft pastels to bring out the character of the wildlife he paints

By Shaveen Jeewandara

Picking up a rather underrated medium, Nirosh Perera is one of the very few soft pastel artists in the island – his focus being the many colourful birds of Sri Lanka.

A wildlife enthusiast, a large part of the inspiration for Nirosh's work comes from his backpack-strapped, camera-wielding visits to the wilderness – especially Hiyare, Kitulgala and Sinharaja. However lately, Nirosh has come to revel in the beauty of the birds found in the city. It was during the recent Kala Pola that he came across a child telling his father about a bird that Nirosh had drawn – clearly marvelling that he had seen it in their back garden.

"This was very interesting. The kid recognised the bird and it meant a lot to me as an artist, since you're promoting awareness of these magnificent creatures," Nirosh adds.

"What makes the birds colourful is their character. Every single bird has an interesting character and I try to bring that out to the best of my ability," says Nirosh. Thanks to a primary school assignment where he had to colour different kinds of birds, Nirosh was intrigued by their features and took to making little scribbles and sketches of birds whenever he could.

Later at the Vibhavi Academy, Nirosh took a great liking for soft pastels. However, the early enthusiasm was followed by what he calls a 'massive lull' as he made his way in the professional world. It took the efforts of a master in the field, veteran artist Royden Gibbs, to influence him to paint again.

"Royden Gibbs was instrumental in getting my feet off the ground in this field. He was interested in the skills I possessed and gave me reason to believe," says Nirosh, who's been painting regularly now for the past two and a half years.

The aura of a finished soft pastel painting was something that Nirosh was attracted to. "It adds a lot more life to the bird, because you get several layers in and it helps bring out an effect that could not have been possible with oil paints. It gives the painter a sense of freedom that we hardly realise. We've all used pastels when we were young, and we all have experiences of chalk and its annoying habit of breaking up," Nirosh laughs, "but contrary to common belief, it's a very flexible and fluid medium. Besides, it's a relief not having to wait till your sketches dry out!"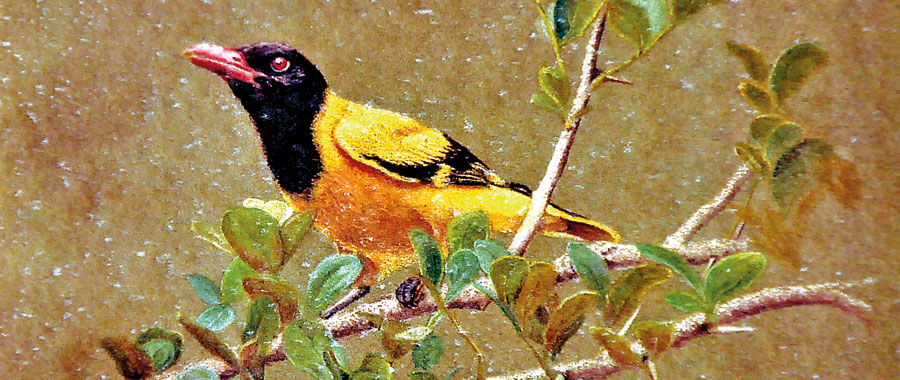 The amount of details he gets into each drawing is quite amazing. The vibrant tones blend brilliantly and make the birds seem almost life-like. He has portrayed Black-hooded Orioles, Flycatchers, Barbets and both Sri Lankan and Indian Paradise Flycatchers, while his current painting is that of a Ceylon Grey Hornbill. Nirosh admits that he has a special fondness for his Coppersmith Barber that gleams with a mysterious sense of innocence in its eyes. "That's a keeper," Nirosh smiles.
Taking strength from the compliments that he has received, Nirosh is passionate about developing his skills. "I have a book of paintings by the great Paul Bosman, and that's where I learned the art of chiaroscuro – playing with light and shadows." The trick is to play with the light and protrude images from the surface, making it look life-like.
His next major goal; a complete collection of drawings of the six Sri Lankan kingfishers. "I've already photographed three, and I can't wait to get started on them," he says.
An old boy of St. Thomas' College, Nirosh, 33, is Sales Manager at WSO2 – a company that handles open source middle-ware, liaising with other countries. "It's very technical and sometimes time consuming as you have to work according to time differences. My weekends are my treasured possession, after my wife that is," he laughs.
His art cannot entirely be relegated to a hobby; "I'd like to make my name as a pastel artist in Sri Lanka, but the real deal lies in juggling it with my work," he says. So far however, Nirosh has been able to multi-task. "Anything's possible when you have the passion for it," he believes.
Visit his facebook page 'Portraits of Sri Lankan birds' for a detailed collection of his works.
Follow @timesonlinelk
comments powered by

Disqus