An exception to the rule
View(s):

My Dear Barack Obama,

I thought I must write to you because these are difficult times for you when terrorists are exploding bombs on your streets and killing innocent people during the Boston Marathon and you are trying to figure out what on earth is going on in what is supposed to be the most powerful country in the world.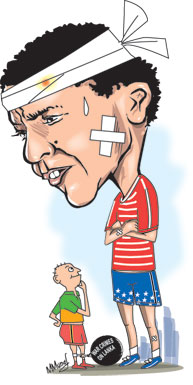 We do sympathise with you and your country at your loss, Obama. Bombs exploding at random and killing innocent people is what terrorism is all about and perhaps more than any other country in the world, we have experienced that for thirty long years, so we know what it is like.
Obama, you must excuse some of us if we wonder what all this fuss is about because the attention of the entire world was focused on this event over the last few days. This type of incident was a regular event in our country for thirty years-and the rest of the world hardly took any notice! 
And then, there you were, only a few weeks ago, lecturing us about human rights and alleged war crimes in Geneva and lobbying other countries to vote against us-all because we took on the most ruthless terrorist organization in the world, beat them at their own game and decisively won our war.
Pardon me, Obama, because of these actions, I am sure there must be at least some of us who must be saying 'honda vedey' about what happened at the Boston Marathon. I don't agree with them, of course, but you need to think about why they would say that-and I can't really blame them either.
I noticed, Obama, that after the incidents in Boston you-and practically everyone else in America- have made public statements to the effect that those responsible for the blasts will be hunted down and punished. Indeed, at the time of writing this to you, one of the suspects has simply been shot dead.
I do not recall a single person pleading for their cause, talking about their human rights or even asking for a fair trial for them. They have been portrayed as despicable people. No one uttered a word against one of them being shot dead. And that is the way you deal with suspects engaging in terrorism.
Then, why is it, Obama, that you deal with those who practised terrorism in our country very differently? Why is it that you think that they should enjoy human rights and a fair trial? And why do you think that shooting them dead during the war constitutes a horrendous 'war crime'?
I am sure, in a few weeks, when the dust has settled on the events in Boston, you will gather all those who worked tirelessly to apprehend-and kill-the bombing suspects, reward them with medals and honours and praise their dedication and heroism.
Then why is it, Obama, that when we do that with our war heroes who went through much more terror and turmoil, you accuse them of war crimes and want them tried in an international court? Pardon me, Obama, this is what we cannot understand and this is why some of us will say 'honda vedey'.
And would you allow those who supported the cause of the Boston bombers to operate freely in your country, spread their propaganda, lobby your senators and congressmen and make demands for their cause, whatever that is. I would think not, Obama.
But that is exactly what those who supported terrorism in our country are doing, Obama. Surely, with all the intelligence at your disposal, you must know that the people agitating against our country have had links with Tiger terrorists- or is it that you are so blind that you do not wish to see?
And what is more, your representative in Colombo seems to think that she-and not we-runs our country. She tells us where we should not station our military, when we should hold elections and how we should deal with those who are suspected of terrorism!
Then there is your Secretary of State who is saying that you will be reducing aid to us by twenty per cent if we don't do what you say. It was then that we realised that despite being the richest country in the world, you were giving us only a paltry few million dollars anyway, but then that is another story!
Pardon me, Obama, but this is why we are all a bit baffled. Is your country supporting terrorism or against it? When terrorists attack your country, you shout from the rooftops against it but you seem to be encouraging terrorism in other countries, don't you?
You invaded Iraq; now that country is in a shambles. In Afghanistan, you are regularly killing civilians. So, it is not only in our country that you are playing with lives and indulging in various tactics-with disastrous consequences. Think about all this, before you make your next move, will you?
Yours truly,
Punchi Putha
PS-It is not that we support terrorism or that we dislike your country, Obama, but because of what you are doing, even those who are saying 'honda vedey' in our country will be hailed as patriots-even though we all know that they shouldn't be. Think about that too, will you?
Follow @timesonlinelk
comments powered by

Disqus