Be empowered with an internationally accepted Australian degree after O/Levels
View(s):

Being the 'preferred choice' is certainly no mere claim any institute can make . Yet that is exactly what the Australian College of Business Technology is to many of Sri Lanka's young students and professionals seeking a globally recognized qualification. Incepted in 1998, the college has quickly evolved to be the undisputed leader of quality Australian education in Sri Lanka, with an unblemished track record of over 13 years in the competitive sphere of private education.

The direct involvement of partner organization the Edith Cowan University of Australia (ECU) is perhaps a substantial factor in this. ECU is a highly respected tertiary education institute in the world and one of the largest and leading computer and information science universities ranked among the "top Ten" in Western Australia. They formulate the content and structure of the degrees at ACBT and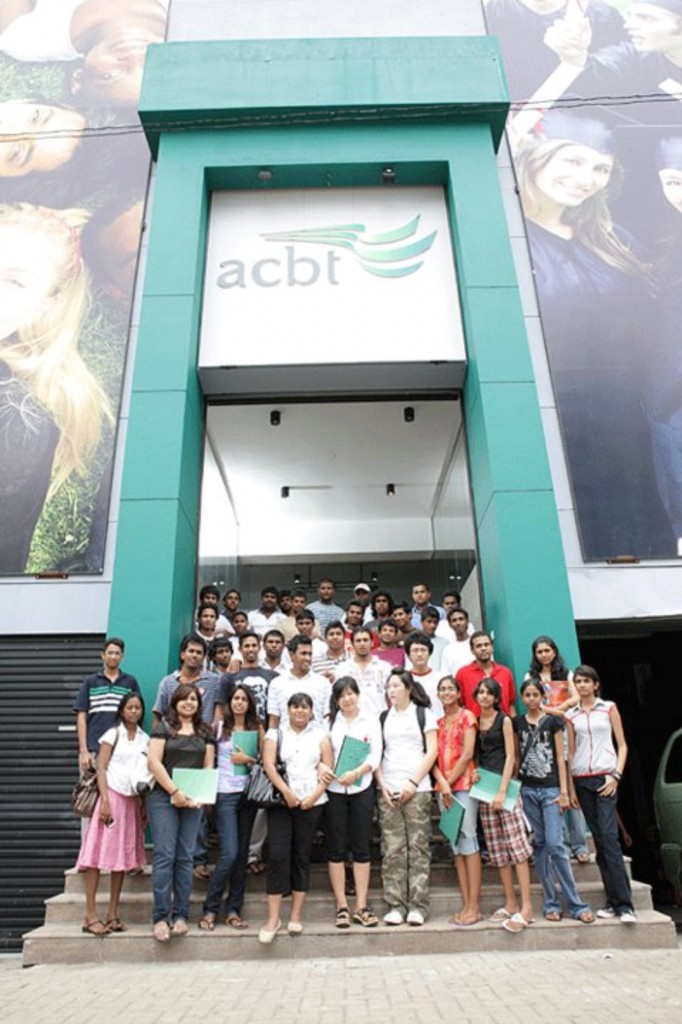 students are eventually awarded full, globally recognized ECU degrees. These degrees are highly practical-oriented, as ACBT strongly believes that a qualification means nothing if students are unable to put it to practice. ACBT graduates therefore are fully groomed to be capable in every aspect of their chosen areas, where their qualifications are a perfect match to the industry's requirements.
ACBT is also a part of Navitas, Australia, an internationally acclaimed leader in global education. Through an extensive global network of colleges and institutes operating in association with leading partner universities, millions of students all over the world choose a Navitas Pathway Programme every year as their preferred option for higher studies and in the preparation for their future careers.
This has led to ACBT attracting many international students from countries such as Maldives, China, Bangladesh, Pakistan and Africa.
Offering the added benefit of allowing students to effectively fast-track their education and thereby, their future, students can now start the ACBT degree immediately following their Ordinary Level examinations by doing the University Foundation Level (UFL). Recognized as an equivalent to the A/L, the UFL can be completed in 8 months compared to the two years or more consumed by the A/L. Therefore students who are awaiting O'Level results can now join the foundation programme , that will in turn lead to a wide variety of degree programmes from many well recognized Australian and UK Universities.
Covering a wide spectrum of subjects, such as accounting, communications, economics, statistics, computing, mathematics, management and marketing the UFL offers students several possible streams of study within the business and IT fields , such as Business ,Science ,Engineering and Information Technology .
In addition, students have the option of completing the degree in Sri Lanka itself or transferring to one of the many Australian or UK universities after completing part of their degree at ACBT. For the financially challenged, there is no more accessible choice than ACBT. The institute's flexible payment scheme allows students to make monthly payments in instalments, making it that much more of a viable solution to getting an international higher education.
The cornerstone of ACBT's success has been its uncompromising commitment to excellence in quality and standards of higher education programmes. The quality of education at ACBT is the outcome of seamless integration of several spheres of activity including selection of appropriate study programmes, effective teaching, and provision of outstanding resources, creation of a supporting academic environment and value system, and efficient management
With a team of well qualified academic staff and equipped with the most comprehensive state-of-the-art teaching and learning facilities, including computer laboratories, comprehensive library facilities with access to the ECU library from the third year and a Wi-Fi enabled learning environment, ACBT presents truly motivating and enriching conditions that promote 'active learning'.
Having gained a reputation for producing highly-skilled graduates , many top players in the corporate world currently turn to ACBT for recruitment purposes, as degrees are designed in collaboration with industry and professional bodies to produce graduates with highly sought after practical skills. Therefore today many blue-chip companies actively head-hunt ACBT graduates, who are considered a cut above the rest and are now employed at leading companies both in Sri Lanka and internationally. This again speaks volumes for the unmatched quality of education received, guaranteeing that students leave the institution with a wealth of knowledge, skills and experiences.
Please visit www.acbt.lk for further details of the study programmes and enrolments .
Follow @timesonlinelk
comments powered by

Disqus