US devalues Lanka by cutting aid
View(s):

US devalues Lanka by cutting aid

The United States has pruned down International Military Education and Training (IMET) assistance to Sri Lanka.
The budgetary allocation which remained at US$ 690,000 in 2012 has been reduced to US$ 626,000 for 2014.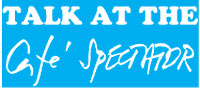 This reduction is one of the highlights for Sri Lanka in the Executive Budget Summary (Function 150 & other international programmes) for the fiscal year 2014. It was presented by Secretary of State John Kerry to the Congress this week.
The US has also reduced Foreign Military Finance to Sri Lanka from US $ 500,000 in 2012 to US $ 450,000 in 2014. US development assistance to Sri Lanka which stood at US$ 800,000 has been pruned down to US$ 600,000 for 2014.  However, the US has retained at the same level of US$ 720,000 for 2014 the aid for International Narcotics Control and Law enforcement.
In his message to Congress that accompanied the Budget, Secretary of State John Kerry noted that "foreign assistance is not charity or a favour we do for other nations. It is a strategic imperative for America…."
Secretary Kerry began his message with a quote from Vice President Joe Biden who was his colleague at the Senate Foreign Relations Committee. He said Biden had noted "Don't tell me what you value – show me your budget, and I'll tell you what you value."
Premadasa to resume campaign for party reforms, but Karu wary
The two erstwhile United National Party (UNP) deputies Karu Jayasuriya and Sajith Premadasa met during the Avurudu season to exchange greetings and pleasantries. It came when Premadasa, carrying a sheaf of betel, called on Jayasuriya at his Amerasekera Mawatha residence.
UNP insiders say that during a conversation that followed, Premadasa sought the support of Jayasuriya to resume the campaign for party reforms. He is sore that he had not yet been named the deputy leader of the party and was bitterly critical of his leader.
Jayasuriya, these insiders say, reminded Premadasa that he (Jayasuriya) had been "let down" not once but twice. So, the one-time deputy leader who commands great respect among the Buddhist clergy was unwilling to take a third chance.
Needless to say, even the betel leaves he gave the erstwhile colleague did not help Premadasa in his renewed efforts.
Premadasa is now busy arranging for a rally in Colombo in remembrance of his father who was killed during a May Day procession in 1993. Even live TV coverage of the event is on the cards. It is the 20th anniversary of his assassination at the hands of an LTTE 'sleeper plant' who lived in the then President's own house.
Monitoring tourists: Two versions and a fifty-rupee fine
There are at least two official reasons why the Police Department wants to register tourists in the country's hotels and guest houses. If Police Chief N.K. Illangakoon is right, it is for the protection of tourists since arrivals have increased. He has said so in a circular to police divisions that they should obtain names, addresses, phone numbers and other details of tourists and in which resort or hotel in their area of responsibility such tourists were staying.
With boasts of a million tourists arriving in Sri Lanka, it is an Orwellian task for the Police. They would have to make at least a million entries or even more if the tourists keep shifting resorts.
However, official Government spokesperson Minister Keheliya Rambukwella told Thursday's news briefing that registering tourists was part of national security requirements. "In the guise of tourists, there are others like criminals and drug pushers coming into the country," he said. His response came when a journalist asked about web reports that tourists visiting Sri Lanka were being placed under surveillance.
Under what law are the tourists being registered? It is under Section 76 of the Police Ordinance of 1866. The provision says: "Every householder within such town and limits shall furnish the officer of police of his division, when required so to do by such officer under the order received to that effect from any Magistrate having jurisdiction within such town and limits, or from the Inspector-General of Police, with a list of all the inmates of his house, distinguishing the members of his family from the servants or others resident therein; and he shall also, if it shall be so directed in the order of the Inspector-General of Police or Magistrate report any increase or diminution, or change in the same; and he shall not, having received such notice under such order, harbour a stranger without giving such notice thereof to the principal officer of police of his division; and every person failing in any duty imposed upon him by this clause shall be guilty of an offence, and be liable to any fine not exceeding fifty rupees."
As is clear, this 147-year-old law is meant for those harbouring persons in their homes and the fine is a mere fifty rupees for that.
Huge bypass operations by Lankan diplomats abroad
What do Sri Lankan diplomats, and more specifically non-diplomatic staff and local recruits, do when they need medical care overseas?
With little or no medical coverage provided by the Government, they have developed the fine art of brazenly walking into hospitals, providing bogus names and addresses, and leaving with no tell-tale marks — but a trail of unpaid bills. According to reports reaching Colombo, the practice is common in several Western capitals where both medical care and medicinal drugs are extremely expensive. Until 2009, the Government was required to fully pay the consultation fees and for medical treatment.
But a ministry circular dating back to September 2009 changed all that. Now each diplomatic officer is expected to pay 30 per cent of all consultation fees and costs of treatment out of his or her pocket — unless hospitalised for intensive medical treatment or a medical emergency.
With medical costs overseas being high, the Sri Lankans are now avoiding the 30 per cent payment with fake names and addresses. In 2010, according to a ministry source, at least one visiting politician gained admission to a hospital in Los Angeles under a bogus name and left behind a hefty unpaid bill.
One former diplomat says that while the Government saves money by not providing full medical coverage, it has had no compunction in sending over-sized delegations to overseas conferences, with the perks including business class travel and five star hotels — all at the hard pressed Sri Lankan tax payers' expense.
While Boralesgamuwa police crawl, people act fast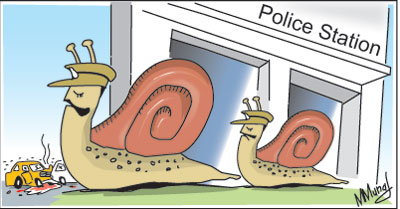 A person on his way home one night last week witnessed an accident at Boralesgamuwa area. He promptly telephoned the Boralesgamuwa Police station which was just a few hundred yards away.
The good Samaritan then went on to attend to a fractured leg of the accident victim. Since it was the Avurudu season, there was not even a vehicle to move him to hospital.
It was much later that two police officers arrived, that too on a motorcycle. By then the good Samaritan had walked some distance to seek the help of people. Crowds gathered and commandeered a vehicle to take the accident victim to hospital. 
The long arm of the law was evidently not long enough to take an accident victim to hospital on time.
Policy towards US: Peiris says no change, but Jaliya wants change
After Jaliya Wickremasuriya, Sri Lanka's Ambassador to Washington, called for closer defence and economic cooperation with the United States, officials at the Ministry of External Affairs explained to diplomats of several countries serving in Colombo that it was not the official position of the Government.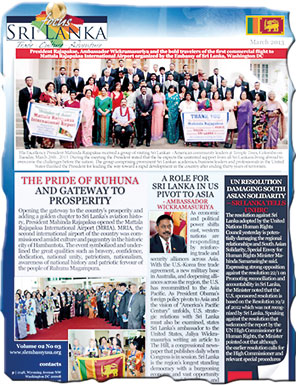 Such explanations were given, among others, to diplomats from China and India. In addition, External Affairs Minister G.L. Peiris declared in Parliament that there was no change in the country's relations with the US. The response came after Opposition UNP Leader Ranil Wickremesinghe raised issue over Mr. Wickremesuriya's article that appeared in a Congressional website. The ambassador is now following a course at the Fletcher School of Diplomacy in Boston. 
Notwithstanding all this, the regular newsletter circulated by the Sri Lanka Embassy in Washington DC has once again repeated Ambassador Wickremesuriya's call. (see the montage of the newsletter)
There is also a reference to the "bold" travellers of the first commercial flight to Mattala Rajapaksa International Airport, as if they had undertaken some hazardous journey and deserved praise for their bravado.
Follow @timesonlinelk
comments powered by

Disqus