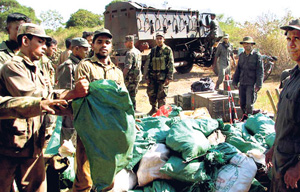 Forward March: This picture taken on Wednesday shows soldiers getting ready for the push for Kilinochchi town, the rebels' political stronghold. The security forces are now some 2 kilometres from Kilinochchi town, according to the Army Commander. Pic by Ranjith Jayasundera
Obama says it with flowers on wedding anniversary
White House hopeful Barack Obama brought his motorcade to a halt on Friday to dash out and buy a dozen white roses on his 16th wedding anniversary prior to a "romantic dinner" with wife Michelle.
Breezily luscious
I somehow feel that the best place to have seafood is on the beach, what with the sea breeze, the sand, the sound of the waves crashing, all just a few steps in front of you, and just the right atmosphere on the whole.
Elections likely in coming year

Further indications that the ruling alliance is preparing for elections emerged as the government allocated a record Rs. 1098 million to the Department of Elections for 2009. The current year's allocation was only Rs. 284.5 million.

Kilinochchi hospital also moved out

The last government institution in Kilinochchi town – the main hospital – was yesterday being pulled out into a safer area, following approval from Colombo.

EDITORIAL

The Tamil Nadu factor

Political parties in the southern state of Tamil Nadu in neighbouring India this week whipped up anti-Sri Lanka sentiment by organising a day-long fast to protest the 'killings of Tamil civilians' in the course of the stepped up military offensive against the LTTE.

PLUS

Milk under microscope
Milk, cheese, ice cream, yoghurt, chocolates, biscuits, candy and even cereals for babies are all under scrutiny, as fear and concern spread across the world that these products may have been spiked with

FINANCIAL TIMES

PBJ before SC on Oct 8

The Supreme Court, hearing the Lanka Marine Services Ltd (LMSL) case this week ordered former Treasury Secretary Dr.P.B. Jayasundera to appear in court on October 8, and said the CID director should be removed from office for failing to perform his duties.

"Badugate" and spirit of cricket
Now for two years running the Lankan cricketers have been hailed by the ICC – the game's governing body as the guys who have real passion for the game and yet they play it well within the laws of the game.

The arrival of Veera Alakeshwara

Veerabahu, who defeated Veera Alakeshwara, became the rightful ruler of the Sinhala people. He belonged to the 'Menavara' clan.

| | |
| --- | --- |
| | Latest News October 5 - 11, 2008 |

Two civilians killed in claymore blast in Anuradhapura district

One killed in accident at Madampe

Explosion in Anuradhapura

Major Gen Janaka Perera among 27 killed, 94 injured

Colombo stocks up, still on speculation of Maskeliya takeover bid

Karuna to be sworn in as UPFA MP

World crude on slippery slope

Colombo stocks mixed as RPC group shares gain

Karuna takes oaths as MP, opposition boycotts

Ranil calls for intrnational probe on Monday's suicide attack

Four bodies found in Horowpathana

Colombo bourse slumps as global markets reel from US crisis

26 victims of Monday's blast identified: Defence

Discussions ongoing on divesting shares in management company - Maskeliya

Karuna to be sworn in as Nation Building minister

Defeating terrorism should be given priority - Karuna Amman states in his first speech as MP

SLAF Mi24 helicopters engage LTTE positions near Akkarayankulam

Colombo bourse sinks as blue chips take a beating

World crude prices fall further

Emergency passed

Sri Lanka to raise syndicated loan of $300 mln

PBJ to appear before the Supreme Court today

President's Secretary to retire end-2008

Water's Edge judgment by Supreme Court today

Colombo stocks open mixed

Suspect arrested in connection with murder of Muslim youth

Supreme Court holds with petitioners in Water's Edge case

PBJ told to provide affidavit on public office furore

No helicopter to transport body of Maj. Gen. Janaka Perera - Chief Opposition Whip

Speaker wants a national policy to put a stop to liqour use

Second COPE report to be sent to Bribery Commission

Colombo stocks sink on major news developments

Umpires word is law - Chief Justice tells PBJ

Maj. Gen. Janaka Perara's body kept for four hours at Ratmalana - UNP

8 soldiers, 48 LTTE cadres killed in north: MCNS

Colombo stocks ASPI falls before 2,000, first time in more than 2 years

Appropriation Bill for 2009 presented to Parliament today

Rs. 592 spent on exams this year, Rs. 441 million for next year - Dy Education Minister

Air force jets bomb LTTE targets

Colombo stocks - no hope

Minister Maithripala Sirisena escapes suicide bomb attack, deputy minister injured

Colombo stocks gloomy, fall to lowest in nearly 3 years

Crude prices hover at $80 levels

Colombo All Share hits 1900 for the second time in two days

Colombo stocks index falls by over 4%, below 2000 level

Crude prices crash to $70 levels

UPDATED-Colombo stocks see more despair

LTTE Dy Sea Tiger leader killed

Dead body found in Kattankudy

Six-year-old killed in accident in Galewela

SLAF Mi24 helicopters engage earth bund LTTE cadre building

Two buses collide head-on in Bingiriya

TMVP cadre shot dead in Kalavanchikudi

Teacher arrested with book-bomb