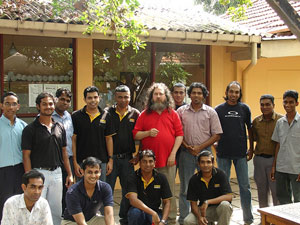 The Sahana team
Ask Chamindra de Silva what drives him and he will probably attribute his commitment to his strong Christian values and his aim to make a difference in his lifetime, especially in bettering the lot of all Sri Lankans. What further differentiates him from others who may have similar goals is that he has already made significant strides toward achieving this ambition. Mr. de Silva is one of those rare individuals proving that not only can one directly improve one's own community but they can also inspire others to do the same.
What makes him so special? Mr. de Silva recently became one of only two Sri Lankans recognised in the 5-year history of the Globus Indus Technovator Award (GITA), an honour awarded annually by the prestigious Massachusetts Institute of Technology (MIT), where he joins fellow Sri Lankan Prasanga Lokuge as GITA's 2007 recipients in the Grass Roots / Developmental category. Both are part of a select group of only seven awarded this year, resulting from a pool of over 110 distinguished achievers across 10 countries who were nominated for exemplary personal achievements.
What does this award mean to him? More than anything else he felt 'surprise' when notified of this award. He also notes that, like many of his peers in the developmental field, he does not work for awards, stating that "the best reward is being able to make a difference for those in need."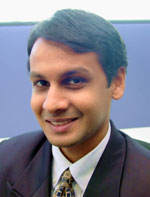 Chamindra de Silva
To understand why Mr. de Silva is deserving of this honour it is important to make note of the accomplishments for which he was singled out: A former Global Research & Development Manager at Virtusa, Mr. de Silva took a 'sabbatical' in 2005 to take on the challenging role of project leader for Sahana, a global disaster management tool that grew out of the 2004 Asian tsunami disaster. This suite of web-based applications which address different problems by disseminating information required for post-disaster management, such as locating missing people, coordinating different aid groups, managing aid resources, etc.
Because of Sahana's wide potential for use in the disaster recovery process, this application has been used to manage several large scale disasters in recent years, including the earthquake in Northern Pakistan in 2005, the Guinsaugon landslide in the Philippines and the earthquake in Yogjakarta, Indonesia, both in 2006.
Although dubbed a 'technovator' by MIT, Mr. de Silva does not lend a lot of credence to this term … "I believe technology can be used as a conduit for either good [or] bad", he explains. However, he does advocate a careful assessment of technology and its fit to the environment it will be introduced into, especially if the model is to prove sustainable. For example, he suggests Sahana may not always make sense, especially if users are not computer literate. It may then prove to be more of a 'bottleneck' than an effective tool for disaster recovery coordination.
Meanwhile, his pride in Sahana is plain for all to see. Crediting the success of this project to its Free and Open Source Software (FOSS) platform, he notes that it has helped to improve disaster management systems in the aftermath of a large scale disaster, offering functions like tracking missing people, 'who is doing what where', aid management, volunteer management, shelter tracking, etc. As the software is Open Source, it has the added benefit of being a global public utility that anyone can download and use without the need for express permission.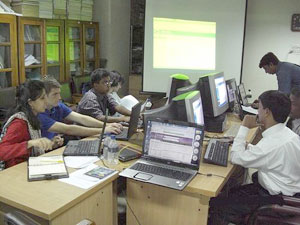 Sahana deployed in Bangladesh
A wholly Sri Lankan initiative, Sahana proved ultimately to be a massive project initiated by the Sri Lankan IT industry and the country's FOSS community, as well as coordinated by the R&D Open Source organization, Lanka Software Foundation (LSF). In what has since become an example for exemplary community activism, hundreds of volunteers from the Sri Lankan IT industry and open source community came together to help their fellow countrymen and help the organisations like the Centre of National Operations (CNO) by addressing the coordination issues they were facing.
In commenting on what attributes he felt had led to his success, Mr. de Silva notes the need for "personal perseverance and passion to handle the ups and downs of a project and to make anything worthwhile". He also suggests that with the right degree of passion and motivation, any goal can be achieved. Finally, he observes that success is not just about technology innovation, but it also had to do with a good understanding of the domain and learning how to collaborate and present ideas effectively to diverse groups of people.
His final recommendation: Volunteer… He advises volunteering in some socially conscious way, and adds that being a volunteer has the double advantage of not only being good for those helped, but it is also good for one's own personal development as it often leads people to see a whole new perspective of the world. His last piece of advice: "You do not have to do big things, as the little things you can do add up and there is plenty of opportunity around you for that."