Milk, cheese, ice cream, yoghurt, chocolates, biscuits, candy and even cereals for babies are all under scrutiny, as fear and concern spread across the world that these products may have been spiked with melamine, following several Chinese companies becoming embroiled in a milk-tainting scandal.
As many countries including those closer home such as India and Singapore reacted quickly, banning certain imports, Sri Lanka was keeping a close eye on the situation.
While parents were caught in a dilemma whether to change the brand of milk that their children were taking daily or stop giving them milk altogether, the Food Control Administration's Assistant Director P. Madarasinghe assured that so far there has been no indication of melamine-laced products coming into Sri Lanka.
"Two containers originating from China have been detained until full checks are carried out," he said, explaining that 36 samples picked up randomly from the open market have also already been despatched for analysis to check for melamine contamination.
Some samples have been sent to Singapore and the rest to the Industrial Technology Institute (ITI) in Colombo, said Mr. Madarasinghe, stressing that his unit is also keeping tabs on the 'melamine results' of monitoring agencies worldwide so that they could pull out any tainted product immediately. His unit comes under the Health Ministry.
"Although there has been no confirmation that the products in Sri Lanka may have melamine, a certain company importing a particular brand which has been found to have a high percentage of melamine elsewhere has been told unofficially to recall its products until that brand is cleared fully worldwide," he said.
Another well-known company has swiftly got the government of the country where it is headquartered to send a letter of certification that its products are safe, The Sunday Times understands. Being a government-to-government assurance, Sri Lanka will accept the certification, unless proved otherwise, Mr. Madarasinghe said.
Full cream milk, non-fat milk, infant milk, liquid milk, whey powder etc are all under the microscope, The Sunday Times learns, with about 30 importers, big and small, being under scrutiny. "The moment we have the slightest proof that anything is contaminated we have the capability to withdraw the stuff from the shelves within 24 hours," he said.
In the scandal that rocked the world, with several children dying and thousands suffering from kidney trouble, Chinese milk producers were found to have added nitrogen-rich melamine to substandard or watered-down milk to pull wool over quality checks which use nitrogen levels to measure the amount of protein in milk.
Melamine is an industrial chemical used in pesticides and the manufacture of plastics. A Consumer Affairs Authority official also confirming that samples of five popular milk powder brands have been sent to Singapore for testing, said that the final report was awaited in two weeks. "We have taken steps to ensure the safety of dairy products by inspecting factory premises. Two teams have been deployed for this task," the official assured.
Going into detail on the surveillance and vigilance of the Food Control Administration, Mr. Madarasinghe said, "We take measures, not only during a scandal but at all times to prevent contaminated stuff being dumped in the country. The high-level Food Advisory Committee which is chaired by the Director-General of Health Services and includes all stakeholders is very active."
All imported food products are referred to the four inspection units, at the sea port, Bandaranaike International Airport and the two inspection yards of the Food Control Administration by the Customs as required under the Food Act. There, the documentation, particularly the analysis report issued by the food manufacturer countersigned by the regulatory authority of that country, the shipping papers and the labels, is checked thoroughly, said Mr. Madarasinghe.
When the milk prices went up recently, they detained six containers of "milk replacers", The Sunday Times learns. "Under the Food Act, the documents must mandatorily have the right name," he says explaining that no one can import a "butter substitute" but must call it a fat spread, while naming what type of fat it is, whether animal or plant.
If there is the slightest doubt about any food item, we will stop it from entering the country, Mr. Madarasinghe added.
Testing for Melamine
The testing-for-melamine procedure is ready and we are awaiting the reagent needed for this, said the Director of the Industrial Technology Institute (ITI), Azeez M. Mubarak, explaining that the reagent has been ordered and should be delivered in about two weeks.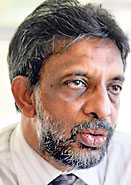 Director of the Industrial Technology Institute (ITI), Azeez M. Mubarak
The ITI wrote to the CAA that it has the equipment (GC/MS) and the expertise to undertake the task, provided the necessary reagent is available, he said.
Explaining the issue of accreditation that could crop up, Mr. Mubarak said the most important factors are reliability and validity of test results.
"The fundamental requirements for accreditation are: the laboratory should have the facilities including equipment to carry out the tests; trained staff; traceability of measurements to international standards and appropriate test methods; suitable environment; and whether the institution undergoes inter-laboratory proficiency testing on a regular basis."
Although ITI is not accredited to test for melamine in milk, as this particular test has not been done in the country (like in most other countries), we have the facilities (GC/MS) and the expertise in place to do it. However, the ITI has the accreditation for a large number of similar tests, he said.
What Lanka's milk companies say.........!
Following the milk-tainting scandal that has erupted in China, The Sunday Times contacted two major milk companies in Sri Lanka.
"The New Zealand Food Safety Authority has issued a certificate assuring product-safety to 120 countries including Sri Lanka", Fonterra Brands Lanka Human Resources Director Roshan Kulasuriya said.
Anchor, Anlene, Ratthi, Shape Up and Anmum milk powder are sold under the Fonterra Brand while liquid milk and yoghurts comprise Newdale, Ratthi, Anlene and Anchor.

When pointed out that Fonterra has around 43% shares in China's Sanlu Company which is in the eye of the storm, Mr. Kulasuriya assured that the Fonterra milk powder sold in Sri Lanka is imported directly from New Zealand. Other dairy products such as liquid milk and yoghurt sold under Fonterra are made with 100% of milk produced locally, he said.
Meanwhile, Fonterra which has been taking out large advertisements in the newspapers to reassure its consumers while giving the hotline 2488255 for information, said in a statement that its milk powder products are made from milk sourced solely from New Zealand and are 100% safe to consume.
The milk contamination issue in China involving 22 dairy companies was confined to products manufactured with China-sourced raw milk and has no bearing on products marketed by Fonterra in Sri Lanka, it said.
***********************************************************************************
Nestle Lanka PLC stating categorically that it has no connection with the Chinese milk companies caught up in the scandal, assured consumers that its products are safe. "Our finished products are checked for all quality parameters periodically as required under Sri Lankan food laws and stringent international norms," the company said.
The company sources its full cream powder requirement from local milk farmers and from internationally certified milk suppliers in New Zealand. Milk-based products are manufactured locally as well as imported from India, Switzerland and the Netherlands. The company does not import any milk or milk products from China, it said.