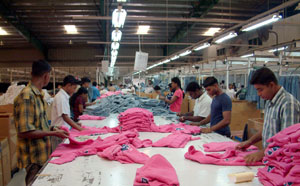 File picture: Scene at a garment factory
Sri Lanka's organized apparel industry uses its 'Garments without Guilt" campaign to convince international buyers and traders that social obligations like a decent wage and good working conditions are being met but that may be far from the truth – at least as far as some unions are concerned.
Neil Kearney, General Secretary of the Brussels-based International Textiles Garments and Leather Workers' Federation (ITGLWF), says the campaign while to some extent has good initiatives, also has some issues. "There is a blurred vision about supporting the workers which to some extent affects the credibility of the campaign," he said in a telephone interview with The Sunday Times FT during a working visit to Colombo last week.
But Joint Apparel Association Forum (JAAF) Chief Ajit Dias disagrees and says he responded to the Mr Kearney's concerns when they met. "There is no doubt there are issues but this is a small percentage of the entire industry and not the majority of the industry where things work."
Part of Mr Kearney's visit was to attend a meeting between GAP, the world's second largest clothing retailer or buyer, and its Sri Lankan suppliers – at GAP's invitation. "Many years ago there was confrontation between unions and buyers or the trade. That has changed in the past 15 years and we work closely with organizations like GAP for better relations," he said adding that the breakthrough in relationships came because of more scrutiny of the industry in the 1990s.
Demands for change began after globalization and the revolution in communications. For example any crisis in a factory gets across to the world within minutes due to email and Internet as against many weeks or months earlier. "Nothing can be hidden now," he noted.
The international garments workers' union boss said his visit also entailed looking at the promotion of labour standards, the general situation regarding workers in Sri Lanka and the debate over GSP+. He met unions, workers, the JAAF, ministers in charge of investment and labour, among others.
Mr Kearney said the industry's 'Garments without Guilt' campaign has two problems. The campaign speaks of freedom of association and refers to parallel organizations with workers which are controlled by management. "These don't meet labour standards of buyers and ILO rules of freedom of association," he said.
The second issue is wages and remuneration. The campaign code, according to Mr Kearney, says wages should meet the minimum legal requirement. "I suggested to JAAF the need to review the code on the wages issue. The general acceptance now, the world over, by buyers and the ILO is that wages must meet the basic needs of the workers and make up what is called a 'living wage'. The legal minimum wage here is Rs 6,000 plus per month while the living wage is double that," he said.
However JAAF's Mr Dias disagrees once again on the union issue and believes the wages paid are reasonable and "remember … we can only pay a wage (beyond the minimum prescribed level) that we can afford to, ie affordability. If the buyers pay more for their products, then yes we certainly can. We are not making huge profits and depriving the workers of a decent wage," he said, adding that workers get between Rs 12,500 to Rs 15,000 per month (which includes overtime work).
On unions, he says the Board of Investment laws are clear: permitting workers councils and unions through a referendum. "These workers are selected through a ballot. So how can one say they are controlled by the management"? Mr Dias argued, saying this issue has been going on for decades and the industry, particularly unions, need to move on and come together to fight bigger issues like the GSP + crisis.
The issue over GSP + concessions for Sri Lanka next year also was the focus of Mr Kearney's visit. He said the EU position over a new agreement over GSP+ is subject to rules and regulation governing human rights and worker rights. "The EU will want to assess how far Sri Lanka has progressed in this field," he said.
But Mr Kearney pointed out that 'statements' by some Sri Lankan ministers that the country wouldn't accept a EU mission to study these aspects and that Sri Lanka prefers to lose the concessions rather than allow such a mission is complicating matters.
"I find this extremely shortsighted as a halt to these concessions would affect thousands of workers and their dependants. Workers in the transport, logistics and support services in the industry will be affected," he said adding that Sri Lanka has a 10 % price advantage over other suppliers because of the GSP+ benefits.
Industry analysts however believe – whatever is being said by EU diplomats and governments – that the international community may be pushing the human rights line vis-à-vis GSP+ concessions because the government has generally 'given a cold shoulder' to international concern over human rights issues in the battle against the LTTE. This is also the first time the EU wants to investigate these issues and may be connected to the cry for 'more accountability' from the government, the analysts said.
"This could be a bargaining chip against the need for some openness on the humanitarian crisis. Whatever it may be – the government and its ministers need to be more tactful in shooting off their mouths and worsening an issue that already has many complications," one analyst said.
The analysts said the reversal in GSP + benefits will also affect other sectors like gems & jewellery, vegetables and exotic food like gherkins. Other sectors account for 35 % of the exports to the EU while the balance is represented by garments.
Big buyers like GAP for instance, according to Mr Kearney, works on social compliance and mature systems of a disciplined workplace (both management and workers), and dialogue and negotiations between these two segments.
He said GAP believes unionization of workforce is important. However of the 70 Sri Lankan suppliers of GAP, only six have recognized unions which means more than 90% don't have good systems and no proper dialogue. "Social compliance is always questionable in this context," he said. GAP brought together 17 of its Sri Lankan suppliers for the meeting to look at social compliance and standards. "GAP works on social compliance and found the results here were limited," he said. The international buyer brought in a big team from overseas – essentially those involved in social compliance issues - for the meeting and also invited unions from here to be present.
He said at the meeting there was a convergence of views and an open discussion on unionization and need for general recognition. "There was general understanding that 'Our destiny is all tied up with each other' which means that the worker/unions needs the employer; the employer needs the workers; the buyer needs the supplier, etc," he said.
He said GAP wants to convene another meeting early next year for all suppliers on freedom of association and collective bargaining. The Labour Minister has said they would get involved and organize a similar meeting (together with GAP or separately) for the whole industry.