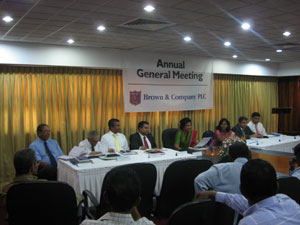 Picture shows from left -- Vijaya Malalasekera – Director, M. T. L. Fernando – Director, S. V. Somasunderam – Director, Murali Prakash - CEO/Managing Director, Rohini Nanayakkara – Chairperson, Nayantha Delpechitra – General Manager, Group Legal/Group Secretary, I. C. Nanayakkara – Director and Ajith Devasurendra – Director.
Brown & Co, which has reported a group profit of Rs. 433 million for the last financial year, recently held its 116th Annual General Meeting at the company premises. A company statement said group turnover of Rs. 5.79 billion (for the year) was up 14 % from the previous year.
Group Chairperson Rohini Nanayakkara, addressing shareholders, said, "Despite the several challenges, Browns aggressively pursued a re-organisation of its business activities and a strategic expansion of its products and services, to fall in line with its new vision of being a leading Sri Lankan conglomerate."
CEO/Managing Director Murali Prakash said, "Despite many challenges during the period under review, the organization had the ability to withstand the negative pressures due to its diversified trading operations.
All our main business areas like agriculture, general trading, automotive batteries, business solutions and power systems have increased their market share overall." A company spokesperson said the meeting went off 'well' without any disruptions or issues raised by shareholders.