A dossier containing vital information about the financial operations of Sakvithi Ranasinghe who has swindled more than 5,000 depositors to the tune of about Rs. 900 million had been compiled by a special unvestigations unit of the Central Bank more than two years ago, but little or no effective action was taken.
According to investigations by The Sunday Times, the report was compiled by this special unit which included CID detectives also.
After a probe for about six months, the unit submitted a classified report containing details of Sakvithi's operations, but no action was taken to check the operations of Sakvithi Ranasinghe who has now fled the country.
According to investigations, the special unit discovered financial irregularities in the company that ran its operations under the name of Sakvithi Housing and Constructions (Pvt) Ltd. Officers of the unit trailed Mr. Ranasinghe and monitored his company, the flow of funds, his bank accounts and tax records.
The Central Bank sleuths discovered that his company had not been registered with the Bank as a financial institution and had been providing high interest rates for investments.
The report included findings of the CID officers who had taken part in undercover operations where they approached Mr. Ranasinghe as potential investors. Discussions between Mr. Ranasinghe and directors of his dubious company were also recorded by these sleuths.
One director, identified as Nalaka Karunanayake and a company officer, Darshini Madhuwanthi, both under arrest now, had regularly called these undercover officers to invest their money and guaranteed higher returns for their deposits. These phone calls were also recorded.
After gathering all this evidence the special unit compiled a classified report which included details of Sakvithi's operations and handed it to the Central Bank for necessary action.
However, the special unit set up in 2005 to deal with unauthorized finance companies, pyramid schemes and multi-level marketing operations became defunct in September 2006 after the three CID officers assigned to it were recalled by the police chief. The operations of this unit were later handed over to various departments of the Central Bank.
Meanwhile the police have made little or no headway in their hunt for Mr. Ranasinghe who reportedly fled the country on September 9 on flight UL123 from Colombo to Chennai. He carried a passport bearing number N1647784.
Investigations have revealed that Sakvithi had five different business enterprises -- I.P.M.S. Education (Pvt) Ltd, Sakvithi House Constructions (Pvt) Ltd, Infinity Solutions (Pvt) Ltd, Sakvithi Rental Car and Cab Service and Asia Pacific Location Industrial Training Centre (Pvt) Ltd.
The police have, however, seven other suspects including Nalaka Karunanayake, K.B Kesara, a retired army major identified as Prabath, Darshini Maduwanthi, Darshini's father and an aunt.Mirihana police are also searching for three other suspect -- J.R Anuradhini, Chathuri Sarath Chandra and Dimanthi Adikari.
Another suspect, Inspector K. Pushpakumara, said to be a close associate of Sakvithi, is also evading arrest. The Inspector is alleged to have gone to the Sakvithi office and taken away vital evidence. He was told to give a police statement last week, but has disappeared. On Friday, Mirihana police obtained a warrant to search the inspector's residence at Elibank Road in Colombo 5. But an official said they found little or no evidence.
Investigations have also revealed that Mr. Ranasinghe had registered his dubious companies under different names including Abaya Ranasinghe Mudiyanselage Chandana Weerakumara and Jamburuthugoda Gamage Kumari Anuradhini.
Mr. Ranasinghe who also operated as an English tuition master had made the well known journalist Edwin Arriyadasa a director of his company in April last year on the initiative of a person identified as Lanka Jayawardene who had been with the Agriculture Department for sometime.
Mr. Arriyadasa has told police that he had been appointed as Programme Director of IT Management Solution which was primarily responsible for promoting Sakvithi's English tuition classes.
A spokesman for Mr. Ariyadasa said he did not wish to make any comment on legal advice. Investigations have also revealed that the alleged swindler, Mr. Ranasinghe, through his contacts in the Army and the Health Ministry had the opportunity to market his English training courses at training facilities for nurses and army bases at Weli Oya, Maduru Oya, Galkulama, Nelunkulama and Minneriya.
Police spokesman Ranjith Gunasekara said the International Police-Interpol- had been notified and was on the hunt for the suspect, but an Interpol official who spoke to The Sunday Times from its headquarters in Leon, France said they had not received any request from the Sri Lankan police.
Police drop Rohan Perera probe
By Bandula Sirimanna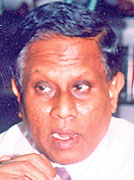 Rohan Perera
As the Sakvithi scandal continued to hit the headlines, the probe against Rohan Perera, the chairman of Pramuka Bank, who went missing overseas after the bank collapsed, has been shelved, police say.
A case against Mr. Perera, who was also a former Seylan Bank Chief Executive Officer, is still pending in Colombo High Court.
He was indicted on fraud charges amounting to US$ 1 million, the money which he allegedly had siphoned abroad while working as the CEO at Seylan Bank, CID detectives said.
Mr, Perera is believed to be living in Britain although his whereabouts are still not officially known. The Interpol branch at Scotland Yard had been alerted to trace his whereabouts six years ago. But the CID is now not sending reminders to Interpol to track him down as there was no material evidence against him to institute criminal proceedings, the detectives said.