Colours tell a story. Colours also have the power to directly influence the soul; it is a healing process for both the artist and viewer. This is the theme behind 'Healing Colours and Other Stories', an art exhibition by Italian artist Antonella Regi being held at the Barefoot Gallery.
Antonella was diagnosed with cancer and while receiving treatment she was unable to paint for about a year. "But I would see all those different colours in my mind," she says, adding that later as she felt better she found solace in colours. "It was a healing process for me," she adds.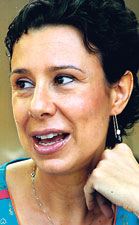 Antonella Regi
She is now researching the effect of colours on people, especially the reaction to a mix of acrylic, crayons and watercolours, because she believes such mixtures and colours have an impact on us. Thus the main focus of her art exhibition is on colour and texture. "Texture is given purely by the reaction of the colours," she says.
"While some are drawn towards the cool colours like blue and green, others prefer the more earthy colours like red. But whatever it is, colours and textures tell a story of their own. They bring richness to our lives. They tell of various emotions," she says, adding that the viewer can bring meaning to the piece of art before him or her.
Antonella usually tends to use large canvases but this time, she's painting on small canvases-16 x 16, because she wanted to get the maximum impact of colours on the viewer.
Interestingly, her paintings don't have titles, just numbers. "It's a progression faithful to the order in which they were completed," she says. Painting No. 1 was completed at the beginning of the year while work on the last painting, canvas No. 83 was completed just last month. This is to invite the viewers to mix and match, to have contrasting or blending tones to choose their own healing colours and make their own selection into a sequence to create their own story.
Antonella started painting in Italy when she was two. Later on she moved to London and Brazil where she learnt art and held several exhibitions. She has been living in Sri Lanka for the past two years and this is her second exhibition here – her first titled 'Journey Through Colours' was in May.