With a December 31 deadline looming, the Council for the Blind has no option but to appeal for public help. The harsh reality is that if they are unable to find sufficient funds to start building their new headquarters by the end of this year, land that was allocated to them for the construction of the new building will be taken away.
The foundation stone for the new building has been laid but that is all. Lack of funds has meant the land given to them by the UDA in Rajagiriya remains unused. The support of the public is the only way that can make the lives of those who live in a dark world brighter.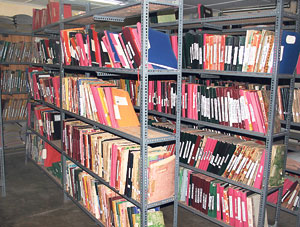 The library
"Finding funds to start building is our most pressing need," said S. L. Hettiarachchi, Secretary and Executive Director of the Council for the Blind. "Without this we cannot develop our services any further."
They are presently housed in a dilapidated building owned by the Colombo Municipal Council on Church Street, Colombo 2, but this location does not give them the adequate space they need to carry out their activities efficiently and successfully.
"We have sufficient resources and the technology we need for now," explained staff member Chandrika Senadeera. "What we need is a larger plot of land and more space to continue our work on a larger scale."
The Council's activities range from maintaining a Braille and talking-book library, providing books to 13 residential schools and four universities, issuing spectacles for the needy, training students in IT skills and telephone switch board operation, assisting students engage in higher education and establishing scholarship funds for them, providing assistance for self-employment, encouraging the blind to involve themselves as lottery ticket sellers, bicycle repairers, venders and musicians and rehabilitating the war blind and adult blind, a project which is implemented through a six-month programme held on Saturdays.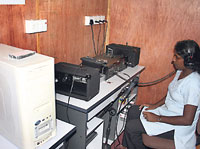 IT training unit of the Council.
Not only do they provide these services, but they also have a dedicated group of individuals who work tirelessly to guide and support the blind and help them realize their potential and skills.
Samson Perera who is blind himself has worked together with the SLIIT in Malabe to create a new software programme called Nuwana SIS (Sinhala text to speak) to make computers more user-friendly for the blind. Mr. Perera is an instructor at the Council and he helps his students better their IT skills. It is amazing to see with what ease and confidence he does this.
Considering the range of services they provide for the visually impaired, the funds they receive are minimal. They need Rs. 2.5 million to start their building programme and Rs. 40 million to complete it.
Donations in the form of cash or by way of building material will be most welcome. Donations could be sent to A/C No 1480022047 or 8480022288 at Commercial Bank, Union Place.
Pic by Berty Mendis