Many are the books and articles written and speeches made in recent times about the conflict in Sri Lanka. "Sri Lanka A Nation In Conflict" which is an invaluable collection of 40 articles written, and public speeches made, by the last surviving 'great' of Sri Lanka's lawyers and jurists, H. L. de Silva PC, over the last two decades, is unique among them.
It is unique because of a combination of three undeniable circumstances. Firstly, HL's words are not purely theoretical discourses spouted from some ivory tower of academe that have no connection with the hard realities of life, but the product of true scholarship borne of wide reading, coupled with experience gained in the heat and dust of the conflict in respect of many aspects of which, it has been his lot to be a participant, and deep thought about the knowledge gained from those two sources.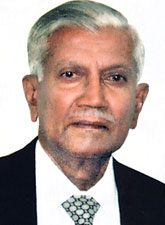 HL: 'Never had or has any hidden agenda'
Secondly, HL never had and has not any `hidden agenda'. HL's words were never designed to curry favour with any person or institution whomsoever; to 'earn' a condescending smile of approval from or some of the 'largesse' dished out by sinister foreign forces or NGOs: he is one who would disdain to give even a fleeting thought to acquiring 'thirty pieces of silver' which, and much more could have been his, had he become an 'intellectual mercenary' as many supposedly 'distinguished' persons have become.
Thirdly, HL's words come straight from that rare combination of `head' and `heart', out of a boundless love for his motherland, and solely with a desire to serve that motherland and his fellow citizens.
It is also pertinent to add that nothing that HL ever said or did was said or done for the sake of gaining the applause of the public with a view to thereby becoming the 'Common Opposition Candidate' to contest the next Presidential Election. Never would HL so prostitute himself, his profession or his standing in society for a mess of pottage.
"Sri Lanka A Nation In Conflict" is truly a 'golden treasury' of knowledge about practically every constitutional, political and ethical question that faces our country today, coupled with HL's incisive views and insights about them. The book is divided into three parts under the headings "The Nation State and Ethno Nationalism", "For A Just And Durable Peace" and "To Preserve And Strengthen Democracy".
The scope and variety of the subjects so knowledgeably, objectively and elegantly dealt with in the 40 chapters of this book are truly 'mind-boggling'. Thus, "Human Rights, Human Values and the Rule of Law"; "Federalism and Secession: Perspectives in International Law and Practice", "Will the Adoption of a Federal Constitution Imperil the State of Sri Lanka?";"Constitutional and Legal Aspects of Corruption in Sri Lanka"; "The United Nations and the Management of Intra-State Conflict"; "The Intervention in Kosovo; Flagrant Violation of International Law"; "The Demand for Self-Determination at the Thimpu Talks of 1985: A Critique"; "The Oslo Statement of December 2002 and Prognostications for the Future of Sri Lanka", "Fashioning a Political Settlement with the LTTE: Need for a New Vision"; "Merger of the Northern and Eastern Provinces: Legality and Legitimacy": "Independence of the Judiciary in Post Independent Sri Lanka"; "Restoring Public Confidence in the Justice System of Sri Lanka", "Strengthening Democracy through Electoral Reform"; "Moral Integrity in Politics"; "Ethical Dilemmas in the Life of the Lawyer" and "Press Freedom and the Right to Privacy" are but some of those subjects .
Written with that degree of thoroughness, precision and elegance of language which have become the hallmark of all writings and speeches of HL, "Sri Lanka A Nation In Conflict" is a book that nobody with any interest in the affairs of our country and our future can afford not to read.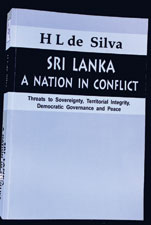 It is, above all, a timely publication that ought to be compulsory reading for those in charge of our destinies and those who hope to be in charge of them. For while we are today, on the threshold of defeating the LTTE, it would be stupid to even think that defeating them alone would solve our conflicts and our problems. The defeat of the LTTE will only pave the way for solving those conflicts and problems. The tasks that would face our rulers in the aftermath of the defeat of the LTTE, namely, the tasks of restoring 'standards' both in all branches of government as well as in all aspects of human activity; eradicating sycophancy, nepotism and their inseparable colleague - corruption; and restoring the Rule of Law decency and fairplay in governance are tasks that will prove even more difficult than defeating the LTTE.
They are, however, tasks which if left unachieved would render all gains from the defeat of the LTTE nugatory. "Sri Lanka A Nation In Conflict" gives some invaluable insights into what must be done to resurrect our country from the morass in which we now find ourselves. Indeed as HL says in the Introduction:-
"There is now a faint glimmer of hope that the darkest hours of grief and despair are behind us, and that we could, in unity and concord, reach out to a new dawn of tranquility and well being for all our people.
Yet the journey ahead of us is arduous, and is featured by formidable hazards and obstacles the surmounting of which would require a clear understanding both of the relevant experiences from our past efforts in war and peace as well as of the true nature of the challenges that lie ahead. It is to contribute towards such an understanding that the present volume is being published".
To this, I say "Amen".
The book is available at Kiyawanna Nuvana Bookshop, Nugegoda and other leading bookshops priced at Rs. 1, 200 (soft cover) and Rs.1, 800 (hard cover).