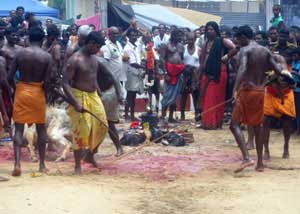 Sacrificial goats
Female touch for Kiwi boys

It all happened fast, she says. Just days after completing her Masters degree in Australia, the young physiotherapist applied for the post in November last year. It was to be a six month contract.
Local exporters looking for clarity on GSP+

Sri Lankan exporters are looking for clarity on the state of the GSP+, to be able to adjust business strategies. The GSP+ scheme allows duty free export of about 6,000 items to the EU from Sri Lanka. However, the continuation of the GSP+ is now uncertain, as a preliminary report points to an adverse outcome of an EU investigation. At this point, it is the uncertainty that is worrying local exporters.
Col. Gaddafi wants to 'abolish' Switzerland; set to move UN

Libyan leader Colonel Gaddafi is set to ask the United Nations to 'abolish' Switzerland and share the land among its neighbouring countries. The Libyan dictator has filed a motion with the U.N. saying the Alpine state should be wiped off the map and split among France, Italy and Germany.
Building childrens' background knowledge and thinking skills
The more children know about their world, the easier it is for them to read and learn when they get to school. You have an important role to play in helping children learn new information, ideas, and vocabulary and how to use this knowledge to become full participants in their own learning.
The dreaded finger

Young Sri Lankan opener Tharanga Paranavithana is in no way a man who can relax on the high pedestal, thinking that his place is preserved even for Sri Lanka's very next Test innings. He may have batted with a lot of grit and technique and also may be the potentially better batsman suited for the top slot, but, yet he is a man who is fighting for survival, grasping for breath and is engaged in an intense battle to be No1 choice in the Lankan batting order.
Role of Information Technology in Agriculture

Information Technology (IT) has long been viewed as having great potential for improving decision making in agriculture. IT has connected the world globally and is now changing our life style and social consciousness dynamically. In all phases of the agricultural industry, information technologies are vital to the management and success of a business. Agriculture has also been greatly influenced by IT.
Top UN official expelled
James Elder, a senior official with the United Nations Childrens Fund (UNICEF), held a visa until July next year to serve in Sri Lanka. He is the first UN official carrying a UN passport with diplomatic status to be asked to leave Sri Lanka. Two week's time has been given after he appealed from an order to leave immediately.
Scandalous plunder of a battered people
Members of paramilitary groups are carrying on a lucrative trade smuggling out Internally Displaced People (IDPs) from camps for large sums of money, an investigation by the Sunday Times revealed.
Replacing fascism with police state
On the opposite page we detail some of the happenings in the camps housing the Internally Displaced People (IDPs). In recent decades, Sri Lanka has had a chronic refugee problem. There was a time when a million people were in refugee camps some for years on end, like the Muslims driven out of Jaffna and staying in Puttalam. There were refugees of every community in the camps. A million meant that one in 20 Lankans was in a camp -a damning statistic by any standard.
See our tax rupees at work - Political Column

A Chinese envoy once described a restaurant in Colombo as among a handful that served authentic food of his country. Yet, last Sunday afternoon, there were only a few at the restaurant. Past noon, a white clad VIP politico turned up. Escorting him was his bodyguard. If the guard's holster with a loaded pistol bulged out from his tight white shirt, the well-built man had another distinguishing symbol.

Is the economy on the threshold of a boom? - The Economic Analysis
Is the Sri Lankan economy on the threshold of an economic boom? This is the question in the minds of many. The prospect of a sharp revival in the economy is very much in the minds of the government, the business community and foreign observers.
What's the buzz? - It's Colombo Art Biennale

What better way to experience art than to be a part of it? More than just another art exhibition of which Sri Lanka sees plenty, the Colombo Art Biennale (CAB) promises a lively experience. Under the theme 'Imagining Peace', the Biennale brings together leading artists and fresh new talent showcasing their paintings, sculptures, photography, installation art and performance art.
Veediya Bandara flees

Prince Veediya Bandara had not taken a proper meal for the last few days. Therefore he had a full meal in the 'Danasala'. He rested awhile to be relieved of the weariness of the long journey.
MOST VIEWED ARTICLES




LATEST NEWS