People's Leasing Company Limited commenced its commercial operations in the year 1996, initially with only 3 employees as a private company as a wholly owned subsidiary of People's Bank. Four years later the company established itself as a public company. With its core business of leasing services, the company at present has experienced 13 years of operations and within this time has established itself as a market leader in the leasing industry employing over 600 people under its wing. The Sunday Times spoke to Mr. D.P. Kumarage, Chief Executive Officer/G.M. of People's Leasing Company Limited to find out more about the company's latest achievements and future plans.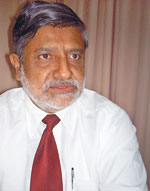 Mr. D.P. Kumarage, Chief Executive Officer/G.M. of People's Leasing Company Limited
"I am proud to say that People's Leasing has experienced a very steady and progressive growth, despite the prevailing international economic downturn and other financial crises experienced. Just within our sixth year of operations, we were able to establish ourselves as the market leader in the leasing industry and we have retained this position right throughout the past seven years", says Mr. Kumarage.
Whilst retaining its number one position in the industry, the company itself has grown substantially. Currently People's Leasing owns three subsidiary companies which include People's Leasing Property Development, People's Leasing Fleet Management and its most recent acquisition done for Rs. 508 million will be renamed People's Leasing Finance PLC. In addition to this, the company has also registered to venture into the area of insurance. The future plans are already under way to create a new fully owned subsidiary under the name People's Leasing Insurance Limited.
"Last year was a record breaking year for the company where in which we developed significantly with regards to our branch outreach and product portfolio etc. During the last year we achieved an outstanding net profit after tax of over Rs. 1billion, which is a phenomenal achievement for a leasing company in Sri Lanka", further stated Mr. Kumarage.
Two years ago People's Leasing also obtained a US$ 10 million loan from the Asian Development Bank, which is yet another milestone achieved by the company, as this alone is recognition of the company's systems and overall performances. In addition to this, People's Leasing has been able to raise a considerable amount of money from the market in the form of securitizations. Currently rated 'A-(lka)' by Fitch Ratings, People's Leasing has also been ranked as the company with highest and best portfolio in the industry according to the Fitch website report.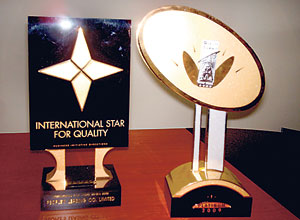 The company is in the process of building a new Head Office in Borella, which is a twelve storied state-of-the-art building which is also a BOI venture. The company's dedication and unwavering efforts have not gone unnoticed; People's Leasing has always been rewarded with accolades and many prestigious awards for its numerous outstanding achievements. The company clinched the Gold Award presented for the Best Annual Report last year by The Institute of Chartered Accountants Sri Lanka. In addition to this the company has also won many international awards in recognition of its service quality and best practices.
Speaking on the country's leasing industry in general Mr. Kumarage said, "Last year we experienced a down turn in the leasing market, due to spill over effects of which took place on a global scale. The main reason for this is the fact that a majority of leasing companies raised their funds through commercial banks. Due to the fact that commercial banks themselves were up against negative liquidity situations they were unable to extend a hand to finance the leasing companies. However, we have managed to weather these turbulent environments and move ahead in the industry."
As leasing companies had no way of raising money by way of deposits, People's Leasing took another step forward and moved towards purchasing Seylan Merchant Leasing, PLC, which will be later renamed People's Leasing Finance PLC. Having realized that owning a finance company was a major plus factor the company also forged ahead to form its own General Insurance arm in the future which it feels will provide the additional support it requires to its core business of leasing.
Moving beyond the conventional methods of meeting customer needs, People's Leasing also offers a special Islamic Financial Service package, which provides customers with a range of services which is kept in compliance with the Islamic Shari'ah principles.
In the future, People's Leasing will also be hoping to venture into the area of property development as well. The company has also played a vital role with regards to its CSR initiatives especially with regards to the areas of education, health, infrastructure and the environment. These include providing new equipment and renovating the Cardiography Unit for the General Hospital located in Negombo, conducting a programme in Polonaruwa for World HIV Day and constructing and renovations efforts done for remote schools etc.
With its many contributions and milestones achieved, People's Leasing has set its targets high and remains focused to face any challenges that may come its way with the same aggressive spirit and dedication that it has always shown in the past. The company therefore remains geared towards achieving high levels of excellence in the leasing industry whilst also retaining its position as the market leader.