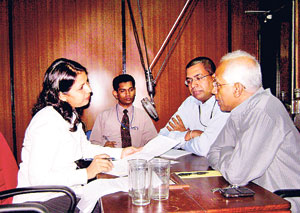 Based on interview by Radio Journalist Sujatha Karunarathna for 'Subharati' Morning Radio Talk-show over SLBC National Service recently. The 'Mahinda Chintana' policy statement devotes a whole chapter on Information Technology. The Information and Communication Technology Agency of Sri Lanka (ICTA) also functions under the President's secretariat. Why has the Government paid so much attention on IT?
In 2004 the IT literacy rate of this country was 9.01. At that time President Mahinda Rajapaksa was the Prime Minister. Fortunately for us IT came under the purview of the Prime Minister then. We have gone a long distance under His Excellency's concept and direction during the past five years. IT is particularly important for a country's development. I see IT as a tool for improving efficiency and for carrying out people's tasks at a high level of accuracy, fairness, convenience, speed, transparency and so on.
A large number of countries use IT in this way. It is so in Sri Lanka too. Particularly children in remote rural areas are unable to come to the city. Similarly it is difficult for people in distant areas to come to the city to get their jobs done. IT fulfills all these requirements at the doorstep of the people. This is the specialty of IT. On the other hand a large number of countries equip their government with IT. This means they make their functions more efficient by using various IT systems.
The e-Sri Lanka initiative is already a highly appreciated programme. Many countries in the world constantly ask us on the methodology of the working of this programme. Similarly activities like those of 'Nena sala' or 'wisdom outlets' are taken to the people via the e-Sri Lanka initiative. The e-Sri Lanka initiative is a very comprehensive programme. It is not a programme designed with a limited vision. It will be more correct to say that e-Sri Lanka made a silent contribution for the uplift of people's lives.
As an experienced Public Administrative Officer do you believe that IT is capable of regularising Government activities?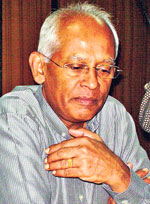 I think that anyone who is asked this question will give a positive answer. If we have a look at those who use IT and those who don't, there is a big difference between the two groups. Those who know IT have been able to carry out their tasks very easily. I see two sides with regard to IT. One is to study IT and become IT specialists. Such specialists are needed. Because then they will be able to design various types IT systems that are required for the country. On the other hand, I think of a person like me with regard to IT in a very positive way. I make maximum use of IT in my activities. Usually a specialist IT knowledge is not required to perform the normal duties. I believe that a non-specialist general knowledge is sufficient.
The Government looks at this in a very positive way. One instructions President Mahinda Rajapaksa had given me when he was Prime Minister was to equip Government staff with IT. After His Excellency became Executive President, it was possible to implement several IT projects. The President considers it a criterion for public service that every public servant is equipped with IT.
Today the staff from clerical to executive grades evince a great interest in IT. Public servants are motivated to carry out their duties using IT. I think that especially the young officers who join public service are already equipped with a knowledge of IT when they join public service. Our attention has been drawn on how personnel in every level could use IT for carrying out the tasks they are called up to do. It is our goal to provide every government officer with appropriate IT knowledge.
What is the reason that motivated you to use IT very boldly and provide leadership in this regard in a milieu where some of the public servants and senior policy makers in public service showed an aversion from IT ?
There is a simple answer to this. When a large number of tasks are assigned, when work is excessive, one searches for various methodologies for completing them fast. I too realised the value of IT in such a background. I was fortunate to work with a German specialist around 1982. Those days most offices did not have computers.
Even where there were computers one had to know the computer language to use them. I got the opportunity to work on the computer the German specialist had. It was then that I realised the value of the use of the computer.
Before you were appointed to the position of Prime Minister's Secretary and subsequently to that of President's Secretary, you provided leadership to the Re-engineering Government programme as a director of the Information and Communication Technology Agency of Sri Lanka. Looking back, are you content with the way the work in this area is going on?
I am very much satisfied. Looking back I think that was a time when there was a serious dialogue as to how to take IT island-wide. It is easy to begin something. But it is not that easy to carry it forward uninterrupted. We should also remember those who contributed to the launching of the Agency. Mr. Manju Hatthotuwa was the Chief Executive Officer then. Mr. Reshan Dewapura and I were the first directors. The Agency has achieved huge progress during the past five, six years.
Today the Agency has been able to achieve things that were not even thought of, those days. A feeling of great satisfaction comes about when the progress made in activities like those in the Re-engineering Government Programme, Government Information Centre and the 'Nena sala' Project are brought into focus. I should also say something about the way President Mahinda Rajapaksa viewed these activities. His Excellency is a person who is used to doing things very speedily. The President told us that these things should not be dragged on for years. The benefits of these activities should be made to reach the people quite fast. In view of this admonition we had to rethink our strategy. Accordingly we speeded up our work plan in 2004 on several angles. One outcome of this is the setting up of 600 'Nena sala's island-wide by now. Through the 'Nena Sala's It has been possible to bring about a dramatic change in the lives people, especially in rural areas.
The Government Information Centre (1919) has won the award for the best IT Project in the world. You are its originator. What are your feelings about the award?
You have been very kind to call me its originator. But it is more correct to say that I contributed to it. It is true that it was a concept that was on my mind. A large number of persons joined hands to make it a success. Our team including, Reshan Dewapura, Wasantha Deshapriya and Athula Pushpakumara worked together and launched the project. Around 1978 when I was a Controller at the Department of Immigration and Emigration a person from Monaragala came to see me. His clothes were soiled with dust. I was shocked by his story: He said: 'All I wanted to know was how to get a passport. I thought I must come to this office in Colombo just to know this.
To get this information I started my journey from my home in Moneragala yesterday. When I came to Colombo, the time was such that the office would have been closed. I had no place to spend the night. So last night I slept at the bus halt. I had no extra clothes. I slept at the bust halt with the same clothes on. I have now come to find out "WHAT I SHOULD DO TO GET A PASSPORT'. The question that arose in my mind at that time was "Why isn't there a method for these people to know an information even as simple as this?" At the same time we had known that when people come to get a job done at a Government office the people are not even addressed to courteously. We believed that this problem could be resolved if all information could be provided to the people from one place.
Almost the whole world has acknowledged the value of the concept of the Government Information Centre (1919). The Government Information Centre has won this award superseding 20,000 entries submitted by 157 countries. This project should advance further. If it has been possible to win such an award in this early stage, it is not impossible to bring it up to the level of an example to the world .
You have contributed not only to IT policies. You have also contributed to their implementation. To familiarise ministerial secretaries and institutional heads with e-mail you have taken steps to issue a circular making it imperative for them to use the e-mail. What is the progress made in this regard?
The progress is not exactly up to my expectation.
I must tell the truth. I think there should be greater progress than what has been forthcoming. Higher officials still show an aversion from using the computer and the IT. One reason for this could be that they have no time to get familiarised with it. Or they think it is a difficult task. The little children of these top officials know to use the computer better than their dads or moms. That is the reality. One has to learn from those who know. Position is not a requirement for learning. In my office there are persons who possess a specialised knowledge of computers. I have told them to teach me also if they come to know even of a little improvement.
Recently we overcame a big hurdle by using IT to the maximum. That was the war. Defence Secretary Gotabhaya Rajapaksa too has a good knowledge of IT. He had provided laptops to officials in the main forward defence line. The environment for entry into the use of e-mail has now been created. I hope to hold discussions with top officials in this regard again. One of the instructions the President has given me is that reports about his meetings be submitted only by e-mail.
e-Sri Lanka initiative is a high calibre ICT project. As one of its pioneering originators what is your comment about its future?
We expect to develop IT to the level where our innocent people will be able to pay their water bills and electricity bills by using the mobile phones on their hands without being driven from pillar to post or languishing in offices spending much time, money and suffering much travel fatigue in the process. Very soon it will be possible for us to make a massive leap forward. The President believes that a dramatic contribution should be made by Telecommunication to ICT development. Through e-Sri Lanka we build the country's future.