The only option for easily resolving the problems faced by the farming community is the appropriate use of ICT. This was stated by Information and Communication Technology Agency of Sri Lanka (ICTA) Re-engineering Government Programme Director Wasantha Deshapriya. He asserted so during his address at the inaugural session of the Agricultural Extension Conference 2009 held at the Plant Genetic Resources Centre, Gannoruwa, Peradeniya.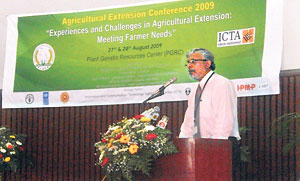 Addressing the opening session of a two-day (27-28 Aug.) event under the theme "Agricultural extension conference - 2009: experience and challenges in agricultural extension: meeting farmers need", Deshapriya stated: "ICTA having realised that the only option for solving most farmer problems lies in the appropriate use of ICT, has launched a variety of programmes targeting the farming community.
eventy per cent of the Sri Lankan population consist of rural community. ICTA aims at making the benefits of ICT reach the people, especially the rural folk in remote villages, Deshapriya emphasised.
Referring to the two-pronged approach of ICTA's farmer-friendly projects the programme director stated: "The ICTA is engaged in making the benefits of ICT accrue to the people in two ways. One way is to provide local knowledge, information and content connected with agriculture in the vernacular via e-Society.
ICTA gives priority to projects organised with the aim of speedily expediting the daily activities of the farming community. A web based Wikipedia containing information related to all major local crops enriched with audio, video and flash animation and a web based e-learning system has been established. 'Nava Goviya', Toll-free immediate provision of agriculture information, the project in Dambadeniya for empowering dairy farmers are some of the projects successfully implemented at the moment".