Sri Lanka's fastest-growing financial power LB Finance continues to spread its roots across the island, with the dawn of peace, extending its network to the north-east as well; as the first of a line of branches to be opened soon, the Company recently opened a new branch in Batticaloa, extending its legendary financial expertise to the province. The city is on a development drive and having one of the country's top financial entities in their midst to spur them on at a time when assistance is needed most is a welcome vote of confidence to the populous.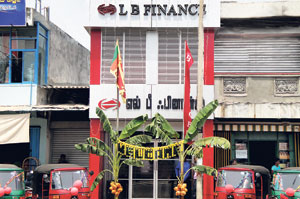 Recently opened LB Finance branches in Batticaloa
Even amidst an economic downturn, the public's continuing confidence in the Company was shown in its ability to draw in investors; during the financial year ended March 2009 the Company recorded a 31% deposit growth, increasing from Rs.7,309Mn to Rs.9,558Mn.
LB Finance has also been placing special emphasis on micro-finance during the year and when asked to comment, Managing Director Mr.Sumith Adhihetty noted that "The sector is plentiful in potential and simply needs the initial boost to get them going." The strategy has worked for the Company too, with financial figures for 2008/09 disclosing a remarkable increase in both revenue and profits even amidst difficulties in the macroeconomic environment. The company recorded a net profit of Rs.360Mn - the highest profit made during its 38 year history, a 75% increase from last years Rs.205Mn and a revenue growth of 28% to Rs.3,558Mn.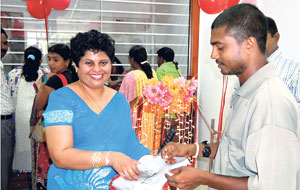 In its annual report, Mr.Sumith Adhihetty attributed the solid performance to the strong strategic foundation laid during the past few years, innovative approach to the business and most importantly, getting the basics right. The total lending assets as at the end of the year was Rs.11,841Mn with lending comprising chiefly of lease and hire purchases, of which Rs.9.4 billion was secured through vehicle leasing. The Company's gross NPL ratio too was a 1.70%, well below the industry ratio.
True to its vision, LB Finance recently launched a first-of-its-kind product - LB Money Transfer- a revolutionary method of transferring money anywhere in the island without having to have a bank or anyother account. During the last financial year, the Company also extended its network with new branches opening in Kuliyapitiya, Balangoda, Kegalle, Avissawella, Polonnaruwa and Nuwara Eliya while new pawning centers were opened in Embilipitiya, Thihariya, Welimada, Wennappuwa, Kandy, Matale, Mahiyangana, Badulla, Monaragala, Grandpass and Kribathgoda.
The Company is engaged in the acceptance of deposits, mortgage loans and other credit facilities, real estate development and related service and offers leasing solutions for a range of vehicles/equipment, including, private vehicles, commercial vehicles, machinery, three wheelers and motor bikes, agricultural equipment, trucks and trailers and construction.