The three -day (25-27) eINDIA 2009 event , was held in Hyderabad, India recently . Information and Communication Technology Agency of Sri Lanka (ICTA)'s Chief Operating Officer Reshan Dewapura who participated at the inauguration in Hyderabad said that eINDIA 2009 was a valuable forerunner of e-Asia 2009 which would be held in Colombo from Dec. 2 to 4, this year.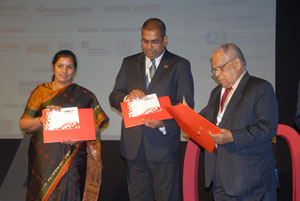 eINDIA 2009 India's most reputed ICT conference, organised by the Centre for Science Development and Media Studies (CSDMS) , an Asian NGO, in collaboration with Elets Technomedia was held in Hyderabad from 25th to 27th August 2009 at the Hyderabad International Convention Centre (HICC).
In addition to (ICTA)'s Chief Operating Officer Reshan Dewapura who delivered his address on the first day, top level representatives from major ICT organisations in the region also delivered addresses at the conference.
Consisting of the three-day international conference and exhibition on the above-mentioned dates eINDIA 2009 was co-organised by the Department of Information Technology, Ministry of Communications and IT and the Department of Information Technology, Government of India. The IT and Communication Department, Government of Andhra Pradesh was the Host State Partner for the event. The conference was simultaneously supported by India's Ministries of Broadcasting, Human Resources, Panchayati Raj and Agriculture.
Aimed at assembling all concerned both from India as well as abroad under one roof eINDIA 2009 included five seminal conferences namely 'egov India' , 'Digital learning India', 'Indian Telecentre Forum', 'eHealth India', 'eAgriculture India' and focused on five emerging application domains of ICT for Development - e-Government, ICT in Education, ICT and Rural Development and ICT enabled Health services.
The three-day conference and exhibition was a unique platform for knowledge sharing in different domains of ICT for development and facilitated multi-stakeholder partnerships and networking among governments, industry, academia and civil society organisations of different countries, including the host country- India.
The objective of the event was to bring together ICT experts, practitioners, business leaders and stakeholders of the region to one platform, through keynote addresses, paper presentations, thematic workshops and exhibitions. In short, the event provided an excellent opportunity for participants to interact with a wide and diverse development community.