The Daya Group is a group of companies which initially started off in the area of building constructions and which later diversified into many other avenues of business. Currently the company has around 28 subsidiaries and over 10,000 employees under its wing. Daya Group owns seven garment factories of which 5 of them are located in Ampara and 2 are located at Sevanagala. In the year 2002, the group made yet another ground breaking achievement by purchasing Sevanagala Sugar Industries Limited from the government, which at the time was running at a loss. Bimputh Lanka Investments a subsidiary of Daya Group was established in the year 2007.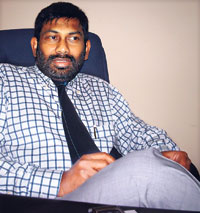 Mr. Daya D.K. Gamage, Chairman of the Daya Group of Companies
The Sunday Times spoke to Mr. Daya D.K. Gamage, Chairman of the Daya Group of Companies to find out more about Bimputh Lanka Investments. Speaking on his humble beginnings Mr. Gamage said, "I ventured into business with only Rs.70/- in hand, in the year 1977. My father started his business in the early 1940's in Kalmunai. In the year 1956 he became the biggest entrepreneur in the Eastern Province. My father was also heavily involved in construction where he managed to be apart of some large projects during his time".
Having lost his father and mother at a very young age Mr. Gamage is the 5th in a family of six, who faced many challenges from quite an early age. However through sheer determination and courage he was able to come up in life and become one of the leading businessmen of his time. During his quest for success Mr. Gamage has been up against some of the most challenging times which he managed to overcome by finding solutions through patience and the experience he gathered over time.
"We came into the finance business in order to cater to the small business communities in our country who until then did not have the adequate financial and banking assistance in order to meet their business requirements. I too experienced this after the acquisition of Sevanagala Sugar, where we requested banking assistance from the leading banking institutions in our country to step forward and assist the sugar cane farmers in the area. Sadly no banking institution came forward, however a certain leading bank finally under took to provide the necessary financial assistance by indirectly providing financial services through our company and thereby allowing us to finance the sugar cane farmer communities.
At that time we were provided a Rs.100 million loan in which we in turn utilized to provide a Rs. 267 million worth of financial assistance to the sugar cane farmers. Due to incidents as such as this Daya Group set about creating an institution that would provide adequate micro financing facilities to the small entrepreneur and this is how Bimputh Lanka Investments was established, which today is our micro financing arm", further stated Mr. Gamage.
At present the company mainly focuses on providing micro financing services to the two districts of Moneragala and Ampara, where in which 3 branches have already been opened in the areas of Uhana, Ampara, and Sevanagala. In the future the company has made plans to increase its branch network to 25. Having fully realized the difficulty in coming up as an entrepreneur, Mr. Gamage has made it his mission to bring micro financing services to the doorsteps of the small time businessmen located in the areas of Sevanagala and Ampara and by doing so help to build up the country's economy.
Bimputh Lanka Investments focuses on a group financing strategy as well as timely collections. The company is also heavily involved in conducting training programmes with regards to micro financing in order to help small entrepreneurs develop their businesses more professionally.
"We are not an interest driven organization, therefore our interest rates are always in par with banks or 1% - 2% more. Therefore our aim is to focus on providing micro financing and credit facilities to the small time entrepreneurs. In addition to this we are also looking at expanding our client base for children's savings deposits", further stated Mr. Gamage.
The Daya Group has achieved many milestones over the years, and Bimputh Lanka Investments too is gearing up to make many developments with regards to the micro financing sectors. In the near future the company will also be moving into the areas of hire purchase and leasing which will be provided on low interest rates given on quality assets.