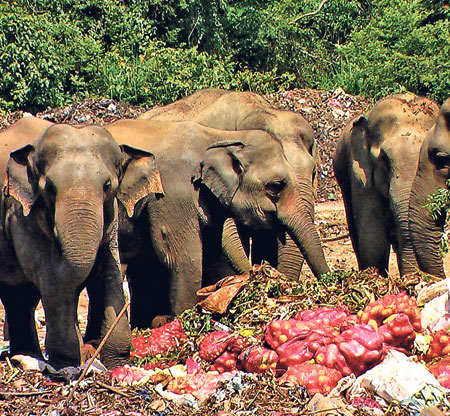 The people and farmers in Dambulla are in a vegetable soup, while it is a veritable banquet for the elephants. This came about after the middlemen or vegetable mafia of Dambulla turned tables by stopping vegetable lorries coming from Jaffna, buying the products cheap and sending them to Colombo and other places. So the small farmers of Dambulla and nearby areas had no option but to give their stocks of perishing vegetables to the lucky elephants. Pic by Kanchana Kumara Ariyadasa
'Singing brings me close to people'
Karoshee Vijayasekere was once one of those singers who would sing in the bathroom purely for the fun of it."I used to love the sound of the echoes my voice made," she smiles, recalling the time when as a very young child, she discovered her passion for singing.
Confusion over Ceylinco transactions

Confusion has arisen over transactions of companies carrying the Ceylinco name including Ceylinco Insurance following the Supreme Court's interim order restraining the transfer or transacting assets of the Golden Key Credit Card Company Ltd, its subsidiary and 'related entities'.
Is the warrior ready for curtains?
It was many moons ago. One bright sunny day while doing my daily rounds and watching an inter-school cricket match another veteran journalist of yore– the late R. Linden Fernando walked up to me and began to chat.
Food mafia in Dambulla
Politically-backed traders at the Dambulla Economic Centre are buying increasing supplies of vegetables from the farmers of the liberated Northern Province forcing growers elsewhere to throw their produce to the animals as prices are artificially manipulated, a Sunday Times investigation has revealed.
Dengue crisis bigger than Bti

Cuba is to send some experts to Sri Lanka for discussions and relevant studies with authorities after which a decision would be taken over the type of 'bug' or bacteria needed against the dengue menace which has caused the deaths of 163 and affected nearly 15,000 others

.
The corridors of political power are buzzing with speculation about the possible 'political solution' to the Tamil question in the afterglow of the military victory over the separatist LTTE last month.
Men beneath the wings

Many were the times that they carried out sorties into the theatres of war where the battle was raging, not only to hit at specific terrorist targets but also to land amidst the thick fighting to evacuate their brother soldiers.
MOST VIEWED ARTICLES

LATEST NEWS