'Suseema', a popular teleplay produced based on a comic story will be made into film by the same director Rohan Welivita soon. The musical story revolving around a beat band returns with a novel cast and a crew who will be a refreshing experience for those who had watched the teledrama version as well as the readers of the original comic story written by well known artist Janaka Ratnayake.

Rohan Welivita
The lead roles played by Palitha Silva and Menik Kurukulasuriya in the teleplay are to be played by talented Suraj Mapa and Paboda Sandeepani while some of the other roles are to be played by Upeksha Sandamalee, Amila Abeysekera and Robin Fernando.
The teledrama with its tuneful songs like 'Desa Piya Gathkala' and 'Dewathawan' became hits and it was telecast nearly 15 times on different television channels. 'Suseema' was the first music direction of the king of Sinhala pop, Clarence Wijewardena in which music played a significant role.
Clarence's music will be rearranged to suit the cinema and the present musical trends by 'Centigrade', a group of young musicians. "I'm sure that I made a correct decision when I selected this young group to direct music for my maiden film and also I wish that they would not harm the refreshing quality of Clarence's tunes," Rohan said speaking at the Muhurath which was held on June 26 which also fell on his 61st birthday.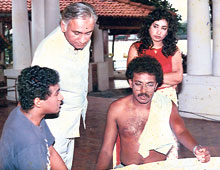 Jackson, Palitha, Menik and Sathischandra in Suseema teledrama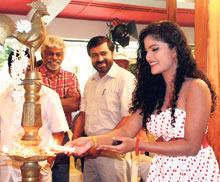 Paboda to play Suseema
Rohan who is also an experienced broadcaster will pay special attention to the technical standard of the movie. "We will introduce the latest High Definition (Full HD) camera, which is now being used in the international cinema," Rohan said while introducing talented cameraman Sumedha Liyanage who is making his break through to the cinema.
"I could depend on Sumedha who is talented and eager to learn the new technology," Rohan said.
Janaka Ratnayake, the inventor of all the characters of 'Suseema' in his comic story 30 years ago said, "I am glad that the characters which were limited to mere drawings are now going to be alive on the silver screen,"
"I created them in a medium without sound and verse but the story was about music and a musical group. And I was happy when these characters came live on the mini-screen and I am even happier that they are going to return on the big screen," Janaka said in a happy tone.
The film is produced by leading business figure A. S. P. Liyanage who also produced the teledrama.
"So far we have telecast 'Suseema' on different channels 15 times and it is still in demand. I hope that the film too will be a hit just like its tele version." Mr. Liyanage said at the Muhurath.