Western countries are driven by demands from powerful Tamil Diaspora lobbies to push the human rights agenda particularly in view of elections to be held this year in Europe, according to Sri Lanka's Geneva-base UN Ambassador Dayan Jayatillake.
"Western European states will always be driven by the demands made upon them by a large tunnel of expatriate lobbies. This is particularly true in an election year (in Europe). So there will always be unfair demands levelled upon us," he said referring to Sri Lanka's recent victory at the special session of UN Human Rights Council.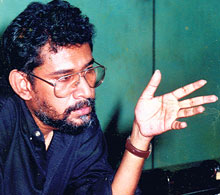 Dayan Jayatilleke
Dr. Jayatilleke, during an interview with the Sunday Times in Geneva on the sidelines of the recent ILO Jobs Crisis Summit, provided details about the pre-session meetings and behind the scenes discussions.
He said Sri Lanka's success at the special HRC session in Geneva in May, against most Western European countries which tried to indict the country for alleged human rights abuses during a bloody crackdown against the Tigers, was more a win for the South against the North.
"This is not a lesson that Sri Lanka taught the West: It must not been seen that way. It is a victory that is collective in nature -- of the developing countries and the global south," Dr Jayatillake said.
In the 47-member Council, 29 voted for Sri Lanka, 12 against while six abstained when a pro-Sri Lanka resolution was debated.
Dr Jayatillake said there were many, many meetings before the HRC special session where this issue was discussed over and over again. "We were involved in quite a lot of other discussions to convince countries that this was unfair."
"African and Latin American groups clearly said that an injustice was being done to Sri Lanka and that would be done to anyone the next time around. It was the principle involved – the simple unfairness of this attempt on Sri Lanka which had just come out of a war against a ferocious enemy and required not a finger pointed at it but time, sympathy and solidarity," he said.
He said there wasn't a single Asian country that cast a vote against Sri Lanka – the overwhelming majority of the Asian group actively supported us. "This was also the case of Africa – near unanimity, including South Africa. There was a strong lobby in Sri Lanka that was taking an anti-Sri Lanka stand but South Africa not only voted with Sri Lanka but it explained its vote. The South African position was very strong and supportive of Sri Lanka," he added.
Asked about the UN Human Rights High Commissioner Navi Pillay's call for a war crimes probe, the ambassador said Ms Pillay was under pressure from a 'tsunami' of emails from the Tamil Diaspora including the South African Tamil community and the relentless campaign by large international NGOs in addition to pressure or influence from western elements.
Dr Jayatillake said he believed that what Sri Lanka needed to worry now was to quickly resolve the issue of the Internally Displaced people.
"This issue of the displaced is an issue that is common and will remain common across the global spectrum - north and south, east and west, for both adversaries or critics and friends.
"In two joint statements on May 21 and May 23 with the Indian government and the UN Secretary General, respectively, the Sri Lankan government agreed to a target of resettling the bulk of our IDPs within 180 days. Even if we are practically unable to do so to the letter, the spirit of the agreement has to be observed. We must make significant progress indenting the problem. We must also be seen to make such progress. This should be our top-most priority," he said.