Sri Lankan student, Chathura K. Sooriya Arachchi, has scooped the prestigious Association of Business Executives (ABE) President's Prize. Selected from ABE students from over 100 countries, the prize is awarded for the highest mark in one sitting for Advanced Diploma examinations. Adding to her achievement, Miss Chathura K. Sooriya Arachchi also won the Top Paper Prize for Internet Systems Development.
ABE is a leading British UK awarding body that develops professional business and management qualifications. Since 1973, ABE programmes have enjoyed tremendous popularity because of their high quality, low cost, flexibility and international recognition. ABE qualifications are the fast-track route to Bachelors or Masters Degrees and career progression. Qualifications are developed in consultation with employers and specialist bodies to ensure that ABE graduates offer their employers the best blend of theory, analysis and practical ability.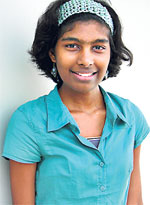 Chathura K. Sooriya Arachchi
Today nearly 50,000 students worldwide are studying towards ABE qualifications. The high calibre of Sri Lankan students is evident in the country's excellent track record for producing ABE prize winners - since 2006, 14 Sri Lankan students have been recognised for their outstanding achievements, making Sri Lanka one of ABE's top prize winning countries. Ms Chathura, however, is particularly special in being the first President's Prize Winner during that period. Avanti Wanasinghe De Silva, ABE's Sri Lankan Regional Advisor said: "Everyone at ABE extends their warmest congratulations to Ms Chathura. She is one of the few students who opted for self-study rather than going to one of the many ABE Accredited Colleges in Sri Lanka and this makes her achievement even more exceptional. Personally, I am always proud when a Sri Lankan student gains international recognition."
Speaking about her achievement, Ms Chathura said: "The ABE lecture guides, reading lists, past papers, specimen papers and exam reports are available online at the official ABE website, and all these resources helped me a great deal. I'm thankful to ABE for providing me the means to achieve this award and for building a strong base in my life as a start to meet all future endeavours with success."
Students from around the world choose to study with ABE because of the high level of support ABE provides: flexible study methods; relevant syllabuses which are continuously assessed; examination centres throughout the world; flexible time span to complete the qualifications; free membership magazines full of study tips; and a Members' Area bursting with study resources. Among other benefits, ABE also offers qualification holders the opportunity to fast-track to a degree with universities worldwide.
Like many ABE students who have progressed to university undergraduate and postgraduate programmes, Ms Chathura is now studying for a BSc degree in Computing to be awarded by Staffordshire University in UK.
The Association of Business Executives (ABE) is a UK awarding body that provides professional, affordable, progressive and portable qualifications in the business and management sphere. Since 1973, ABE has developed thousands of business careers. ABE qualifications are internationally recognised by employers and academics alike, carrying fast track progression routes to degree programmes at over 60 universities worldwide. To find out about how to join ABE's global network of 50,000 aspiring business profressionals, or information on how to become an ABE accredited centre, visit us at the ABE Launch event in Sri Lanka: the event will be held on July 8 2009 at 5 pm at the British Council.
Date : Wednesday July 8 2009
Time : 5.30 pm - 7pm
Location : British Council, 49, Alfred House Gardens, Colombo 03
Ms Christine Gill, Deputy Chief Executive of ABE, Ms Gill Westerway, Director of British Council in Sri Lanka and Dr Penelope Hood, Director of International Partnerships of Anglia Ruskin University will be speaking at the event and answer your questions.
For more information please contact:
Ms Avanti Wanasinghe De Silva
ABE Sri Lanka office No.01, Sri Sunandharama Road, Kalubowila, Dehiwala. 0718 293106 / avantidesilva@yahoo.com