Why should we select an SLMC recognised Medical Degree?
View(s):

In Sri Lanka, SLMC (Sri Lanka Medical Council) is the only body which recognizes of foreign medical degrees and of medical graduates. Its recognition allows of medical graduates to sit for the qualifying examination called ERPM (Examination for Registration to Practice Medicine in Sri Lanka).Upon return all medical graduates are eligible to sit for these examinations and are expected to fulfill the prevailing SLMC requirements.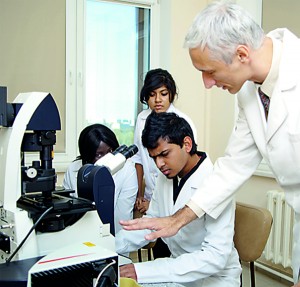 PATHE Study Medicine is Sri Lanka'sleading Medical University placement provider with affiliations to some of the world's top Medical universities. Over the last decade Study Medicine has placed hundreds of Sri Lankan students in various Medical universities. Hundreds of medical doctors employed in Sri Lanka and overseas are a testimony about the success of Study Medicine.
SLMC recognized Medical Degree
Medical universities should fulfill certain basic criteria to be recognized by overseas Medical Councils. These criteria include the duration of the programme, the curriculum, staff and facilities in the university, teaching hospitals, and the location of the university.Our partner Medical Universities surpasses all those criteria with flying colours. Further, our universities have world class facilities which are highly commendable and not available for students in certain developing countries.
No need to pay 50% advance or show bank deposits (Like in China, Russia and Bangladesh)
Students who apply for other countries like China, Russia and Bangladesh are compelled to pay upto 50% of the fees up front.
This is due to the fact that many students who enroll in such programs return to Sri Lanka since they simply cannot tolerate with foreign language teaching, culture, hostels, and other education facilities. Many agents conveniently forget to mention the foreign language requirement in order to properly communicate with patients during the clinical studies of the Medical degree. PATHE Study Medicine invites parents to attend a free career counseling session to find out more information about Medical education and careers.
Cost – $ 3800 per year
On top of all these facts, a medical degree from a worldwide recognized medical university is more affordable. Medical degreefrom our medical universities is very affordable and parents have the option of making payments on annual or semester basis. The moderate tuition fees with affordable living cost makes our universities as the best investmentsfor students and parents seeking high quality medical education.
Limited seats remaining – Apply for 2013 intake now
PATHE Study Medicine is looking forward to assist prospective students to make their medical dream come true. Study Medicine accepts applications from students who aspire to become medical doctors. Students are advised to applynow for the 2013 intake. Students and parents are requested to contact 0777 66 22 11 or log on to www.pathestudy.orgfor more information. Also they can visit PATHE Study Medicine office at 111 1/2 Maya Avenue, Colombo 06 for an individual counseling session about medical degree programs, course fee, scholarships, internships etc.
Follow @timesonlinelk
comments powered by

Disqus