For the love of dogs
View(s):

For Manisha Wimalasekere opening 'Bark Street' was a way of sharing her knowledge of all things canine with owners who want to properly train and care for their four-legged friends

To Manisha Wimalasekere, training and caring for dogs are two activities which have become so natural to her that they have assumed an integral hue in her life. Quiz her about the history and bloodline of various canine breeds and you will receive an extended lecture, which meanders through even the minutest detail. Having learned to train and handle dogs from a very early age, Manisha cultivated a profound love for them, and this affection in turn led her to open 'Bark Street', a group which seeks to help owners manage their four-legged best friends.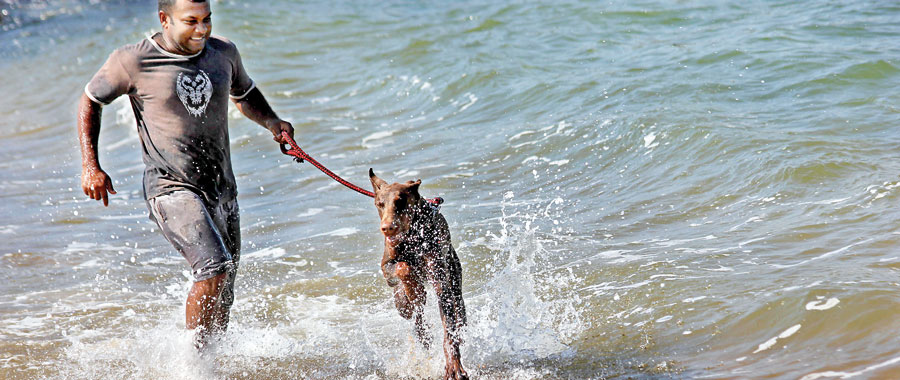 "I've been showing and training dogs since I was nine-years-old. While doing that I could see that people always like to have their dogs well trained but they don't always get the proper facilities," Manisha explained. "So my manager (Hasitha) Dinesh and I decided to offer a complete professional package where we visit our clients or they can come to our place and get the help they want."
Manisha adds that oftentimes Sri Lankan trainers make the mistake of not showing owners how to adequately handle their dog after they are trained, causing the dogs to pay attention only to the trainer and not its master.
Bark Street eliminates this problem by teaching the owner how to properly handle the dog during training and to carefully observe it in order to correctly understand its behaviour. This is but one service offered by Manisha and her team of local and international handlers, with 'Bark Street' also providing boarding, consultation, show training, show conditioning, grooming, dog walking, dog import, weight loss and puppy delivery facilities.
The boarding option is particularly valuable for owners stuck when trying to find suitable lodgings for their dog when planning extended trips. Manisha's spacious kennels stretch out over 35 perches of land with an additional 35 perches demarcated for the dogs' daily exercise area. Boarding at Bark Street is indeed quite a luxurious experience for any pooch with it offering its very own dog pool and easy access to the beach. To give added convenience to owners, dogs can stay at the Bark Street boarding for anywhere between a day to several months. The Bark Street team also offers the option of transporting your pet to their boarding.
"Every dog is different so we really try to understand the animal. Anyone can become a trainer but you need to have that natural talent and skill to see a dog and see what the problem is and then give it the personal attention it needs," Manisha states. Bark Street is located at 247/33 Beach Road, off Palliyawatta Road, Hendala, Wattala. Further details on Bark Street can be obtained from their website www.barkstreet.lk or their Facebook page. Manisha can be contacted on 727398887.
Follow @timesonlinelk
comments powered by

Disqus