Staying in prison!
View(s):

Researching for unusual places to stay for review in the upcoming edition of his Bradt Guide to Sri Lanka published in the UK, Royston Ellis discovers Fort Hammenhiel

From the mainland, it looks idyllic and secure: a small Dutch fort taking up an entire island set in a shimmering blue lagoon, with a red tiled roof and a Bo tree peeping above gaunt ramparts. The only way to reach Fort Hammenhiel is by boat from the Navy establishment known as SLNS Elara located at the south-western tip of Karaitivu, an island reached by causeway, 21km from Jaffna Town.

Visitors fortunate to make the trip, and with time and money enough to enjoy a few days solitude in this most unusual of Sri Lankan hotels, are privileged to stay in an isolated fort prison that has played an important part in Sri Lanka's history. Previous guests were notorious revolutionaries, like Rohana Wijeweera of the JVP, as well as Navy detainees.

While accommodation is available in a former cell, with six concrete plinth beds and prison uniform to wear, with an outside toilet converted into a modern convenience, there are also four luxury suites with all the style of a well-planned boutique hotel.

Fort Hammenhiel began life as a small Portuguese fort built of quarried coral stone in the mid-17th century but was surrendered to the Dutch when they attacked and destroyed its water tank. The Dutch rebuilt the fort, adding a new tank that provides fresh water to this day, bolstering its tidal sandbank foundations and strengthening the ramparts, leaving them hollow as cells for storage and prisoners.

It was dubbed Fort Hammenhiel because the Dutch when, looking at a map of Sri Lanka lying on its side (not north to south) thought the shape of the country resembled a leg of ham. The Fort was at its heel, hence its name in Dutch meaning "Ham Heel." The British kept the name, using the Fort to quarantine arriving mariners.

Up to late last year, it was impossible for tourists or civilians to visit the Fort as it was in a High Security Zone. Even today visitors have to sign in at a gate manned by an armed sentry before being allowed to drive through the Navy compound to the reception building and bar/restaurant that are the introduction to this brand new tourist resort. The Fort remains, however, one of Jaffna's five Architecturally Protected buildings, and the conversion to a boutique hotel has not affected the original historical building.

A small motorboat crewed by Navy personnel makes the five-minute crossing to the Fort, short enough but all passengers are required to wear life jackets. For those not as fit as sailors, the scramble down a ladder into the boat, and off again onto the fort's jetty, can be a challenge. There is only one entrance to the octagonal Fort, a tunnel hewn through the ramparts that emphasises the captive isolation of the place. It leads to a courtyard lined with cells, their numbers painted on the arches above their doors, and a complex of four large bedrooms built atop more dungeons.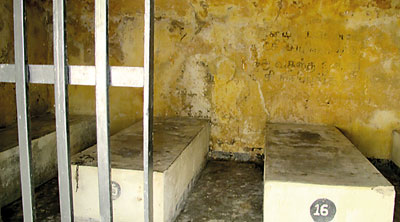 The rooms have the finesse of the ultimate in boutique hotel comfort: five soft pillows on the kingsize bed, colonial style furniture, a mini-bar, an alcove for tea, satellite tv, a tray of amenities and neat bathrooms. There is 24-hour room service. The rooms are priced at the boutique level of Rs.12,000 per double for bed and breakfast. There is a fully-equipped galley for self-catering for guests who want to prepare their own meals. Popular, however, is a BBQ in the evening in the garden. Meals can also be taken on the main island at the Navy restaurant which has a licensed bar. Prices are moderate, not at luxury level; the food is hearty and good.
The Navy personnel caring for guests are exceptionally hospitable and courteous, refreshingly without the occasional "know-it-all" attitude of regular hotel staff. They live on the island too, in a converted cell. While one cell (Number 3) has been adapted for guests (at Rs. 6,000 a pallet), another cell has been kept as it was when the Fort served as a prison, with the original graffiti by prisoners remaining on the walls.
What to do on such an isolated island? A celebrity escaping the paparazzi would love it, as would anyone who wants a private break from routine. There are boat trips to Nagadeepa and Delft, as well as jet ski, diving, snorkelling, angling and wind surfing. There is a deck to watch the sunrise, and another for sundowners. Even though staying in a Fort that served as a prison seems an impossible dream, it is easily reached by daily ExpoAir flights to Palaly airfield, from where the airline can arrange a car to the island. It is a dream that yields unexpected delights, another dimension of the broad appeal Sri Lanka has for tourists, both local and foreign.
Fort Hammenhiel Resort, Karainagar, Jaffna; tel: 011 381 8215; ffh@navy.lk; forthammenhiel.navy.lk
Follow @timesonlinelk
comments powered by

Disqus