A legacy of folly and falsehoods
View(s):

My Dear Satellite,

I thought I must write to you even though I know that hardly anyone writes to you these days and even your former golayas ignore you when they happen to meet you at social functions. Why I want to write to you again is because you had announced that you were writing your autobiography.

Now if you can do that quickly, Satellite, I'm sure it will be a bestseller. That is because we would all like to know why you did what you did when you were at the top-and I'm sure you will have an exciting story to tell.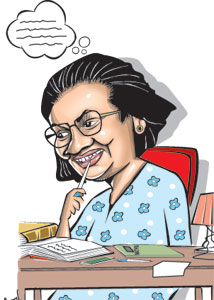 To begin with, you can tell us why you made a promise-while campaigning for the top job-to abolish the executive presidency within six months. Remember, the candidate from the rathu sahodarayas withdrew from the contest because they were naïve enough to believe you and your promises! Then you can tells us why you did not keep that promise and went on to retain the executive presidency for eleven years. We know that you have a habit of being late but stretching that from six months to eleven years is a bit too much, isn't it, especially when you didn't do it even at the end of that period?
You can also tell us why so many of your ministers like Seeni Bola and Gas Labu stabbed you in the back and left you to join the Greens. The irony of course is that they are now back with the Blues, singing Mahinda maama's praises, while your loyal servant, Avamangala has joined the Greens!
You can tell us what it was like to lead a 'probationary' government with four rathu sahodarayas in the cabinet monitoring your every move. Alas, Wimal sahodaraya who was not considered important enough to be among those four has joined Mahinda maama and is having a gala time!
You can explain to us what it was like to lead a cabinet of Greens with people even casting doubts about what was in your hand bag. That couldn't have been an enjoyable time because even though you were the boss with all the executive powers at your disposal, you really couldn't do anything!
You can tell us what it was like to be the boss without knowing what was really going on. Why, when the Greens signed the ceasefire agreement with the Tigers, they didn't ask you, did they? And is it right to assume you got to know the details by reading about it in the newspapers? Is that why, Satellite, you suddenly decided to take control of three ministries and sabotage the government led by the Greens? How do you feel about it now that most of those Greens are still friends of yours while the Blues you protected at the time act as if they don't even know you?
You can tell us the story about how you had to choose a Prime Minister after the general elections in 2004 and it was widely expected that Lakshman K would get the job. You really must tell us why you changed your mind at the eleventh hour and picked Mahinda maama instead! Satellite, we have heard you complain in recent times about the state of affairs in our country and how it is not as safe as it ought to be. If so, you should explain why you tried to put newspaper editors in jail when something unkind was written about you.
You can also try to explain why the war dragged on and on under your leadership and why you chose your ageing uncle to lead the campaign against the Tigers. By the time you had to leave, the war was still going on and the only gain was that your uncle had been promoted from Colonel to General! Now you shouldn't say that Mahinda maama followed your footsteps by appointing his brother to lead the war effort because he did win the war and when I last heard, his rank was the same as what it was when he retired from the Army!
You must also tell us why you suddenly lost your ability to do simple arithmetic which is why you couldn't correctly calculate the number of years you should be in office and Sarath had to do it for you-although some say that Sarath had other reasons for doing the calculations in the way he did it. You could also tell us why Sarath, the man you handpicked over the heads of others, imposed a fine on you, after you retired, for dabbling at the water's edge. Of course, it does seem that Sarath made a habit of falling out of favour with his bosses because Mahinda maama was also glad to see him retire.
Of course, we all know that you made many mistakes while you were at the top but there are no prizes for guessing the decision that you regret the most. It is your choice of Prime Minister after that last general election, isn't it?  Satellite, since the presidency began thirty-five years ago, after seeing a leader in office for a few years, people begin to complain that his or her predecessor was better. It has happened with almost everyone except Dearly Beloved. Do you think that it has happened to Mahinda maama as well?
Give us all the answers to these questions in your biography, Satellite, and I can assure you that your book will be a bestseller. We look forward to hearing what you have to say about the eleven years that you led our country because whether we like it or not, you have now become part of our history.
Yours truly,
Punchi Putha
PS-When you send your book to the libraries, I do foresee a problem. Where do we look for your book? Although it is a biography, some say it should be in the 'fairy tales' section. Others suggest 'horror stories'. Then there are those who say that knowing you, we should look for it under 'fiction'!
Follow @timesonlinelk
comments powered by

Disqus