IPM addresses Sri Lanka's competitiveness and labour productivity issues
View(s):

A panel discussion on the 'Role of HR in Sri Lanka's Competitiveness' was held on February 20, 2013 at the Institute of Personnel Management (IPM), HR House. This discussion, which appropriately addressed a grave concern Sri Lanka is currently facing, is part of a series of such organised by the IPM as an initiative in addressing pressing issues in the country related to human resources.
The panel was a rare combination of Sri Lanka's key business personnel, scholars and economists, all of whom have contributed immensely to the country's academic and business sectors. The keynote speaker at the event was eminent scholar and veteran economist, Dr. Anura Ekanayake, and the panel comprised Director Public Sector Programmes PIM, Dr. Lloyd Fernando;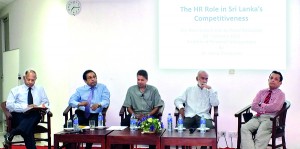 Director/CEO Watawala Plantations PLC, Dr Dan Seevaratnam; and Chief People Officer Brandix, Ishan Danthanarayana. The discussion was facilitated by Senior Faculty Member PIM, Dr. Ajantha Dharmasiri.
Discussing the country's current competitiveness ranking, which, according to the Global Competitiveness Report 2012–2013, published by the World Economic Forum, is 68 out of 144, Dr. Ekanayake pointed out that human resource management plays a vital role in increasing productivity.
Further elaborating on the point he stated that one of the critical factors effecting Sri Lanka's competitiveness in the global financial and business arena is labour productivity which is directly influenced by the county's human resources.
According to Dr. Ekanayake, some of the crucial setbacks faced by Sri Lanka when it comes to productivity are the shortage and decreasing nature of working population at all levels caused by factors such as,out migration, significant lack of female participation in the labour force, absence of youth and middle-aged in agricultural labour, significant unemployment in the rural areas, and high preference for public sector employment amongst the work force. Driving his point home, Dr. Ekanayake emphasised on the need for proper management, development and planning of human resources so that the country can overcome the predictable consequences of the labour shortage.
The panel discussion further elaborated the imperative role the human resource managers, especially in the private sector, plays in labour productivity of the country as it is the private sector of a country that drives economic growth. Another setback identified, and addressed, at the panel discussion as a hindrance Sri Lanka is facing in terms of labour productivity, and thereby affecting its global competitiveness, is the lack of relevant competencies in the private sector. Here again the much experienced members of the panel pointed out the important role human resource management has to play in providing proper training needed for long term sustenance of private sector businesses.
Overall the discussion highlighted the significance of labour productivity as a factor which contributes towards Sri Lanka's Global Competitiveness Ranking and the important role human resource managers are expected to play in increasing labour productivity through proper labour management.
The event was organised by the Stakeholder Relations and Research and Publication Committee in association with the Membership Development Committee of the IPM.
Follow @timesonlinelk
comments powered by

Disqus