Appreciations
View(s):

Remembering a great man with pride and humility

CHARLES HENRY DE SOYSA

March 3, (today)— the birthday of the late Charles Henry de Soysa, is a very special day to his descendants, and to the thousands who have benefitted in a myriad ways, through a visionary who was far ahead of his time. It has been said of him that he had a golden touch and that everything he began became a goldmine. But what was admirable about his success, was that he shared what he had with others. Not as a surefire passport to popularity, but by showing amazing vision, in the fields he chose; for his largesse to one and all, which was far ahead of his time.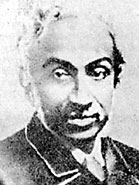 In the era in which he lived, prejudice and bias were blatantly believed in and practised. But, although he donated generously to the development of his hometown Moratuwa, in education, religion and health, his generosity to other areas unconnected to him, either by ties of blood or business interests are a living testament to his thinking, which was far beyond the peripheries of those existing divisions. Again, this was an era of gracious living, gentility, peace and contentment, in which he could have lived a life of ease, far removed from reality, with the wealth he inherited. But he worked hard to increase his wealth, not only for his family, but shared it with the less fortunate, improved their lifestyles and gave them opportunities and a better deal in life. He strove hard all his life, to release people from poverty, which is another kind of enclosure. He was among the Founders of the Ceylon National Congress, from which emerged the United National Party and was the first Ceylonese to start a Bank.
Today, we live in a world of much publicised philanthropy, where corruption reigns supreme. We live in constant fear of violence, danger, plunder and rape. We seem to thrive on conquest and conflict resolution seems to be far beyond us.; peace is flimsy, tenuous and still out of sight. Horrific incidents, violent murder, horror, abuse of women and children and destruction of one kind or another, are the order of the day. This turbulent scene we live in is ruled by greed and cruelty to man by man, while the rule of law has been blown away, out of sight.
As a man, the late Charles Henry, was one who set incredibly high standards of integrity, punctuality and dedication, and expected his family and those who worked for him, to follow his example in these virtues, which are rare today. Many legends about him are related time and time again, within the family, among past and present students of Prince and Princess of Wales Colleges, doctors and patients who have been at the various hospitals and institutions, donated by him to the nation. Among them are that at the precise time he was born, a cock had crowed which was rare and said to denote that it was a singularly fortunate person who was born at this time. His donation of the De Soysa Hospital for Women, is said to have been inspired, by his seeing a women in labour, crying out for help on the roadside, while he was out riding his horse. He organised swift medical help for her and the idea of this hospital and the many others he donated later, in various parts of the country stemmed from this episode.
'Alfred House' which was built specially by him for the banquet in honour of the visit to Ceylon,by Prince Alfred, the then Prince of Wales is yet another fascinating legend, almost akin to a fairytale. It is sad that neither Alfred House nor the special cutlery and crockery of gold and precious stones made for the banquet, no longer belong to the family.
He had the vision to send all his sons to Cambridge, but they lacked his business acumen and foresight and lived like Victorian gentlemen. He saw to it that his daughters all married professionals and most of his sons in law reached great heights in their respective professions.
Apart from the hospitals, schools,churches, temples and kovils,he donated 10,000 sterling pounds and 87 acres in Kanatte,to the state for a model farm. A hundred poverty stricken farmers in Walapane, were gifted paddy fields and houses. His generosity was not confined to our shores but reached far beyond them. The Great Ormond Street Hospital for Children in London, where a plaque mentions his contribution, the Brompton Hospital, Royal Free Hospital, Victoria Chest Hospital, the Hospital for accidents to Dock Labourers all benefitted from his largesse.
As his great granddaughter, I am filled with a great sense of pride, combined with deep humility, that the blood of a man such as this, flows in my veins. An awareness that our family history, is prized and beyond value, has made me a repository of the past. The late CH's life is an inspiration and an example, but unfortunately, few of his descendants, after land reform and the ceiling on houses, have the means to endow or donate as he did. But, we can each in our own way, in whichever way possible, reach out to those in need and try to ease their burdens in whatever way we can. That is the best way of honouring our revered ancestor to whom we all owe so much.
'From each according to his ability, to each according to his need.'—-Karl Marx
Ilica Malkanthi Karunaratne
Aquinas Rector directed adult education and aspirations in masterly fashion
Rev. Fr.  TISSA BALASURIYA
After completing studies at S. Thomas' College, Mount Lavinia, I joined the Business Faculty at Aquinas (ACCA Lond), where I obtained the best tertiary and mixed education.
The high standards and strict discipline at S. Thomas' followed at Aquinas. Very early in adult life I made friends for a lifetime, with many fine ladies and gentlemen my age from the leading boys' and girls' schools arriving at Aquinas . It is against this background that I was privileged to meet Rev. Fr. Tissa Balasuriya, my illustrious Rector from 1971 to 1974. He was exemplary in the manner he handled adult education and aspirations. We were proud of him.
Fr. Bala, as we affectionately called him, introduced a cleverly planned Common Room for ladies and gentlemen ( as he called the students) , which facilitated Student Unions and Student Elections and a Fellowship Social in true campus style, with music for dancing . He was a "master" at handling any situation, and he maintained strict discipline and control. He ensured that nobody went over limits, warning that privileges would be withdrawn if we did not behave in a civilized manner. One could not predetermine his judgment. He was very understanding, but he also had a strong personality.
He reminded the students that Aquinas University was a premier Roman Catholic Institution and that rules had to be obeyed. The students respected and admired him, as he was well ahead of the time in many spheres. Under his tutelage, we grew up as responsible and educated adults. He often "patrolled" the campus, with authority but also with a smile. He was an icon and colossus of our time and beyond.
A true son of the soil , he loved to visit the Aquinas Agriculture Farm, sporting his khaki field kit.
He helped the poor. We saw many poor people outside his office, seeking his generosity.
I was a member of the Aquinas English Drama Society, and during his tenure we performed many classic plays at the Lionel Wendt Memorial Theatre.
Aquinas was the undisputed academic leader in the 1970s, offering many UK-based study courses, which many higher education institutions here were not aware of.
On the eve of my leaving Aquinas for employment, I visited his office to thank him and say goodbye. He said: "Son, you have had the best of lessons at Aquinas, not only in business studies but also in integrity, courage and true leadership. Live up to those principles and bring honour to Aquinas and yourself. Do come back and impart your learning to the needy and never forget the Institution." They were pearls of wisdom from a distinguished academic. I bowed in reverence, and did so each time I met him thereafter.
I feel privileged to have been requested by "disciplinarian" Rev. Fr. Raymond Samarakoon, ably led by the "visionary" Very Rev. Fr. Rector Dr. Placidus de Silva to serve Aquinas, which is an opportunity to repay my nurturing fee with distinction. I stood by the coffin of the revered Rev. Fr. Bala with uncontrollable emotion and silently prayed that he be granted Eternal Rest.
Between us there will never be goodbyes, respected Rev. Fr. Rector – you will always be affectionately remembered with grateful thanks and appreciation, as you touched our hearts very genuinely.
Milinda Hettiarachchi
Loved in life and never forgotten in death
Dr. Sarath Senanayake
The word "gentleman" can be interpreted in a number of different ways, all of which apply to my late father whose first birth anniversary subsequent to his passing away on September 14, 2012, was on February 29. In the more conventional sense, a gentleman is someone who is polite, decent and dealing with whom, one would never expect nothing underhand. Those who knew my father will attest that such traits typified him.
In the Middle Ages, the word "gentle" was synonymous with nobility and an expectation that such an individual would carry himself with a characteristic class and demeanour. Certainly, my father had built such a reputation amongst friends and family.
Finally, a gentleman is one who is both affable and compassionate. These were qualities that he demonstrated not only as a family man, with a single minded concern for his family, but also in a long career as a surgeon. His decades working in the medical field were not driven by greed which unfortunately is a mindset that has pervaded parts of the profession, but rather a satisfaction derived from tending to the sick while simultaneously challenging his surgical skills.
At a personal level, he has served as an inspiration for me both as a family man and a doctor. While he was always loved in life by so many, he similarly will never be forgotten in death.
Sanjaya Senanayake
Mother was a loving and lovable shepherd sent to guide us
MOLLY ARSACULARATNE
Sweet smile on your face
as you sleep the pain away –
Resting in God's arms, although
in the ground your body lay;
Another angel was needed
in the heavenly choir for music to play
Watching your children
You are with us, Mum,
Swinging your way.
The love, affection and care that kindled the hearts of 11 children, 24 grand-children and five great-grand children faded into darkness that fateful November 21, 2012, the month of the dearly departed. Today, dear Mummy, we are a flock of sheep without a loving and lovable shepherd to guide us, lead us, show us the way.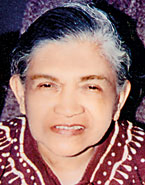 In 1961, when I was a little boy of 10 years, in our ancestral home in Maggona, when all our homes in the area were kerosene oil lit, I was down with the flu and confined to bed. I woke up one night to answer a call of nature. I was weak and my eyes half closed, I dragged my trembling feet to the washroom. To my utter shock and disbelief, I stepped on my Mother, who was half asleep on the floor on a mat, keeping vigil over me.
I dread to think how much sleep and comfort she sacrificed to make us all comfortable. In our home, there was always somebody who was sick, and she was there with us all, as my siblings were scattered in different rooms in our home. She never favoured one over the other. She dutifully carried on till her death.
Thank you, Mummy. You are the greatest. You dedicated your life to our family and the world at large. You inculcated in us the value of togetherness and happiness.
My mother was an amazing woman. Behind her tiny appearance was an extraordinary fortitude and perseverance, and an altruistic soul. She had the kindest heart a woman could possess.
She inspired in us all the strength to overcome the hardships in life. She gave us invaluable life lessons. She said little but every word she uttered sent us a strong message.
Would anybody believe that she never ever scolded or uttered a harsh word in all her life to any one of her children? Yes. It is true. She showed her displeasure with a gentle smile that sent shock waves through us.
She was the kind of person who gave her most to unlucky ones. She had an array of "clients", or deposit holders, who trooped in almost every day. Nobody was turned away empty handed. She was a good mother and set a good example in speech, love, faith, purity and life.
Loving God, we thank you for the mother You gave us. We pray that You will touch and bless and help her attain Eternal Bliss.
Indra Arsacularatne
Follow @timesonlinelk
comments powered by

Disqus