Govt. to take website to British court
View(s):

A Britain-based website, banned in Sri Lanka, has come under investigation by the Criminal Investigation Department (CID). The move is said to be a prelude to the Government instituting legal proceedings in British courts against the website for what is being called "scurrilous and often false reporting on Sri Lankan issues." The court action is to cite specific instances where VIPs have been reportedly maligned by the website.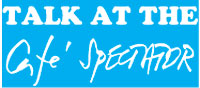 Last week, investigations by CID detectives focused on how the website in question was funded. Some Colombo firms, which placed advertisements, have been questioned. One in particular in the motor trade has told detectives that he had made payment to Google which in turn was placing the ads in various websites including the one under probe.
This week, detectives recorded statements from officials in the Colombo office of Google to determine how funds for advertisements were being collected and placed in websites. The CID wants to determine whether such funds are being handled in accordance with the country's tax laws and exchange control regulations.
CID sources said a comprehensive dossier on the website would be handed over to the Attorney General's Department. Such a dossier, they said, would include the identities of Sri Lankans domiciled abroad and allegedly defaming VIPs in obscene language. Already, legal help from London has been sought. A leading firm is to appear on behalf of the Government and will argue on the grounds that even British laws were being violated to defame those in Sri Lanka.
Apartheid shame in southern tourist venture
Unbelievable but true. There is at least one newly opened tourist venture in the South and it insists that no Sri Lankans will be allowed, not even as guests.This new in-house apartheid policy comes 65 years after Sri Lanka (then Ceylon) received independence and freedom from the yoke of colonialism. There were some clubs, even one hospital in Colombo, which followed this policy in the immediate post-Independence era, and one club in the hills practised it till a decade ago. But all that is history.
The million rupee question is whether this discriminatory practice is being enforced with the concurrence of the Sri Lanka Tourist Authority or the Ministry of Economic Development. If not, why they remain silent raises a big query.Unlike in some countries, where the diktats of a dictator, are law, things are still different in Sri Lanka. It is high time the authorities moved in to tell the owners they cannot introduce apartheid under any guise. If the practice is allowed to continue, it will remain a shame on everyone from a three-wheeler driver to those who strut around in brand new BMWs and Volvos. This is whilst others raise their small glasses of vodka and say in Russian, "nastrovi."
Who opened liquor bars: MR gives details to Mahanayake
President Mahinda Rajapaksa was armed with documents when he called on the Mahanayake of the Malwatte Chapter, the Ven. Thibbotuwawe Sri Siddhartha Sumangala Thera. The documents had details of dates and places where liquor bars and outlets were functioning. He showed the prelates how liquor licences had been issued since 1926. Many had been issued during the period 1972-1997.
Hence, the President said, that allegations that the present government issued those licences were incorrect. The prelate advised the President to show those details to the Mahanayake of the Asigiriya Chapter too.
Political debate over Premiership erupts again
The political debate over who would be next Prime mMnister surfaced again this week.  Triggering off the issue were reported remarks by Health Minister Maithripala Sirisena's son Daham.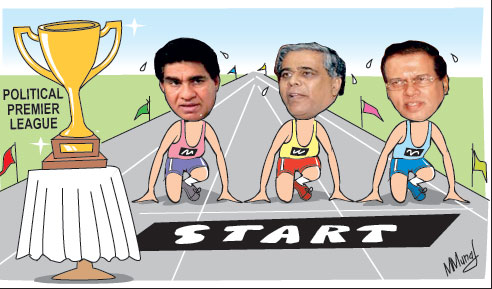 During the incident at Pasikudah beach where he was allegedly involved in a fight with Asela Waidyalankara, son of DIG Ravi Waidyalankara, reports quoted Daham as remarking he was the son of the future Prime Minister. These reports prompted Minister Sirisena to convene a news conference at his official residence this week. He said he had even declined to accept the post of Prime Minister when the offer was made by then President Chandrika Bandaranaike Kumaratunga.
He also dropped a bombshell when he said his life was in danger. Those remarks were not only from a Cabinet Minister but someone who is also the General Secretary of the Sri Lanka Freedom Party (SLFP), the predominant partner in the ruling UPFA Government. That the remarks came when the UN Human Rights Council is in sessions in Geneva raised many eyebrows. "If a minister and key member of the ruling party is not safe, what about the ordinary people," asked a civil society activist.
To prove the claim that he was offered the premiership, Sirisena distributed copies of a book where a letter from the Janatha Vimukthi Peramuna (JVP) General Secretary Tilvin Silva is included. In that letter addressed to then President Kumaratunga in 2004 , the JVP had recommended as its first nominee for premier, the name of the late Lakshman Kadirgamar. If this was not acceptable, it had said, it should be Anura Bandaranaike followed by Maithripala Sirisena. Of course, Kumaratunga's choice was none of them but Mahinda Rajapaksa.
The premiership issue also reverberated in the halls of the Colombo Municipal Council during a meeting of members. Mayor A.J.M. Muzzammil declared that the most suitable person was Minister Nimal Siripala de Silva, who has had a 30-year-long political career. He had been a council member in 1983. The UNP Mayor said the CMC would extend its fullest support to de Silva.
Capping it all was another contender. Responding to a query at a news conference on Friday, Public Relations and Public Affairs Minister Mervyn Silva also threw his hat in, declaring he was the most suitable person for the post of Prime Minister. His detractors said he was only talking through his hat.
"There is no other who is suitable in the Sri Lanka Freedom Party (SLFP). My brother, sister and brother-in-law were murdered. I was jailed. I was injured. My house at Beliatta was destroyed. I did politics with the Rajapaksas. So the post should be offered to me," declared the controversial minister, who till recently said that he had decided to keep his mouth shut and would only open it to eat.
President hails Ela Fowzie
Some colloquial expressions in the Sinhala language to describe the goodness of life are different from the written word. One such phrase is ela kiri. Though it means cow's milk, the word is used to express excellence or nicety. So is the word ela.
Little wonder, President Mahinda Rajapaksa referred to one of his Ministers as Ela Fowzie. He said that was the name by which many identified the Muslim minister though he was A.H.M. Fowzie.The remarks came when President Rajapaksa was chief guest at a ceremony held at the Muslim Ladies College in Wellawatta, Colombo.
Rajapaksa said Fowzie was popular with the Sinhala people. "Ethumage aagamika namata wadaa 'ela' kiyana nama prasiddai. (Minister Fowzie is popular among the Sinhalese as 'Ela Fowzie'. His 'Ela name' is popular than his religious name)."
CBK sees psychiatrists
Former President Chandrika Bandaranaike-Kumaratunga who lambasted the political culture of the Mahinda Rajapaksa government earlier this week was the chief guest at the annual academic sessions of the Sri Lanka College of Psychiatrists on Friday at the Mahaweli Reach Hotel in Kandy. In her speech to the College, she said many of the world leaders had mental problems, like Hitler, who while in power was responsible for the massacre of millions of people. She quickly added, that she was referring to leaders in other countries, and not Sri Lanka.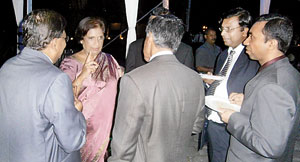 In a speech earlier in the week to commemorate the 25th death anniversary of her late husband, film idol turned politician Vijaya Kumaratunga, Ms. Kumaratunga said that most of the MPs today were uneducated and involved in illegal businesses. The former President said that politicians felled trees and sent white vans at night behind opponents. This meeting was also held in Kandy and presided over by Minister Nandimitra Ekanayake.
She said that thugs and rogues were politicians today.Ms. Kumaratunga was fined Rs. 3 million after the Supreme Court found her guilty of corruption, abuse of power and violating the public trust doctrine, during her tenure as President of Sri Lanka in a fundamental rights petition — Sugathapala Mendis and Rajah Senanayake vs. Chandrika Bandaranaike-Kumaratunga better known as the Water's Edge Case. In that case, Ms. Kumaratunga was found guilty of illegally handing over State land near the Parliament Complex to a group of businessmen led by her friend Ronnie Peiris, a Britain-based businessman who in turn sold their licence to a third party for millions of rupees making windfall profits from the deal.
Two notable absentees at GTF
There were two notable absentees at the Global Tamil Forum's third annual sessions held in a building in Britain's Parliament complex. They were ones who were to represent the Sri Lankan media in some way and listed to make a speech.
One was Sandya Ekneligoda, wife of missing freelance cartoonist Prageeth Ekneligoda, and the other is Sunanda Deshapriya of the Journalists for Democracy (JDS). The latter is domiciled in Switzerland.
Sandya Ekneligoda could not obtain her British visa on time. She had submitted it late but had wanted her passport back so she could attend the on-going UN Human Rights Council sessions in Geneva. Deshapriya had said he had personal issues, and hence his absence.
TN protesters thought Karu was Karuna
Protestors in the South Indian town of Tirukallur did not know the difference in the names between Karu and Karuna.  When former UNP deputy leader Karu Jayasuriya arrived in Tirukallur, he booked into a hotel there. The town is located 300 kilometres away from Trichy.
Whilst he was taking part in a temple ceremony, word arrived that protestors had surrounded the hotel and were shouting anti-Sri Lanka slogans. There was no threat to Jayasuriya and his family members since security had been provided to them.
It has now transpired that the real reason for the commotion outside the hotel. Word had spread that Karuna (Vinayagamoorthy Muralitharan), LTTE's one-time Eastern Commander who defected and is now a Government Minister, was staying at the hotel.
Follow @timesonlinelk
comments powered by

Disqus