Sri Lanka Foundation launches Capacity Development Project in NE
View(s):

SLF launched EUand UNICEF Funded Skills and Capacity Development Training for Child and Social Protection Actors in the North and East

The European Union (EU) and the United Nations Children's Fund (UNICEF) in a collaborative project with the Sri Lanka Foundation (SLF), will monetarily assist the training of 300 Child Protection and Social Protection Actors in the North and East. To ensure that child protection and social protection efforts are effectively and efficiently driven by professionals and people who know their communities the best, the UNICEF has pledged their financial support through the EU funding to SLF in further technically training and enhancing the capacity of Child Protection and Social Protection Agents by partnering with numerous government officials (Ministry of Child Development & Women's Affairs, National Child Protection Authority, Children's Secretariat, Women's Bureau, National Committee on Women, Ministry of Social Services, Department of Social Services, Probation Commissioners, Directors of Social Services, Chief Ministers, Governors, District Secretaries, Divisional Secretaries, Gramaseva Niladaries, etc) to increase coverage, maximize local strengths and to leverage integration of best principles and methods into existing practices.
The inimitable training programme is designed according to the working procedures, tools, techniques and guidelines of the Department of Probation and Child Care Services (DPCCS) and the Department of Social Services (DSS), input of partner agencies, best practices from local and global research and experience of the SLF and UNICEF to strengthen and enhance the existing knowledge, skills and capacity of Child Protection and Social Protection Actors in the Government Sector. It imperatively educates Child and Social Protection Officers in crucial areas of professional practice concerning their highly valued service delivery in creating, upholding and promoting emotionally and physically safe environments for children and families, thus ensuring their overall wellbeing and quality of life.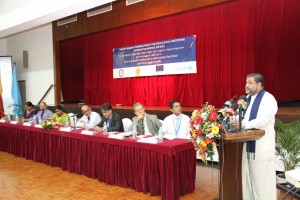 The Sri Lanka Foundation, a premier state institution coming under the purview of the Presidential Secretariat, is a Centre of Excellence in leadership, education and training in Sri Lanka. SLF in partnership with UNICEF will conduct the training programme commencing March 2012 targeting a multidisciplinary group of professionals (Probation Officers, Child Rights Promotion Officers, Women Development Officers, Early Childhood Development Officers, District Coordinators and Psychosocial Coordinators of the National Child Protection Authority, Social Service Officers and other Social Workers) working with vulnerable children and families in diverse communities in 15 Divisional Secretariats across the Northern and Eastern Provinces.
Follow @timesonlinelk
comments powered by

Disqus