Appreciations
View(s):

Appachchi, you gave us everything possible in life

W. A. Piyasiri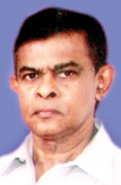 It is nearly three 3 months since you left us, Appachchi. Since the day you left us, I have been thinking of you. I still cannot accept that you have gone. I have no one to call "Appachchi". I can no longer come to you when I do not feel good, when I feel sad, when I need to clear my doubts, share my thoughts, have a good conversation. You understood us and our feelings and thoughts so well. No one can replace you.
You had a loving heart. You were an outstanding husband, father, relative, friend and colleague. You were a shining example to all of us. I learned a lot from you, Appachchi. You never wavered after you made a decision. You were strict and disciplined, but we were never scared of you because we knew that you had our welfare in mind. You taught us the values of life. You gave us everything possible in life. 
I remember the way you waited till we came home and how happy you were to see us. You bought us expensive clothes, but gave yourself an ordinary shirt. You wanted us to be comfortable in every possible way. You loved to see us together and spend time with us. You had time for everyone in your life. You valued and respected everyone, regardless of their standing or beliefs.
Although you rarely went to the temple, you lived a true Buddhist life. You lived your life contentedly. 
It was remarkable, the way you managed your time, life, relationships. We loved to hear you talk about your childhood at Matara Rathmale College, hostel life at Dickwalla Vijitha Madhya Maha Vidyalaya, your days at the University of Ceylon, the agro-farming in Buttala, your career at the Bank of Ceylon and the DFCC Vardana Bank.
You kept in close touch with your university friends for more than 45 years. Whenever you were present, the place rang with merriment. 
You wanted us to enjoy life as it flows. We are proud to be your children. Your loss can never be filled. The sparkle in our lives has been diminished, and all we are left with are fragments of golden memories, which we fondly cherish and will hold on to as long as we live.
May your journey through Sansara be short and may you attain the Supreme Bliss of Nibbana.
Duwa, Thirumi
Though never judgemental, he was an excellent judge of character
Canaganayagam Sankarakumaran
January 13, 2013, marked the first anniversary of my dear friend Sankar's passing. His gentle ways, acts of kindness, and idiosyncracies (like Lionel Perera of Kandy, I regret the non-receipt of photocopies of significant newspaper articles that used to come regularly from him under registered cover) are much missed by those of us who were blessed to be in his wide circle of friends and admirers.
I have written elsewhere of the personal debt I owe him for all the help he has given me when I began my public service career in Kandy. He was in the evening of his career when I began mine in the mid – 1970's and his guidance and friendship were a boon to me.
Sankar's long and distinguished career straddled both the private and public sectors. He was a banker by profession. On his retirement from the Hatton National Bank ( he began at The National Bank of India, later known as Grindlays Bank), Sankar served on several national Boards and Commissions with distinction. He was also an active member of the Council of the University of Peradeniya for several years before that august body, too, like most other Sri Lankan institutions, was contaminated by the appointment of political stooges blindly loyal to governments in office. No less noteworthy was Sankar's service to the community as a social worker.
Sankar was low key and easy-going. Though never judgemental, he was an excellent judge of character. Sankar and his wife Maheswary raised three fine children, all of who I am privileged to know. Sathanandan (Satha) the eldest and Nirmala (Nimmi) the youngest, are medical practitioners living in England and Australia respectively. Satchithanandan (Satchi) has taken after a family tradition and, like his father, paternal grandfather, and great grandfather before him, is a banker. He is attached to the CitiBank in New York. It is strikingly sad to note that the younger generation of Sri Lankans, educated men and women at that, are nowadays more likely to live away from home unlike their elders of yore. Perhaps this is a sign of the times that we are living through given the unfinished business of nation building in post-independence Sri Lanka.
Sankar's was an exemplary life-as husband, father, public servant and social worker. He was a true friend and a gentleman to his fingertips at all times. I continue to miss this genial and gentle man as the months have rolled by since his leave taking from his earthly existence. I, therefore, cherish the more those memories of our friendship that are stored in my mind's eye and in my heart.
I should like to end with a quote from a tribute paid Sankar by a mutual friend of ours. Gopalkrishna Gandhi writing of the man observed that Sankar was: 
"Pious without being religious. Humble without that most annoying form of humility – - cloying modesty. Learned without being ostentatiously intellectual. Sankara was the very measure of a scale of balances. Rarely if ever did Sankara discuss what might be termed 'politics'. He was of course pained as anyone with a shred of conscience would be by the rise of physical violence in our societies. But he never laboured the point; it was too obvious. Sanakarakumaran was of this world, and yet not of it. He was one of the last representatives of the human type that can be described by two adjectives: good and decent."
Tissa Jayatilaka
She showed us Christian love in action
Mary Ananthanayagi Rajanayagam 
When an expert in law asked Jesus to name the greatest commandment in the law, Christ said: Love the Lord your God with all your heart and all your soul and all your mind, and love your neighbour as yourself.
The essence of these two commands sums up the Christian life in action, which is about vertical (with God) and horizontal (with men) relationships. When I reflect on the life of Anantham Akka, I realise more and more that in her simple way she lived her life according to her Master's commands.
Anantham Akka's love relationship with her Master was expressed in the strong faith she had in Him. Her conversations always centred on her faith in Him. When her grandson was away at work, she was alone at home, but she was not afraid because she felt the presence of God. Once when the kitchen caught fire due to a gas leakage, an unknown person appeared, leapt into the fire and removed the gas cylinders, thus preventing a disaster. The person then mysteriously vanished before she could thank him. She attributed this miraculous rescue to the work of God.
Her love relationship with her neighbours was revealed by the number of people who visited her when she was in hospital. Despite her frail physique, she made it a point to visit her neighbors, especially the sickly and destitute, taking them food she herself had cooked. 
Whenever I visited her, she would not let me leave without giving me a food packet, despite my protests that she should not tire her weak body.
Another attribute of her faith in action was her calmness in the midst of calamity. She trusted in her Saviour and cast her cares upon Him. She bore with courage the many problems she had to face. Her life of faith was a challenge and encouragement to many, including me. 
Anantham Akka fought the good fight, finished the race, and kept the faith. She will receive the crown of life promised to those who love the Lord.
Deva
A distinguished anaesthetist who was happy to share  his knowledge and skills 
Dr. R. GNANASUNTHARAM
Dr. R. Gnanasuntharam was born on August 1, 1926 and passed away in Sydney on January 11, 2013. He had his early education at Visalachchi Maha Vidyalaya, a school named in memory of his grandmother. He then went to St. Patrick's College and Jaffna Hindu College, from where he entered the Colombo Medical Faculty in 1950.
He graduated with an MBBS in 1955 and started training in what turned out to be his life-long vocation – anaesthesia. After serving as a House Officer in Anaesthesia at the Ministry of Health, he was sent to the United Kingdom to obtain a postgraduate training in his subject. He obtained a Fellowship of the Faculty of Anaesthetists of the Royal College of Surgeons (FFARCS), the highest qualification he could obtain in his chosen specialty.
On his return to Sri Lanka in 1964, Dr Gnanasuntharam was appointed Consultant Anaesthetist, Government Hospital Batticaloa, where he worked until 1967, when he was transferred to Ragama (now Colombo North) General Hospital. In 1969 he was appointed Consultant Anaesthetist to the Colombo Group of Hospitals. He worked here until his retirement in 1986 as the Senior Consultant Anaesthetist of the General Hospital, Colombo (now the National Hospital of Sri Lanka).
Dr. Gnanasuntheram was a founder member of the College of Anaesthesiologists of Sri Lanka, and was elected President of the College in 1982. He served on the first Board of Study in Anaesthesiology of the Postgraduate Institute of Medicine of the University of Colombo in 1979. He was reappointed to the reconstituted Board of Study and served a full three-year term from 1980 to '83. 
I first met Dr. Gnansuntharam in 1971, when I started my training in anaesthesia with him. It is a measure of his meticulous training that after six months I was working with confidence as the sole anaesthetist at a Base Hospital in the outstations.
He lectured in the Basic Sciences course given by the College of Anaesthesiologists. He gave me these lectures on my return from the UK. He was always supportive and took pleasure in the career development of all his trainees. He was a good anaesthetist but never flaunted his achievements. He had a caring attitude towards his patients. An undemonstrative nature, humaneness and simplicity were his hallmarks. 
After retirement from government service, he worked for a period in the private sector in Sri Lanka before arthritis limited his mobility. He was always pleased when I visited him.
With both his daughters living overseas, he decided to migrate to Australia where his elder daughter was based. In his last years, he was dogged by ill health but bore it all with equanimity.
I will always remember him with gratitude.
Jayantha Jayasuriya
Follow @timesonlinelk
comments powered by

Disqus