Engaging, informative read of a vanished era
View(s):

Book facts : The Yaal Players- Memories of Old Jaffna by Vimala Ganeshananthan. Published by Kumaran House. Price: Rs 1,200

Emily Gnanam grew up in the early 20th century spending her childhood in Jaffna and Trincomalee. Even at the age of 93, she had perfect eyesight and an astute grasp of world affairs. Ever a voracious reader she had written down her own memories of her life with her family and the political landscape unfolding around them. The jottings in exercise books were in her own impeccable flowing hand, written in lively fashion, though without any colloquialisms.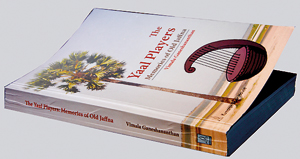 After her death following a brief illness, her daughter Vimala, a medical doctor and writer herself ( a member of the Wadiya Group ) was inspired to put together Emily's writings, encouraged by friends and mentors like Christine Spittel Wilson and Brenda Jayasinghe, both of whom, she notes with regret, did not live to see the book in print.
The result is a book that is an engaging and informative read, a window into an era long past, perhaps still remembered by those of an older generation. It was the days when Christian missionaries stamped their imprint on young minds in the mission schools and the reader is immediately drawn into the opening chapter, little Emily's account of starting her schooling in the American Mission school in Karainagar where the family, then lived, her father having departed to teach in Malaya leaving the family in the care of her grandfather.
This grandfather who figures large in the book was an important influence in Emily's life and he it was who got her ready for school, months ahead, making her two erdus, palmyrah fronds cut into strips, ten inches long and four inches wide, cleaned and strung together . On one he wrote with steel flint the first 12 basic letters of the Tamil alphabet, on the other extracts of Tamil poems, that the four-year-old Emily had to memorise.
Mingled with memories of the excitement in Emily's retelling is the mortification that she went to school topless. " A white material with a green border was wrapped around my waist and it swept my ankles. That was all! Years later when I questioned my mother as to why she didn't dress me better she said nonchalantly, ' What difference did it make, your four-year-old cousin Kumar and you were the same above the waist'."
Emily's knack for remembering such incidents keeps the reader engrossed and the large cast of characters drawn from her extended family is no less appealing. We are entertained by the exploits of her spirited tomboy sister Nesam who earned her father's wrath and five lashes of his strap for in 1910 having dared partner a boy in the needle and thread race and won. Nothing daunted, she climbed the roof the next day to replace some broken tiles. Then there was the dissipated uncle who had a fondness for toddy and once fell into a well, another dashing uncle who rode in on the first motorcycle the village had seen. Other scenes are more poignant – her grandfather's passing is recorded in faithful detail, the funeral customs as befitting his status as a village elder.
The family moved to Jaffna when it was decided to educate Emily at Vembadi , the Methodist Mission School and the chapters detailing this aspect of her life give a very clear picture of the missionary influence on the customs, mores and lifestyles of the populace. Emily's account of Vembadi, Chundukuli, Jaffna College and their principals beloved to many generations of Northern students, will surely resonate with many. 
Fascinating as Emily's family saga is, the bigger story is the story of life in the North a century ago. Here is the story of palmyrah fences, of life in the villagers, the all pervasive caste system, the match-making (Jane Austen time- she calls it), marriage and dowry customs, and how in their family, where some members had converted to Christianity, the ceremonies juxtaposed Christian customs like the bride wearing white with the traditional Hindu thalikodi. The Portuguese, Dutch and British rule is also dealt with, each with their idiosyncracies and distinct forms of governance. The author has painstakingly researched and added much detail of the political landscape at the time.
Of interest too are the many places Emily so vividly describes –heritage sites like Jaffna's Dutch Fort that are no more while others have changed vastly.
The book does not follow any particular chronological order, Vimala having chosen to present Emily's writings in the way they were recorded. Hence the reader is also compelled to leapfrog from her youth to married years in Trincomalee, old age in Colombo and back again and also switch from the first person narrative which is maintained for most of the book to the occasional parts when Emily becomes another character in the book. These aspects could have been addressed to make the book more professional, one feels, though, Emily's gift for storytelling ensures that the reader's attention is held nevertheless. 
Richly detailed and unmistakably genuine, the beauty of this book is its unvarnished nature. Emily Gnanam wrote about life as she saw it, without undue emotion but with a perceptive view and great generosity of spirit. We feel her pain when she is sadly told by her mother that she cannot continue her studies even though she has been selected for matriculation because the family lacks the money but rejoice at how she accepts this crushing blow with understanding and never loses her love of teaching, continuing to give of her knowledge to neighbours and friends' children all through her life.
It is a story of a vanished era but one we are richer for knowing about.
– R.S.
Follow @timesonlinelk
comments powered by

Disqus