She fought while others fled
View(s):

My Dear Madam,

I thought I must write to you after the events of this week, when you had to leave your job under difficult and questionable circumstances-and someone else was appointed to take your place even though everyone knew that what was happening was not right.

Madam, we do not know whether you are responsible for what you have been accused of. Honestly, I don't think it was a good idea for your husband to accept positions in government institutions because it then seems that you and your family are being 'looked after', even if you did nothing wrong.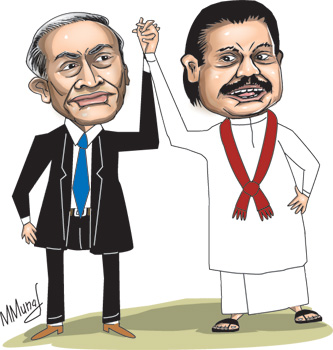 But it was obvious that you were presumed guilty from the outset-and that you would not be afforded a chance to prove your innocence at all. And when those conducting the inquiry began hurling insults at you, it was clear what their intentions were.
That makes us wonder, if you were as guilty as they said you were, why were you not allowed a chance to defend yourself in a free and fair manner? Was it because they would have found that you were innocent after all, if they gave you that opportunity?
For a moment, we thought that there would be at least a few people near the Diyawanna Oya who would have the courage to stake a stand on your behalf, especially those gentlemen like Vasu, Tissa and Dew who claim that they represent the 'left'.
That didn't happen. For all their fiery speeches, they have the backbone of a jelly fish. They just want to be in the good books of the King, so that they can remain 'ministers' when in fact they would have done the country a great service if they retired quietly instead of prostituting themselves in this way.
Worse still was the behavior of the Greens who are supposed to oppose. At first they too were against you, and when those who 'Speak' said 'we are supreme and no one can tell us what to do', they rushed to support him. Either they were extremely stupid, or they didn't want to help you for some reason.
Serves them right too. Now, instead of you, they have someone who will do exactly what the King wants him to do regardless of what is right and what is wrong. So, those who oppose can expect to stay on the opposing side for a long, long time to come!
More importantly, Madam, what worries me is that this is not only an insult to you-but to all those of your kind who sit in judgment. Now, they have been told in no uncertain terms that they must do as they are told or they will have to go home.
We saw how you had to finally leave your residence, Madam. You, the person who was entrusted with the task of protecting the rights of every citizen of this country-had to call out to the people to protect you and your family.
In a country where even a common criminal is afforded a fair trial and is presumed innocent until he is proven guilty, you had to plead your innocence from your vehicle, so that the rest of the world could hear you. We have to ask ourselves, is this what we want our country to be?
It was a terrible scene, Madam, and made us all wonder about this so-called ' Paradise ' that we live in. It seems to be a place where thugs and hoodlums masquerade as ministers while those who are supposed to uphold justice are hounded until they can take it no more.
I also heard, Madam, that the General invited you to join forces with him and I must warn you, that is an invitation to disaster. It is true that the General too was ill-treated because he made the mistake of contesting the King, but I do not think that is an offer you should take up.
I am sure you will realise that he was used at the last election by those who sponsored him and when he lost, they deserted him very quickly. Today, even the few friends he had have gone their separate ways and I'm sure you wouldn't want that to be your fate as well.
We heard you say, Madam, that you are still the rightful holder of your job. I know that someone else has now been appointed to take over your duties but believe me, in the hearts and minds of most right-thinking people in this country, you will still hold that position.
I am not sure what the future holds, not only for you but also for Paradise. We can only hope that those ladies and gentlemen who sit in the highest benches will have a fraction of the courage you had, when they go about dispensing justice in the months ahead.
But you can hold your head high, Madam. Without making a spectacle of it, you fought to protect your honour like a man, when most men around you failed to do their part. We respect you enormously for doing that with a dignity that befitted your position.
Because of that, Madam, you can rest assured that when history judges you in the years to come, it will be kind to you. Those who persecuted you, on the other hand, will be consigned to the dustbin of history, especially if they continue on the path that they are now taking.
Yours truly,
Punchi Putha
PS-We remember that when you were first appointed to your position, people criticised you saying you lacked proper work experience. At least, they cannot make the same accusation against your successor: he has lied abroad for his country and got found out and he has even dropped charges against alleged offenders just because they happened to be 'honourable' members. What more can you ask?
Follow @timesonlinelk
comments powered by

Disqus