Voices in the wilderness a need of an empty hour
View(s):

We are a naturally sociable people. As an island race, the closest thing we have to a national characteristic is our sense of hospitality and the propensity to congregate in community. If there is someone who is left out in a club, any group, plus all of society, we will act to include them (even if our attentions may be unwelcome). To stand out from the crowd is not something we desire, like, or tolerate. So when someone chooses to "include themselves out", we become hurt or angry or hostile. It is happening everywhere today. In homes, hotels, hospitals, and other hilarious locales (like Hulftsdorp Hill and the House by the Diyawanna Oya).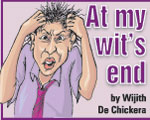 The other day, your scribe went down to the beachside tracks to cop a few locos. Odd sound that phrase has, but it is not as weird as one might think! In railfan parlance, that's the trainspotter's raison d'etre. Some of us live to see rare engines go by, and note down their numbers and recondite details as if it were our religion. Which, in some sociological sense, it is. One day, cultural anthropologists of the future will have a hard time deciphering the forms of Worship of the Railway as truth and life. For now, it serves as therapy for a small diehard group of aficionados (or simply fans – perhaps better known to their families as "fanatics"!).
That day (see para above), I saw the usual suspects sauntering past, as I hung around with intent with notebook in one hand and camera in the other, trying hard to look inconspicuous and probably failing miserably. (We, as an island race, are as curious about other people's business as we are companionable!) Majestic expresses thundering down the tracks to exotic destinations in the deep south. Suburban power sets slinking between city and town. Lots of standard locomotives heading average office trains from one commercial hub through another to home somewhere in the far country.
There was one specimen, however, which caught and retained my attention. It was a lovely, long beauty painted in the traditional livery of the inter-city trains of yore that would ply their trade to Galle and Kandy. The interesting thing was that it was all alone. "What can ail thee, knight-at-arms (I thought to myself), alone and palely loitreing?" Of course the vision made no effort to reply as it clattered and clunked past me, its two-cylinder exhaust note whispering mysteries the uninitiated would struggle to comprehend. I captured the awesome beast for posterity, and its alluring picture on this page serves as an affectionate trophy of sorts. 
I sense an impatient stirring in the force (AKA my edgy and eager readers!). So here, without further ado, is the point I want to make. Lone bull engines are a beautiful thing to behold. Similarly, loners in polite society are not lost. Neither are they in need of redemption, nor deserving of condemnation. Rugged individualists are people, too. And often they have a crucial role to play in keeping our country on the straight and narrow.
But this column (ostensibly, at least?) is not about politics. So let me hasten to add that the single-minded folks who stand out and stand alone play a vital part in challenging, transforming, and saving our society. Prophets who understand the need for and the nature of change do well when they critique tired social customs, corrupt economic rituals, and pointless social traditions. Priests in tune with the voice of the Ultimate Uniqueness can move their wards and charges to tears, and remove sanctimonious hypocrisy from mere religion, making of it a one true faith to serve humanity. Kings whose hearts are a river in the hand of the Almighty swerve neither right nor left, but flow down to a sunlit sea when they lead the people from the perspective of a sole, solid, and compelling vision.
This is heavy stuff for a Sunday morning (isn't it just, dears!). If only we would learn from the lessons of our collective past, though, no one would have to preach the sermons of individualism to our righteous society. As a peoples, tribes, and tongues, we have set the country on fire and burned the enemies of the state as a sweet-smelling sacrifice to honour the great god of uniformity. Now, as a nation, we need to repent of such apostasy and idolatry, and let a few individuals good and true speak into our unity. Such loners alone can disturb the comfortable, and comfort the disturbed. Into such a nation-state, O my Father, let my country awake (with apologies to Tagore.)!
Follow @timesonlinelk
comments powered by

Disqus