Taking off from 1912
View(s):

Book facts: A Centenary Sky by Capt. Elmo Jayawardena-100 years of Aviation in Sri Lanka. Reviewed by D.L. Sirimanne

Capt. Elmo Jayawardena, a veteran passenger jet pilot, requested me to narrate events of Air Ceylon, the first civil aviation operator in Sri Lanka, from its inauguration in December 1947; he knew that my wife and I were the only Air Ceylon flight crew remaining out of the first batch of pioneer aviators. I had to backtrack my memory almost 65 years into the dim past and was able to provide him pictures and the history of Air Ceylon from its first flight in 1947 to its closure in 1979, succeeded by Air Lanka to continue as the national flag carrier.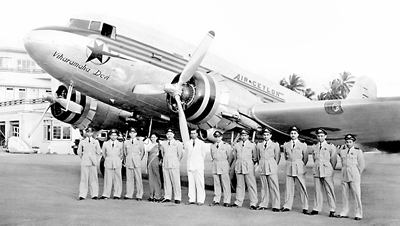 Elmo's assignment was to produce a book within three months to celebrate 100 years of aviation in Sri Lanka on December 7, 2012, a rather gargantuan task within such a short time. I expected him to produce a mediocre book with narrations and pictures in black and white. 
To my surprise, three months later, he gifted me and my wife a beautiful book titled 'A Centenary Sky' with an impressive peacock blue hard cover with the history of 100 years of Aviation amply illustrated with glossy pictures from the time the first single engine aircraft flew from the Race Course over Colombo in 1912 and up to now, where Sri Lanka is now flying giant wide-bodied jet aircraft capable of carrying over 450 passengers from Colombo to dozens of cities all over the world, with our own Sri Lankan pilots in command, a great achievement we are very proud of.
In this beautiful volume, Elmo delightfully sets his Centenary Year on a heading from 1912 to its present time on a straight track homing in on all the important happenings in historical sequence over the clear blue skies of our beautiful Sri Lanka and its fame as a tourist destination leaving a memory trail of white moisturised exhaust, the tell tale history of Aviation in Sri Lanka. 
Credit should be given to all our pioneers of Civil Aviation and present aircrews, the maintenance engineers and the air traffic controllers for having an unblemished record of accident-free operations from the inception of Air Ceylon in 1947 and Airlanka, and the present day SriLankan Airlines and Mihinair. We wish them safe flight and happy landings.
I recommend this publication to all those interested in aviation and others, to offer this book as a birthday gift to their children as an incentive to take up to this noble profession as aviators, aviation engineers and air traffic controllers and hitch their wagons for future space travel. 
(The reviewer is a retired Air Ceylon and KLM Flight Radio Officer and Navigator)
Follow @timesonlinelk
comments powered by

Disqus