Christine's students sing for flood relief
View(s):

Christine Perera, founder of the Ladies' College choir and the Christiana Singers, back here on a holiday puts together a concert after 15 years

By Duvindi Illankoon

Watching another generation of young singers from Ladies' College harmonise, Christine Perera has tears in her eyes. "It feels like I've never been away," she enthuses. "The Lord has given me this chance and I'm so glad."

One of the country's best known choral conductors and a teacher, a teacher above all else, Christine has taught over three generations of young vocalists. For almost 40 years from the 60's right through to the late 90's she founded and directed the Ladies' College choir and the Christiana Singers in addition to mentoring some of Sri Lanka's finest vocalists today. Watch the way her students hang on her every word-even if she's berating them for not pronouncing a word right-and you'll know what they mean when they say she's one of Sri Lanka's finest vocal trainers.

Christine has just returned to Sri Lanka on holiday from the States, where she has lived with her daughter Rashmi and her family for the past 15 years. "This is my first concert in 15 years," she says, her excitement palpable. "It's wonderful to be back. It's wonderful to be putting a show together for a fantastic cause." This concert, to be held tomorrow evening, will direct all its proceeds towards flood relief. 

The lady herself is no stranger to those in the musical circles. She was the founding bastion of the Ladies' College choir in 1960, and mentored singers like Peshali Yapa and Tharanga Goonetilleke. Christine herself began singing from a young age. "It was the one constant in my life. My father was a civil servant so I've been to schools in Kandy, Ratnapura, Kurunegala, Galle…I think it was when he was transferred to Trincomalee that my father decided it was time for me to have a stable education," she laughs. "So I was admitted to Ladies' College. And that was really where I blossomed as a singer."

Unfortunately, the school did not have a choir at the time. Christine completed school and was back two years later to teach music. It was then that she started a choir for the young voices at Ladies. "It was a good time for us. We staged several musicals and won many awards and trophies," she smiles at the memory. "The Christiana Singers was formed somewhere in the 70's. We did pretty well too!" 

In 1998 she retired from her teaching career and moved to the States to be with her daughter. But for Christine, teaching was never a career. It was her calling in life. "Even in the States, I was involved with a number of church choirs," she laughs. "I just couldn't stay away!" When she came down to Sri Lanka for a holiday this December, an in-law put forth the suggestion for a concert reuniting her past pupils. Why not, thought Christine.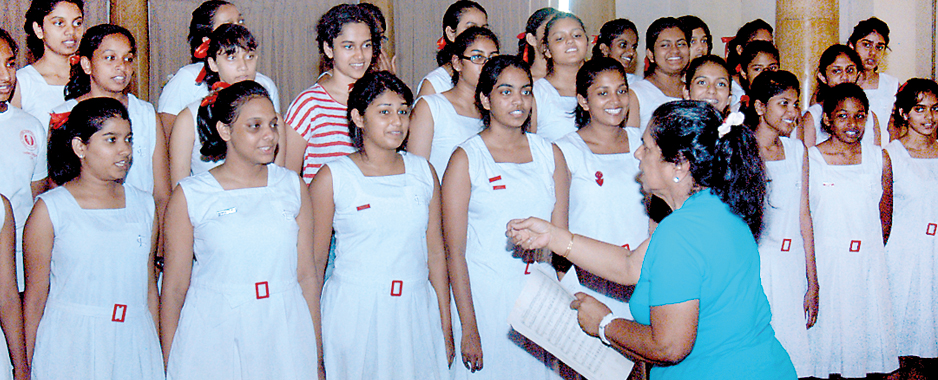 She was visiting a past student and friend Juanita Beling and mentioned in passing that she hoped to do a show in January. Juanita was immediately taken up with the idea-it was her suggestion to do the concert in aid of flood relief victims.
They've only had two weeks, but it certainly seems to be going well. Billed to perform at the event alongside the Ladies' College choir and the Christiana Singers are the De Lanerolle Brothers, Soul Sounds, Peshali Yapa, Asitha Tennekoon, Menaka de Fonseka Sahabandu, Ramya de Livera Perera and many more. They've all come on board in a show of support for Christine-teacher to some, friend and colleague to others.
The show titled 'Adore Him With Song', a tribute to love, hope and faith will include classics like 'He's The Rock', 'The Prayer', and 'My Tribute' alongside some contemporary hits. Christine and Juanita hope to channel the funds to three schools that are urgently in need of renovation following the devastation wreaked by the recent flood waters.
As for Christine, she's just happy to be back. Doing what she loves with the people she has inspired. She remembers with gratitude her late husband and her family for their support over the decades, along with her mentors, especially R.A. Spencer Sheppard, and Soundarie David Rodrigo for her support.
'Adore Him With Song' will be held tomorrow (January 21) at 7.30 p.m, at the Ladies' College Chapel. Tickets are priced at Rs. 500 and are available at the Ladies' College office, Yamaha Music Centre and at the gate.
Follow @timesonlinelk
comments powered by

Disqus