Armed only with dreams of a better life, they soon wake up to a nightmare
View(s):

In the aftermath of the tragic beheading of Lankan maid Rizana in Saudi Arabia, the whole issue of poorly prepared, poverty-stricken local women going in their thousands to West Asian countries has come into focus once again. 

Charundi Panagoda and Hansani Bandara report

"Keep your mouth shut if you don't want to end up like Rizana," Dharmawathie was threatened when she reported horrible abuse by her employer to a Sri Lankan official representative there.

The mother of three from Galle went to Bahrain as a housemaid expecting to wash and clean as her Colombo agent had promised. Dharmawathie ended up in a household with 10 members, doing everything they asked from early morning to late night. One day the madam's eldest daughter forced nails into her mouth and told her to swallow.

Dharmawathie swallowed the nails, only because she feared for her life. No one wanted to help her, until her husband and supporters pressed officials to have her rescued. Dharmawathie returned to Sri Lanka in 2011 with severe injuries.

Similar horror stories of abuse faced by Sri Lankan domestic workers in the Middle East are aplenty. Two years ago, Suneetha Manel, swallowed a corrosive desperate to come home. Another housemaid returned from Kuwait with 12-inch nails embedded in her body. Just last month, 12 Sri Lankan women forcibly detained by their agent were rescued in Abu Dhabi.

Now, Rizana's beheading has re-exposed the problems faced by Sri Lankan domestic workers in West Asian countries (commonly called "the Middle East").

Sri Lanka has between one and seven million workers aboard, said Sri Lanka Bureau of Foreign Employment (SLBFE) Deputy General Manager Mangala Randeniya. Most are women working as housemaids in countries like Saudi Arabia and Kuwait.

Desperation drives these poverty-stricken women to West Asia, hoping a job aboard will help them build a house or educate their children. They are often recruited by foreign employment agents right out of their rural villages.

They have no idea about the cultural differences in West Asia, such as in Saudi Arabia where women can't walk outside alone, former Ambassador to Saudi Arabia Javid Yusuf said.

"I've seen advertisements where agents say they produce passports in two weeks, so we don't know whether these women are able to make informed decisions," Mr. Yusuf added. "The idea is to get hold of a woman and send them out, where they face culture shock in a completely alien society."

Most face serious language issues unable to speak Arabic or English. Even worse, some don't know how to operate a modern kitchen, Miyuru Gunasinghe, researcher with Law and Society Trust said. Used to clay stoves and brooms, some women have never even heard of common electrical appliances such as vacuum cleaners and blenders.

"Some clearly have no clue of life in a foreign tech- advanced country," she said. "They don't comprehend the situation until they are isolated in an Arabic household."

Mr. Randeniya said the SLBFE currently conducts a 21-day, pre-departure vocational training program. The program has main modules teaching cleaning and cooking with support syllabuses including host country language skills, cultural understanding, occupational safety, government procedures and socially transmitted disease prevention.  Some activists claim the training is not long enough to adequately prepare workers for living aboard.

"You can't learn Arabic in couple of days," Ms. Gunasinghe said. "Pretty much everyone passes the language exam, but many run into language problems at their employers' houses, leading to conflict. We need to have stricter standards and choose our workers carefully."

Once workers land in West Asia, they are at the mercy of a sponsorship system called Kafala (different countries may have different names), where a worker's legal status in the country is tied to his or her employer. The employee has to surrender the passport to the employer, is legally bound to reside with the employer and cannot leave the residence without employer's signed consent.

"This system seriously limits freedom of movement of employees," Mr. Yusuf added. "Even when women want to come to the embassy, they need the employer's consent form to show at checkpoints. Even the exit visa will not be stamped without it."

The law makes it nearly impossible for domestic workers to leave abusive employers, Ms. Gunasinghe said. Some women run away in desperation to embassies and often officials have to pay exorbitant amounts to get employers to return passports. If the woman runs back to the agent, unwilling to lose money, the agent might force the woman back to the abusive household.

Activists claim Sri Lanka lacks proper legal protections to ensure migrant workers' rights. In 1996, the country ratified the United Nations Convention on the Protection of the Rights of All Migrant Workers and Members of Their Families and drafted a national policy for labour immigration. However, activists charge that the national policy has not been properly implemented to protect workers.

Also, the women are not informed enough to make complaints to relevant authorities if a problem arises, Nilanthi Kumari, Legal Aid Commission officer in charge of migrant workers said.

"Most have communication difficulties or don't know the procedure to file a complaint," she added. "Usually they say, "Miss, we told the embassy but after that nothing happened.' The awareness should come from the Bureau."
Mr. Yusuf added that even embassies are limited in how they can help workers as they are under-resourced and lacks capacity to provide legal aid if a citizen gets into trouble overseas.

Secretary of the Ministry of Foreign Employment Promotion and Welfare Nissanka Wijeratne said the government cannot protect migrant worker rights unless international conventions and rights issues are ratified and addressed by the host country.

"There are practical issues we can't address from here," he added. "We can't check up on workers by going to homes and knocking on doors. We look into issues if there are complaints."

Activists say the government should sign bilateral agreements with host countries to ensure that migrant workers' rights are protected. Some countries like the Philippines have pressed difficult governments like Saudi Arabia to sign agreements ensuring basic safeguards such as minimum wage.

"There are no bilateral agreements between Saudi Arabian and Sri Lankan authorities yet but the Foreign Ministry is looking into it," External Affairs Ministry Secretary Karunathileke Amunugama said. "The Ministry is concentrating on upgrading working conditions of migrant workers and we are hoping to cooperate with Saudi authorities to make the system more transparent."

Mr. Amunugama added that the government is "looking into educating officers more on these issues" and have published new set of guidelines for diplomatic officials.

Mr. Yusuf added that more female welfare officers in diplomatic missions would better contribute to solving migrant women's issues. Mr. Wijeratne said most welfare labor attachés are male, but the government tries to "at least" have one female officer.

Migrant workers' problems don't end upon return. Often returnee migrant workers seek legal remedies for abuse overseas. Some women seek to sue their agents for not paying salaries.

"The problem is they come to us when it's all over," Ms. Kumari said. "After the fact, there's nothing much we can do, we don't have legal jurisdiction from here."

Mr. Randeniya said the migrant workers qualify for insurance coverage, subsidized loans and children's scholarships upon registration at the Bureau. But social workers say returnee workers have no idea they are entitled to such.
"Sometimes people come and ask for insurance," Ms. Kumari said. "Problem is you have to claim insurance within a certain period, when they come back the period has passed."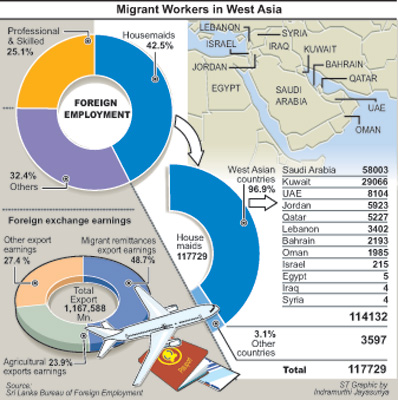 Usually, insurance claims have to be filed at the Bureau by migrant workers' families in their absence to collect upon their return. However, the families either do not know to file a claim or do not care enough to go to the Bureau. Some don't remember training instructions and some haven't read the guidelines, Grassroots Organizer with Women and Media Collective Viola Perera said.
Returnee workers often "fade into the background" because they have no alternative lifestyle to settle into. Some have never worked in Sri Lanka before and some come back to the same precarious financial situations they've left to alleviate.
"Even with all these problems, we can't tell women not to go," Ms. Perera added. "They have a right to go. Without banning women from going, we should create a system so women can migrate for work safely and with dignity."
"While we complain about agents exploiting housemaids, the state is the biggest exploiter," Mr. Yusuf said. "Sri Lanka gets lot of money from migrant worker remittances without any investment. During the war, the foreign remittances from housemaids and gulf labourers equaled the money spent on the war."
Rizana's mother says they won't accept any compensation
Saudi Arabia has defended Rizana Nafeek's execution, claiming the Kingdom did not violate international laws by executing an individual who was underage at the time, because Rizana's passport issued in her home country indicated she was over 21. The Saudi government did not acknowledge that her documents were falsified by her foreign employment agents.
Meanwhile, in Mutur, Rizana's family said they haven't received any compensation from the Saudi government and even if compensation was offered they would not accept any. Earlier this week it was learnt that Yahya bin Abdul Aziz Ar- Rahith, the legal Advisor of Princess Adila Bint Abdullah of Saudi Arabia had offered Rs. one million from his personal funds to Rizana's family.
The Nafeek family was visited by several ministerial delegations including Justice Minister Rauf Hakeem and Foreign Employment Minister Dilan Perera, who will place a foundation stone for a new home for the family. Vikum Liyanage 224 Brigade Commander based in Trincomalee, also visited the family.
Saudi Ambassador in Sri Lanka Abdulaziz bin Abdulrahman Al Jammaz declined a request for an interview.
Ambassador Jawad could not be reached for comment despite multiple attempts.
(Additional reporting by R.J. Rajasinghe from Mutur)
Now: Lankan worker sentenced to death in Qatar
A 22 year old Sri Lankan worker has been sentenced to death in Qatar for the murder of an Indian. He is reported to have gone to the apartment of the Indian, and when he opened the door stabbed him in the chest and run away.
Several fellow lodgers of the Indian worker had given chase but couldn't catch the assailant. He was however identified. The incident is reported to have occurred over an alleged affair the Indian was having with a Sri Lankan woman, a relative of the assailant's mother.
Mother of Wengadaaslam Sudeshkar, the Sri Lankan sentenced to death said she will visit the victim's family in India to seek pardon.  "I got a fax from the Sri Lankan embassy in Qatar saying I should go to India and seek pardon from the dead boy's family," she told the Sunday Times.
An embassy official in Doha said a "detailed report of the case has been compiled and sent" to the Consular Affairs Director General of the External Affairs Ministry on Wednesday for further action. It is learnt that the report states that this was a case of premeditated murder.
Consular Affairs Director General W.A.T Gunathileke, however, told the Sunday Times on Thursday that she was still waiting the embassy's report.  The victim's family has demanded Rs. 3. 5 million in blood money. Sudeshkar's mother Mangalaswamy said her family has no means of paying back that amount of money.
"We took out loans to pay the blood money," she said. "We live in a rented house. I'm asking everyone for money, anyone who might be able to donate, because we cannot bear this amount on our own. The authorities said they cannot do anything money-wise."
Mangalaswamy lives in Kandana at her elder son's house with her husband. Her elder son works at a garage and she and her husband do not work. She also used to work in Qatar, and said Sudeshkar worked at a supermarket.
According to Mangalaswamy, Sudeshkar got into a fight with the Indian and during the fight the Indian died. Sudeshkar was jailed for a year and a half before he was sentenced to death on Dec. 31. He was represented by a Qatar public defender.
"He has two months to appeal, but we are supposed to bear the legal fees for the appeal," she said.  The Indian victim had been a driver in Qatar. His two brothers and an uncle, who are also Indian migrant workers in Qatar, set the blood money amount, Mangalaswamy added.
Amnesty International's 2012 report on Qatar states at least 19 prisoners were believed to be on death row at the end of 2011 but there were no executions.
Follow @timesonlinelk
comments powered by

Disqus