Onus is on the seniors
View(s):

Fourth ODI in Sydney today

By S.R. Pathiravithana

While the bewildered Australians are looking inwards about their rotation policy, the Lankan go into the fourth of their five ODIs with a lot more confidence at the Sydney Cricket grounds.

Yet, if they are contemplating their second series win down under the Lankans will seriously ponder about their fickle batting which borders the notation – irresponsible.

The win on Friday did not come on a platter. It came on the shoulders of a very responsible inning from green horn Kusal Janith Perera, who almost carried the word Lanka on his shoulders.

Some feel the biggest falters were the most experienced of the lot – skipper Mahela Jayawardena and T.M. Dilshan who opened the batting on Friday. Attack is the best form of defence may be a good proposition, but one does not have to over do it. It should have been either of the openers opting to stay around and guide the rest of the herd towards the required goal. Instead from the very first ball it was a presentation of guileless attack that fed the Australian fast bowlers the confidence that they needed. In the after match interview Jayawardena said "Some times chasing a small total teams may tend to lose balance".

Yet, one must admit the greatest discovery of this Australian tour had been the courage of the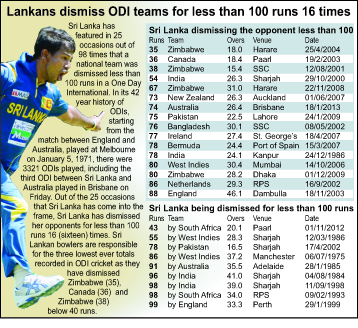 second generation batsmen who have not been afraid to the onus and do their job in the middle. Thus, now no one could say "There are red lights flashing all over when it comes to the point where Mahela Jayawardena and Kumar Sangakkara decide to call it a day."
Now the ball is in the Australian coat. So much so now the Australian press is taking their selectors to the cleaners. The Australian age said "Inverarity, as the frontman for the laboratory experiment that is the Australian team, has found himself in the firing line, and falling to a popularity level that Andrew Hilditch, his pilloried predecessor, might appreciate. Some are calling the 68-year-old head selector, known for his "my way or the highway" approach, the nutty professor.
Now it is up to the Lankan camp to make the most of it.
When the Lankans set foot in Australia the former Aussie fast bowler Rodney Hogg without mincing his words called the Lankan attack the worst ever bowling line up to operate down under. But after the humiliating defeat the Australian skipper Michael Clarke was whimpering "'A' horrible day. Probably should have bowled first. But if you bat like that in any conditions, you will lose. Our defence let us down more than anything. No excuse for the way we performed. Shot selection was poor. I understand the public wants us playing consistently. Honestly, if we played like that then the public wouldn't want to see us playing at all."
Reportedly there are no niggles in the Lankan team, but there is likelihood of Ajantha Mendis making a comeback into the eleven at the expense of Shaminda Eranga on the spin friendly SCG wicket.
Follow @timesonlinelk
comments powered by

Disqus