A book for everyone!
View(s):

They're three of a kind, but which is the best? Our new column has us traipsing across Colombo in pursuit of our favourite things. We're talking food and drink, massages and clothes, essential services and places to party: there's nothing we won't have an opinion on.  We'd also like to hear from you: what would you like to read about? Have a recommendation to share or a suggestion on how we can improve? Write in to: take3colombo@gmail.com.

A good book can be hard to find in Colombo, particularly if it isn't something written by Jeffrey Archer or J.K Rowling. It's why readers in this city have had to embrace the treasure hunter within. There's something in a tiny shop filled to overflowing with old paperbacks, the box of novels (choose any one for Rs. 50!) or a shelf where you can't quite see all the titles that holds such promise. Who knows what gems a dedicated reader could unearth?

Going out to buy books can be an adventure and it's why most of us end up spending hours at the few second hand bookstores that remain (we still mourn the passing of Biblomania on Hospital Street). We began this week with a hunt for Deen the Bookman and ended it at the line of shops along Maradana which serve as lending libraries. Here's what you need to know:

Deen the Bookman Bookshop and Lending Services

Slave Island Junction (Opposite Victoria Bakery), Justice Akbar Mawatha, Colombo – 2
Tel: 0722 150250

The little store in Slave Island is a disappointment, especially because those in the know often make a beeline for Deen's stall at the Colombo Book Fair. The few shelves not filled with stationery hold M&Bs, Wilbur Smiths, John Grishams and all the other books that people never seem to want to keep. Most are priced between Rs.100 – Rs.250 and you can borrow them for a month, return them and have most of your cash refunded.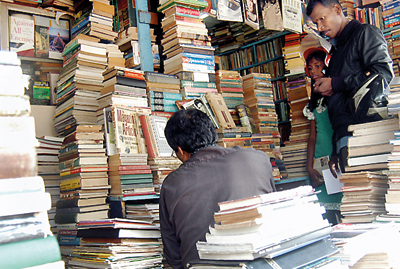 However hope is restored to us when we meet Deen himself, a.k.a Tuan Halfleen Packeer Dawood. He tells us he's been a regular at the Colombo Book Fair for at least a decade and in the business of selling books for 34 years. Turns out, the little stationery shop he runs under the name Deen the Bookman isn't quite representative of his collection. 
Tuan assures us that he has a roomful of books at home in Wellampitiya and that most of his clients simply call and ask for what they want.
His business continues to do well thanks to a loyal clientele, many of whom also contribute to his collection with books their relatives send them from abroad. 
Tuan promises he sells them again at ½ if not 1/4th the price. Know exactly what you're looking for or want something that's out of stock? Tuan might be the man to ask.
Senanayake Bookshop
366, Galle Road, Wellawatte, Colombo 6
Tel. 011-2361948
On Galle Road (seaside), smack in the middle of busy, noisy Wellawatte, Senanayake Book Shop is a lovely little book cave. Founded in 1952 by Piyasena Senanayake, the shop has stayed in the family. Books are packed onto shelves on the two opposite walls of a fairly long room and include a mix of thrillers like Agatha Christies, Ian Rankins and James Hadley Chases alongside magazines, textbooks and a not inconsiderable selection of romances. Bargaining doesn't do you any good here – though the prices are often more affordable than those at our next location (where incidentally, it's always worth attempting to bargain).
Senanyake is currently closed and will reopen on the 22nd of this month.
Priyanka Book Store, Sarath Books, Premasiri Bookshop, Warnasuriya Book Depot, Peter's Bookshop
Darley Road in Maradana
In the above order, Tel: 011-2679889, 0714-285954, 011-2678949, 011-3091393, 011-4907318
Keep going past the line of little car repair stores and the like to hit a book lovers paradise. With more than one store selling its goods, competition is high, but so is hope. Didn't find what you wanted in one shop? The next one beckons. You can find books here for as low as Rs. 120 (think Nancy Drews, Sweet Valley High and M&Bs) or over 1,500 for lush coffee table books or hardcovers in remarkably good condition.
We 'll go out on a limb and say that there's a book here for everyone: a quick glance through the shelves have Julian May's classic science fiction novel 'The Many Coloured Land' going for Rs.200 and irreverent American writer John Irving's 'Fourth Hand' selling for Rs. 300. Amy Tan's 'Joy Luck Club' is a steal at Rs.100 as is Joseph Heller's 'Something Happened' at Rs.150. A lovely mellow hardcover of the German author Patrick Süskind's fanciful 'Perfume: The Story of a Murderer' is just Rs.300. 
The book shops here open early – Priyanka P.G.S, the owner of one of the first stores in line, has his books out and airing on the pavement by 7 a.m. and says he's open till 7 p.m. Others open an hour later, but would still appeal to the pre-work crowd.
They're also open on Sundays (closing only for Poya). Priyanka has been in the business 10 years but the most venerable by far is Peter Appuhamy, who smiles with pleasure when Tuan from Deen's credits him with being a mentor to them all. Peter has been in the business 45 years and you should stop to say hello when you're next in the neighbourhood.
Follow @timesonlinelk
comments powered by

Disqus