Nishantha Ranatunga to quit CSN?
View(s):

The secretary of Sri Lanka Cricket (SLC) Nishantha Ranatunga will have to resign from his position of Chief Executive Officer of CSN to stay in cricket administration. This was stated by Sports Minister Mahindananda Aluthgamage while revealing the changes to the Sports Law which have been gazetted. According to the amended Sports Law which will come into effect from the end of this month no person who is engaged in media work print or electronic would be eligible to hold office in any sports body.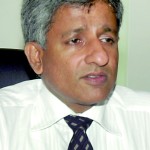 The minister said "The SLC is going into elections on March 31. "I gave Nishantha the option. I told him he can not be a part of both – media and cricket and he gave me the assurance that he has already given notice to his media employers". However SLC secretary Ranatunga said "I will live by the rule and when the appropriate time comes I will take the right decision".
The amended Sports Law would read as:
1: The term of office bearers of Sports Associations will be considered as two year instead of one year.
2: Officials once elected can contest again on two more occasions making it a maximum of six years. Any official wanting to contest again will have to skip one term before forwarding his nomination, but he will not be permitted to contest for the posts of President and General Secretary.
3: All nominations should get the prior approval from the committee headed by Director General of Sports which stands as a must.
4: Persons owning Media Institutions or employed in the media – both electronic and print — cannot contest to hold office in sports organisations.
5: Parents of players who are in national squads and representing the country cannot hold office in sports organisations.
6: Any player or coach wishing to contest any of post in sport associations requires prior approval from the Sports Minister.
7: Any person who is found guilty by a commission or by a court will not be eligible to contest at elections or to hold office in sports organisations.
8: Persons, who fail to return to the country on the due date after completing their assignment or event, are not eligible to contest at these elections.
9: All contestants should forward their bio-data to the Director General of Sports to obtain approval to contest at the election of office bearers.
10: It is compulsory for all schoolchildren to engage in at least one sport according to the new National Policy.
11: Every student will be issued with a medical report giving details as to what sport a student should engage in during his/her school career. Scholarships will be awarded according to their performances.
12: Students selected to enter the University are to receive points for their achievements when the selections are made.
13: Any person who is involved in the gaming industry is not eligible to contest at elections or to hold office in sports organisations.
In another development it was also learned that the SLC have started their TV deal negotiations with Ten Sports who have the option of the first refusal. The estimated amount of the negations is reported to be US$ 53 million.- SRP
Follow @timesonlinelk
comments powered by

Disqus