Now, Camera Cat to help low vision students
View(s):

A. Usha Rani, president of Rotary Club of Waltair, observing the working of 'Camera Cat' classroom device for low vision students, after inaugurating it in Visakhapatnam on Saturday. Photo: A.Manikanta Kumar

The portable equipment will cost Rs. 18,000, says Vision-Aid president

Eight years after introducing Camera Mouse, a device that helps low vision persons to read a book or newspaper with small print, Vision-Aid came up with Camera Cat for the sake of students not able to clearly see the teacher and the blackboard in the classroom.
Camera Cat consists of a LED screen to which is attached a camera with a high definition lens that can be focussed on the blackboard. Camera Cat is portable and all its parts are Indian made and it would cost Rs. 18,000 per equipment, compared to Rs. 5 lakh one has to spend to get similar equipment made in the US which is a wireless one, Vision-Aid India president M.S. Raju said. The cost was expected to come down in future, he said.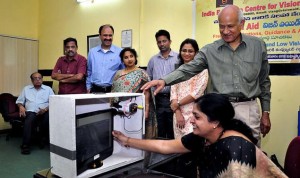 The Camera Cat was launched by president of Rotary Club, Waltair A. Sudharani at the Vision-Aid Resource Centre located on the premises of GVP Junior College in Dwakaranagar here on Saturday. She also promised to look into the possibility of providing a Camera Cat at a school before March 2013. A low vision student was not able to see the blackboard and would copy the notes from the student sitting next to him. Mr. Raju expected Camera Cat to become popular like the Camera Mouse. So far 700 pieces of Camera Mouse are in use and there was no single complaint, he said.
Book released
Also on the occasion a book, 'Enabling the Vision Disabled', was released. This was meant to help the NGOs and others helping the low vision people. The book consists of four monographs on sight evaluation and sight enhancement of vision impaired; computer training for vision impaired; educating and resourcing on assistive devices for vision impaired and orientation and mobility training for vision impaired. It was based on the research findings of the Rockefeller Foundation.
Founder of Vision Aid Inc. USA M. Ramaraju, co-founder Revathi Ramakrishna, senior executives of Royal Commonwealth Society of UK Pooja Sanghvi and Akbar Mehfuz, vice-president of Vision-Aid A. Srinivas, coordinator A.V. Ramesh Kumar and others were present.
Mr. Ramaraju appreciated the efforts being made by Vision-Aid here and the way two visually impaired teachers Ravi Krishna and Surya Krishna could learn to use computer with the help of training provided by the Vision Aid Resource Centre.
Vision Aid Inc. USA was raising funds by organising programmes in the US to help the visually handicapped persons here. Sightsavers organisation and the Royal Commonwealth Society are helping the programmes of Vision-Aid.
thehindu.com
Follow @timesonlinelk
comments powered by

Disqus