DPL dinner for Lankans, by Lankans and of Lankans
View(s):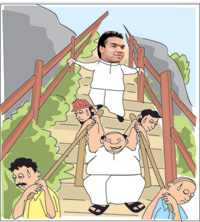 The protocol-conscious UN cocktail circuit has traditionally been exceptionally elitist. If you walk into a dinner or a reception hosted by a diplomatic mission in New York, the guests are mostly ambassadors, senior UN officials, New York celebrities and the ubiquitous media – and rarely the proletariat.
But a dinner hosted last week at the newly-minted Sri Lanka diplomatic mission by Ambassador Major-General Shavendra Silva broke new ground. Along with Sri Lankan expatriate doctors, engineers, lawyers and accountants were chefs, limousine drivers and at least one New York City traffic cop.
The 50 guests came from all communities and ethnic and religious groups, representing a cross section of the Sri Lankan expatriate community. And in a community conscious of its old school ties, there were ex-Royalists, Thomians, Anandians, Nalandians, Josephians, Peterites and Zahirians, amongst many others.
The Mission premises, which is now Sri Lankan-owned compared to the rented offices last year, has a spacious dining room which could accommodate more than 100 guests. And as Ambassador Silva, who is also the deputy Permanent Representative of Sri Lanka to the United Nations, pointed out even the food had a hundred per cent domestic touch cooked with Sri Lankan spices by our own chefs in the Mission's in-house kitchen.
The menu included garlic flavoured steamed rice, pineapple and cashew curry, vegetable cutlets, home-made kalu dodol and ginger tea. At the conclusion of the dinner, one visibly-satisfied guest summed up the occasion when he asked the Major-General: "So, when are we meeting for dinner next?"
---
Ups and downs of young MPs' Siripada climb
The ruling UPFA's young MPs led by Namal Rajapaksa and accompanied by his brothers Yoshitha and Rohitha scaled Adams Peak just three days before the New Year.  They gathered at Nallathanniya one evening and started climbing the mountain around 1.30 the following day morning.
"Apita hithaganna behe Namal Siripade awa kiyala. Awath api hithanne helicopter eke enawa kiyalane" (We cannot imagine that Namal has come to Siripada or Adam's Peak. Even if he does, we think that he would come by helicopter)," some pilgrims said when they saw him climb down.
The group began their descent to the ground from a different direction. Instead of the Hatton approach, it was the one from Ratnapura. The route is said to be more arduous than from Nallathanniya. Hambantota Municipal Council Chairman Ravindra Fernando, a member of the group, faced the worst.
He was exhausted after the climb to the peak. He was brought down by volunteers on a carriage tied to poles. Of course they had to be paid their fee of Rs 5,000 for the task.
---
New highway on road to ruin
Sri Lanka's only super highway, the 95 kilometres from Kottawa to Pinnaduwa in Galle, is yet to become the showpiece it claims. Come rains, and section of the highway is clogged with water. In some stretches, officials say, it takes more than a day for the water to drain out.
The interchange, declared open by President Mahinda Rajapaksa, only a month ago, with shopping complexes on either side, is drawing criticism. This week, an expatriate Sri Lankan woman complained to a supervisor that the toilets were not clean. "These toilets are not for princesses," he had retorted rather rudely. The man vanished when he saw that the woman had arrived in a vehicle belonging to the Presidential fleet with a bodyguard on hand.
The toll gates tell a different story. Even if some of roads on the highway lead to the toll gates at Kottawa, they have been closed and the windows painted white. Motorists are forced to reverse their vehicles under police supervision to join just one toll gate where tickets were being collected together with the toll fare. An official seated there would point motorists to a red signal light to warn they should not enter that counter along the gate.
That is Sri Lanka's own way of entering modernity.
---
Pavithra out of husband's media party
The event was to fete media personnel in the Sabaragamuwa Province.  Sabaragamuwa Provincial Council Chairman Kanchana Jayaratne had organised the event. However, he told his wife, Minister Pavithra Wanniarachchi, who wanted to take part, to stay at home.
Deng ithin ogollanta liyanna puluwang mama amathithumiya gedera daala aavey kiyala (You can now write that I left the Minister behind at home), he told the media personnel present at the event.
---
Numbers matter in Divineguma vote
Government MPs have been advised not to leave Sri Lanka in the coming week.
This is whilst President Mahinda Rajapaksa has asked that MPs who are abroad should be advised to return to Colombo.
The move is in the light of the Divineguma Bill being taken up for debate in Parliament on Tuesday.
---
Sajith walks in court-shoes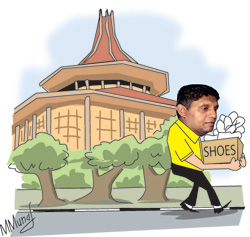 Politicians, they say, are an ambitious breed. There is nothing wrong in that, one would say.
However, some of them whilst dreaming of high office also dream of the many things they would do.
Take for example the United National Party (UNP)'s deputy leader, Sajith Premadasa. He attended a ceremony last week at Dharmashoka College, Ambalangoda where school uniforms were being distributed.
During his speech, he said if he became the President of Sri Lanka one day, he would donate a pair of shoes each to all schoolchildren in the country. In other words, there would be no more barefoot school children.
One promise which Premadasa failed to keep this week was his absence at the Court of Appeal where the Supreme Court's determination on the constitutionality of the Parliamentary Select Committee (PSC) that probed an impeachment motion against Chief Justice Shirani Bandaranayake was delivered. He had told friends that he would be present. Some UNP Parliamentarians did take part, but Premadasa was conspicuous by his absence. He had contacted Tissa Attanayake, the General Secretary who had told him that the party leader did not want MPs to attend court.
Among those who attended were Karu Jayasuriya, a former deputy leader, and MPs Eran Wickremeratne, Ajith Perera, Ruwan Wijewardene, Niroshan Perera, Harsha de Silva, Palitha Range Bandara and Dayasiri Jayasekera.
(More details in today's Political Commentary)
---
MP wants to fall sick in Dedigama
UPFA's National List Parliamentarian J.R.P. Suriyapperuma has been many things for many persons.
On TV talk shows he is a historian. On political platforms, he is an orator. But now, he is the Sri Lanka Freedom Party (SLFP) organiser for Dedigama, the electorate once represented by one of the country's greatest democrats, late Dudley Seananayake, one time Prime Minister.  Last week, Suriyapperuma was among invitees when a reconstructed hospital was opened in Delgala in the Dedigama electorate. The chief guest was Sabaragamuwa Chief Minister Maheepala Herath.
After a tour of the hospital, Suriyapperuma was impressed with the well-equipped hospital. Though bizarre, he wished that he would fall ill before he went to Colombo one day. That way, he said, he would be in a position to obtain the care of the new hospital, he quipped.  Why seek these beds when he can go to a resort, remarked a doctor wryly after hearing Suriyapperuma's latest remarks
---
UNP drifts in impeachment mess
The Opposition UNP's official position on the current impeachment crisis has caused internal friction and disappointment in some quarters. This week, a statement they were to issue could not find a signatory.
The media unit at the United National Party (UNP) headquarters in Siri Kotha issued a statement in the name of spokesperson Gayantha Karunatilleke. Moments later, amidst protests, a hurried news release replaced it with another statement from the Deputy General Secretary Jayalath Jayawardena.
The statement castigated JVP's Anura Kumara Dissanayake for what the UNP called his "voice cut diplomacy". The JVP Parliamentarian, known for his acidic comments, had remarked that the UNP was favouring the Government on the issue related to the impeachment of Chief Justice Shirani Bandaranayake.
Follow @timesonlinelk
comments powered by

Disqus