The great yearend consumer ripoff
View(s):

Mrs. Anumaana is yet to recover from the bombardment of seasonal 'special offers' that were thrust in her face on a daily basis during the festive season.  These too-good-to-be-true type marvelous deals were trumpeted in all the newspapers, TV programmes, banners and billboards she happened to see, around the end of the year.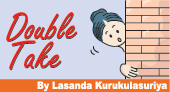 It seemed to her that the only thing special about the 'special offers' was an ingenious pricing system that was designed to make consumers think that they were paying less for something, the value of which was actually quite modest to start with. This was the result of vendors having manipulated price tags of anything and everything, from ball point pens to drawing room suites, to give customers the impression that these items had previously been much more expensive, whereas in fact all the wily merchants had done was to artificially inflate the price tags and then pretend to mark them down, to what would have been the regular price anyway.
Mrs. Anumaana and her neighbours, with whom she compared notes each year, were by now quite wary of the 'Mega Christmas Bonanza' type rip-offs and the fake 'Grand Seasonal Offers' that were advertised with such monotonous regularity. They were no longer fooled by them.
But there was little Mrs. Anumaana could do about the other astronomical price hikes that came her way during this time of year. It was bad enough having to watch out for the rotty potatoes, stinky onions, chemical coated pepper, contaminated sugar etc. that she was warned to beware of in the market. In addition, she had to keep track of the phenomenal price escalations that seemed to take effect, seemingly overnight, around the middle of December.
It was cold comfort to her that her neighbours faced the same plight, with sky rocketing prices undermining their careful budgeting and leaving them to face unexpected debts in the new year. Were the consumer affairs authorities too busy destroying consignments of rotty potatoes and onions, to notice all the other ways in which consumers were being fleeced, she wondered. Apart from sub-standard goods, over-priced products and misleading advertising, what about the appalling standards that consumers were faced with in various service industries?
This year Mrs. Anumaana's experience of the 'seasonal rip off' was further enhanced by the prolific variety of transport services on offer to shoppers rushed off their feet, and others hard pressed for time. There were for instance 'radio cab' services that offered taxis that could be booked over the phone. They seldom came on time. Customers would have to make numerous phone calls complaining about the delay. They were usually left in a state of extended suspense, not knowing when the car would turn up, if at all. Then surprise, surprise – the car would arrive unexpectedly after the customer had summoned a cab from a rival company, having given up on the first prospect.
Mrs. Anumaana has listened sympathetically to stories related by friends about how these cab services had let them down so badly, that the experience had ruined the goodwill between themselves and their acquaintances. Making a special request for timely service was of no avail. When the cab eventually turns up, the driver would confidently assure the customer that he knew how to get to their destination at the other side of town. He would then proceed to take the passenger on what seemed like an unsolicited tour of the city. It then turns out that the driver is in fact clueless about the directions he should take. By the time the hapless passenger reaches her destination, the function that she was due to attend would be over. And so would her friendship with her hosts.
Mrs. Anumaana now knows better than to depend on unreliable cab services. She only wished these transport agents would warn their customers that passengers were expected to bring their GPS along with them every time they hired a cab, to help the driver with directions. Not to mention their banks, to change money at the end of the hire, since the drivers never had change.
After their cab service misadventures over the festive season, Mrs. Anumaana and her neighbours have reverted to the threewheeler driver at the top of the lane for their private transport requirements. He had a metre on his taxi now, and at least he knew is way about the neighbourhood.
Follow @timesonlinelk
comments powered by

Disqus